PUBG Lite registration has begun in many Asian countries including India. This registration has been started on June 22 and will run till July 3, 11:59 p.m. Those who will register for PUBG Lite will get rewards including free skins and more.
PUBG Mobile is probably one of the most played mobile games right now. Now, the game developer Tencent Gaming has launched PUBG Lite for PC to lure more users. So, those who cannot afford a machine with higher graphics can play PUBG Lite.
Here we are going to tell you how you can register for PUBG Lite and get free rewards.
How to register for PUBG Lite?

First of all, you will have to visit the PUBG Lite pre-registration link: https://lite.pubg.com/.
After this, you will have to tap on 'Participate Event'.
As soon as you tap on it, a new pop-up window will open and it will ask you about the ways to register.
After this, you should tap the 'Login with Facebook' option. You can also register with your email ID via clicking 'Create My Account'
After tapping here, you will be able to register for PUBG Lite.
After registering, you will receive an event code on your registered email id on July 11. You will be able to redeem free skins and other rewards using this code.
Rewards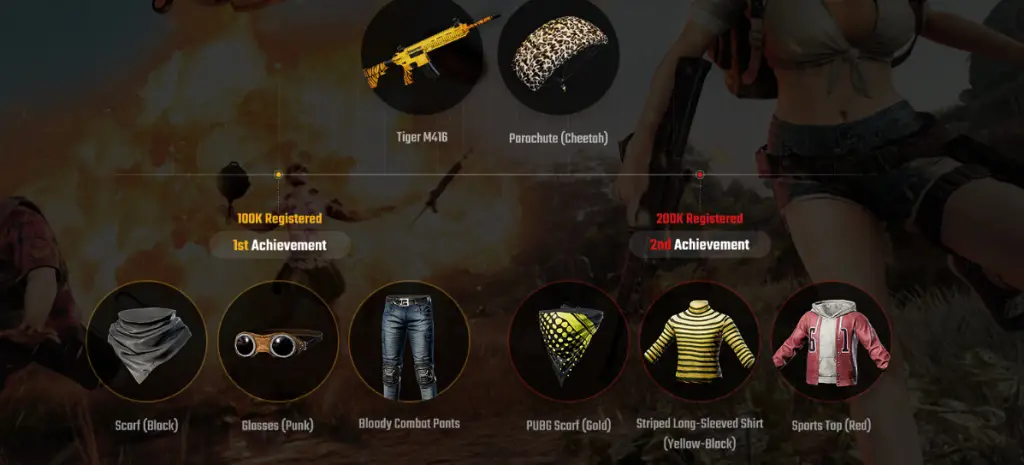 All of those gamers who pre-register for PUBG Lite will get the Tiger Finnish M416 skin and a Cheetah Finnish parachute. However, if the number of users registering for the game reaches more than 1 lakh then PUBG players will get Black Scarves, Punk Glasses, and Bloody Combat Pants as rewards.
Moreover, if the registration figure reaches over 2 lakh, the players will be given Gold PUBG scarves, Stripped long sleeves shirts and Red Sports Top as free rewards.
These rewards will be delivered as a redeem-code to your registered email id.