As you'd acknowledge, most of our time goes in browsing social media, surfing the web, watching videos, and enjoying music on the go. And indeed, most of these things require internet connectivity to work. So what if you're traveling with almost nill network or out of mobile data?
Well, there's no doubt that an Android phone without connectivity feels lifeless and dull. Yet, certain applications can make things work for you even if it's not connected to the internet; it's a smartphone anyway.
That being said, we are here with a list of five best offline Android apps that can help you get rid of the offline monotony.
Best Offline Android Apps
Google Maps: Travel Offline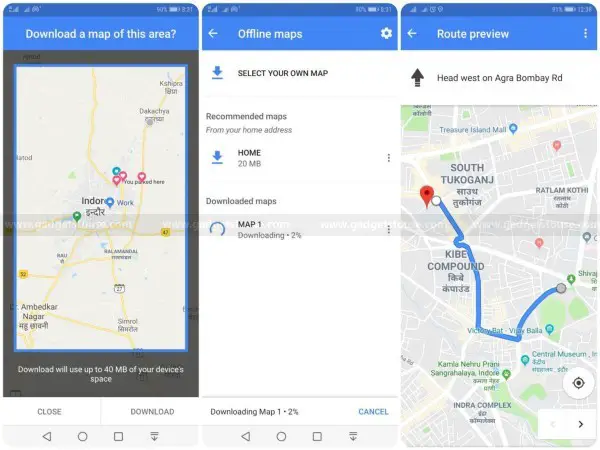 If you travel a lot, you might be already aware of the most common issue faced while commuting, i.e., lack of connectivity. And relying on online navigation isn't the best things one should do, especially in remote areas. That being said, Google Maps can still guide you through turn-by-turn voice navigation, provided that you've saved the map previously using the offline maps feature.
To save a map offline, open Google Map's sidebar menu and tap on Offline maps. After that, select the region and proceed with the download. Besides navigation, you can also get driving and walking directions and search for places, including restaurants, hotels, and other businesses within that area.
So if you frequently face connectivity issues while on the go or are planning to visit a remote area, don't forget to keep the map handy using the Google Maps offline feature.
Spotify: Enjoy music without internet
Spotify is doubtlessly one of the best apps to listen to music from various artists, albums, and genres across the globe. That said, if you're a premium subscriber, Spotify allows you to save your library for offline listening. This also includes individual playlists and albums.
To save music offline, open any of your saved playlists or albums and tap the Download button present at the top. Now, navigate to the settings and turn on the Offline mode. That's it; it'll now show only the music saved offline. So got a flight? Just grab your playlist beforehand, and you're good to go.
FeedMe: Offline News
Love reading? FeedMe is an RSS Reader that lets you read a ton of news from multiple sources, including top RSS apps like InoReader, Bazqux, The Older Reader, and Feedbin. In fact, you can even read articles and news from your Feedly within the FeedMe app.
Now, what's so special about it? Well, it's the added offline capability that lets you pull news from all the sources minutes before boarding a flight. Yes, connect to a WiFi, grab all the news and read it later when you're offline. Moreover, you can also save content from FeedMe to Pocket and Evernote with a single tap. Sounds pretty cool, right? By the way, don't forget to follow us on Feedly!
Pocket: Save things beforehand
Pocket is an app that allows you to collect articles, videos, or any online content you like for offline viewing. Mainly, you can save content from Chrome, Twitter, YouTube, or even your favorite news apps. Once done, the articles and videos will be ready in the Pocket app whenever you need them.
To save a video or article on Pocket, tap the share button and select Add to Pocket. That's it. You can access the same later when you're in a flight or roaming around in search of the network. Besides, Pocket has its own perks such as dark mode, text-to-speech integration, volume button scrolling, and personalized recommendations.
AccuWeather: Weather forecasts in advance
Definitely, it'll be wrong to say that an app can tell you weather forecasts without connecting to the internet. And this isn't something AccuWeather promises to do either.
Instead, it accurately performs a check and records weather forecasts for the upcoming 15 days. Hence, even if you're offline, the app can still predict whether to take your umbrella along in the next trip. While not 100% accurate as weather can change anytime, it's quite handy at times.
Wrapping Up
So these were the five best offline Android apps that'll not only stretch the restrictions of being offline but will also help in boosting your productivity. Do let us know which app you liked the most. Also, feel free to reach us in case of any doubts or queries.
Also, read 5 Best Selfie Camera Apps for Android.