Emails have indeed become an essential thing in the online world. Almost everything we do on the internet requires an email address used as our online identity, be it for logging on to social media, signing up for newsletters, or say commenting on this post.
Nonetheless, the free nature of emails makes the companies and telemarketers see it as a source of selling their services. And that's where most of the spam comes from. Consequently, you get tons of irrelevant emails, leading to more notifications and a highly cluttered inbox, leaving a negative impact on your productivity.
So, how to get rid of email spam? Well, in this article, let's have a look at how to permanently block spam email messages.
Block Spam Email Messages Permanently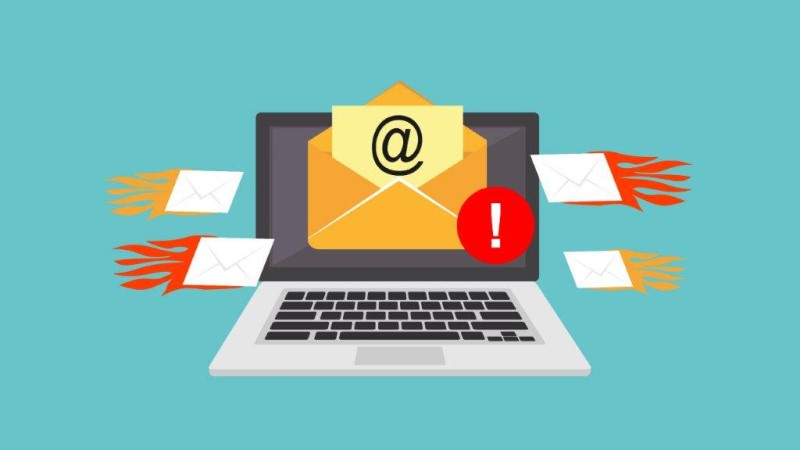 Before we start, you should know that promotional messages are different from spam messages. They apparently serve as communication about a product or service that a company wants to be delivered to its target customers with the aim of generating awareness or sales. This often happens when you signup for a newsletter or provide your email address to a company in order to download a piece of content.
Spam emails, on the other hand, are unwanted bulk messages sent to promote outright scams or business schemes such as weight loss programs, lottery, gambling, and more. While they can be used for multiple purposes, their primary intention is to harvest tangible information for personal gains. Hence, spam emails are much more severe than regular promotional emails.
Anyways, since you're here, we'll be telling you how you can limit both- the actual spam as well as promotional emails through five different techniques. Besides, we've also added a couple of tips to help further declutter your inbox.
1] Block Email Addresses
The most basic way to get rid of spam is to block email addresses. Notably, if someone is constantly pinging you with junk emails, tap those three dots on the top right corner of the email window and click on Block "sender's name" from the available options. This method works best when a spammer is continuously disturbing or trying to scam you.
2] Use Filters
Most email clients, including Gmail, Yahoo Mail, MS Outlook, and iCloud, offer the ability to create custom email filters. Using it, you can set specific parameters, including email sender, subject, and body keywords for an email to be categorized separately, away from your primary inbox. For instance, you can set rules to send newsletters that you've subscribed to directly to a designated folder.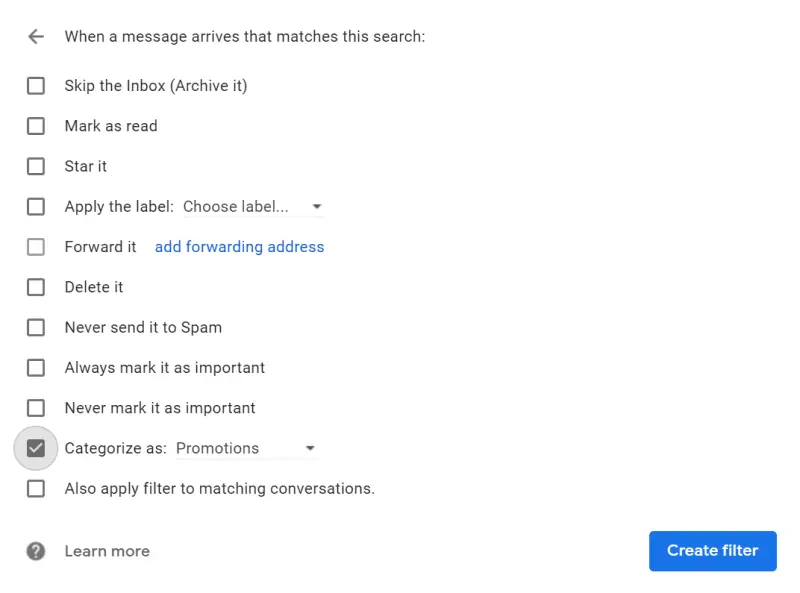 To create a filter in Gmail, enter the keyword, and tap the down arrow given besides the search bar. After that, click on Create Filter at the bottom of the dialog box and choose what you'd like the filter to do. Once you're done setting parameters, finish by clicking the blue Create Filter button.
Majorly of email services also have a built-in spam filter on offer that automatically detects potential spam from incoming messages. These emails are then sent to a Spam folder where you can delete, block or even report them as not spam.
3] Unsubscribe from Mailing Lists
You might have subscribed to mailing lists in the past while accessing certain services on the web. And this is likely to be the main reason behind recurring promotional messages and newsletters.
To unsubscribe from mailing lists, open an email from the sender and click on the Unsubscribe or Change preferences option. It'll then take you to the page where you can confirm your settings.

Generally, the sender doesn't want you to unsubscribe, and hence this option is given at the bottom of the email. Anyways, clients like Gmail and iCloud automatically detect if there's an unsubscribe button in the email and display them on the top.
Anyways, make sure not to click the unsubscribe link in emails that look like a scam or are suspicious as you might end up landing on a malicious site. That said, you can also use third-party tools like Cleanfox and Unroll.me that help unsubscribe newsletters in bulk using AI.
4] Report Spam as Spam!
As noted, email clients have built-in automatic spam filters to separate potential spam. However, sometimes a spam message can land in your inbox without being filtered. In that case, try to report the mail as spam instead of just deleting it. This will improve the spam filter, and it'll work a lot better for the next time.

To report an email as spam on Gmail web, open the email and click on three dots given on the top right. Then click on the "Report Spam" button, and you're good to go. You can alternatively use the report spam button given on the header.
Outlook users, on the other hand, can right-click the email and click on "Mark as junk" while those using Mail for Mac can follow the same steps and tap on "Move to Junk" to mark the email as spam.
5] Use Temporary Email Addresses for one-time verification
At times, you might be required to signup using email for a one-time check. In such instances, if you cannot manage a secondary email account, we will suggest using the free temporary email services.
There are a lot of temporary email clients available on the internet, such as Temp Mail, 10 Minute Mail, Nada, Guerrilla Mail, and more that provide you with an email address that expires after a set amount of time. During that period, you can use the provided email address to receive emails and interact online while avoiding spam.
6] Tips for further reducing spam Emails
Don't Publish your Email Address
Try to keep your primary address as secret as you can. This may also include email addresses that you've used as credentials or given to your bank and other authorities. If you have a page or website, revealing email addresses publicly will make it easy to be harvested by spambots and thereby inviting tons of spam. Try using web contact forms instead.
Use Different Email Addresses for Different Purposes
Having multiple accounts is one of the best ways to manage emails efficiently. You can have separate accounts for business and for private use while keeping another one for social media and other stuff- it's completely up to you on how to categorize.
Avoid Subscribing to News Letters & Reminders
While logging onto certain sites, you might see a small checkbox that reads something similar to "Send me the newsletter" or "Keep me updated." Since these boxes are checked by default by the host, make a habit of unticking them before signing up. This way, you can save your time that would've been spent in unsubscribing the unneeded newsletters in your inbox.
Wrapping Up
So this was all about how to block spam email messages and declutter your inbox. By the way, what email client do you use? Let us know in the comments below. And feel free to reach us in case of any doubts or queries.
Also, read-