WhatsApp is one of the great instant messaging apps to interact with friends and family. It lets you share documents, pictures, and videos, amongst other things. However, for some users, WhatsApp media may not show up in the gallery for various reasons. This article will tell you how to fix WhatsApp images not showing in Gallery issue on Android and iPhone. Read on.
Also, read | WhatsApp Disappearing Messages: 10 Hidden Things to Know!
Fix What­sApp Images Not Show­ing in Gallery On Android
Before we proceed, make sure to update WhatsApp to the latest version from Google Play Store or Apple App Store based on your device so that you don't miss out on any feature or aren't stuck with bugs causing issues with usage. 
1] Enable Media Visibility in WhatsApp
The issue of WhatsApp Photos not showing in the Gallery is usually related to the Media visibility settings in WhatsApp. To ensure that it's enabled:
Open WhatsApp on your phone, tap the three-dot menu on the top right corner, and select Settings.
Navigate to the Chats section.
Flick the toggle next to Media Visibility to turn it on. This will turn on Media Visibility for all contacts. And all the WhatsApp images will show up in your Gallery by now.
Also Read: How To Reduce Mobile Data Usage on WhatsApp
Unhide Images from a Particular Contact
If the WhatsApp images are missing for a particular contact, or you specifically want to hide pictures from a specific contact in your gallery:
Open the WhatsApp chat from the contact in question.
Tap the contact name at the top.
Click on Media Visibility and select "Yes" to turn it on. Else, if you want to hide images from this particular contact from your photos app, change it to "No."
2] Delete the ".NoMedia" File
As an alternative, you can delete the .nomedia file in WhatApp's directory to fix the issue. The file marks the folder it is in as having no multimedia data. As a result, files in that particular folder are skipped from being scanned or indexed by multimedia players, including Gallery.
Deleting this file will make hidden WhatsApp media show up in the Gallery, as follows.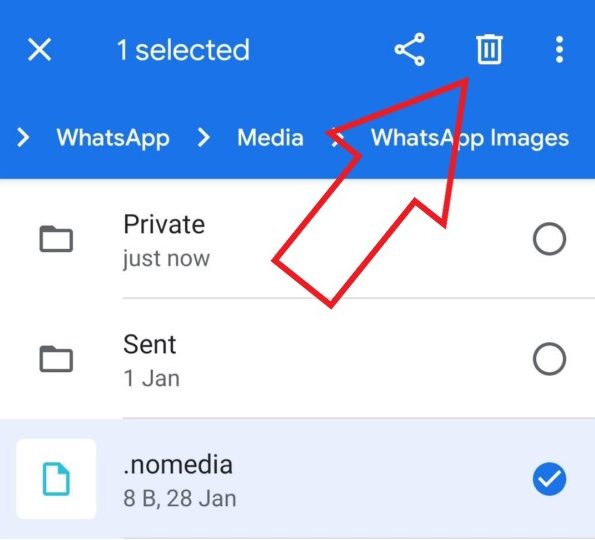 Open the File Manager app on your phone and head to its Settings.
Here, enable the 'Show Hidden Media Files' option.
Now, get to your phone's internal storage and look for the WhatsApp folder. Please open it and head to Media > WhatsApp Images.
Delete the .nomedia file present here. Do the same for the Private and Sent folders if required, and you're good to go.
3] Copy Photos to a Separate Folder
The steps above didn't work? In that case, you can move out the photos from the WhatsApp folder to a different folder on your phone's storage, as given below.
Open the File Manager on your phone.
Look for the WhatsApp folder in the internal storage directory.
Navigate to WhatsApp > Media > WhatsApp Images.
Look for the images in the 'WhatsApp Images' folder and the 'Private' directory inside it.
Select the photos and copy them to a different folder on your phone's storage.
You can make a separate folder in internal storage and copy out all the photos to this folder. All the WhatsApp photos will now start showing in your phone's gallery. Just make sure there's no ".nomedia" file in the new folder.
Fix What­sApp Images Not Show­ing in Gallery On iOS (iPhone/ iPad)
1] Grant Photos Permissions in Privacy Settings
WhatsApp won't save photos to the iPhone if it's not allowed to access them in Privacy Settings. While it's rare to happen, you may have accidentally tapped 'Don't Allow' when prompted or disabled the permission by mistake in the Settings. Therefore, make sure to check it's allowed, as described below.
Navigate to Settings on your iPhone or iPad.
Here, scroll down and head to the Privacy section.
Click on Photos and then choose WhatsApp from the list of available applications.
Change it to All Photos if not by default, and you're done.
2] Allow WhatsApp to Automatically Save Photos to Camera Roll
On iOS, WhatsApp pictures do not automatically show up in Photos after being downloaded. Instead, you have to either save each photo manually to your camera roll or enable the Save to Camera Roll option in WhatsApp settings. Below is how you can fix the latter.
Open WhatsApp on your iPhone or iPad.
Click on the Settings icon given in the bottom right corner.
Head to Chat Settings.
Toggle the switch next to 'Save Incoming Media' or 'Save to Camera Roll' if it's disabled by default.
That's it. From now, WhatsApp pictures will start appearing in your Photos or any gallery app, for that matter. If not, reboot your phone once.
Additional Tip: [Working] Trick To Record Whatsapp Video and Voice Calls
Nothing Works? Try this to Fix WhatsApp Images Not Showing in Gallery
If nothing works, you can try rebooting your phone or clearing the cache for WhatsApp in settings. Else, the last method you can resort to is completely deleting and re-installing WhatsApp on your phone.
Now, it's quite easy to have a full backup and restore your WhatsApp conversations, including photos, videos, documents, and more. For a detailed guide, you can read our article on how to restore WhatsApp chats on Android and iOS.
Wrapping Up
As evident, WhatsApp images may not be showing in Gallery due to various reasons and requires multiple things to be checked, mentioned in the guide. Do let us know what worked for you in the comments below. Plus, feel free to reach out with your doubts or queries.
Also, read- How to Send and Receive Money Using WhatsApp
You can also follow us for instant tech news at Google News or for tips and tricks, smartphones & gadgets reviews, join GadgetsToUse Telegram Group or for the latest review videos subscribe GadgetsToUse Youtube Channel.