Unfortunately, the built-in keyboard on Android doesn't offer enough captivating features. As a result, people start looking for third-party keyboard apps to fulfill their needs. And why not? Well, the right keyboard app can not only enhance the overall typing experience but can also boost your productivity.
Now, amongst tons of keyboard apps available in the market, many come with in-app advertisements that you may not like. Therefore, we are here with five best ad-free keyboard apps for Android that are available on the Google Play Store.
Best Ad-free Keyboard Apps for Android
1. GBoard- the Google Keyboard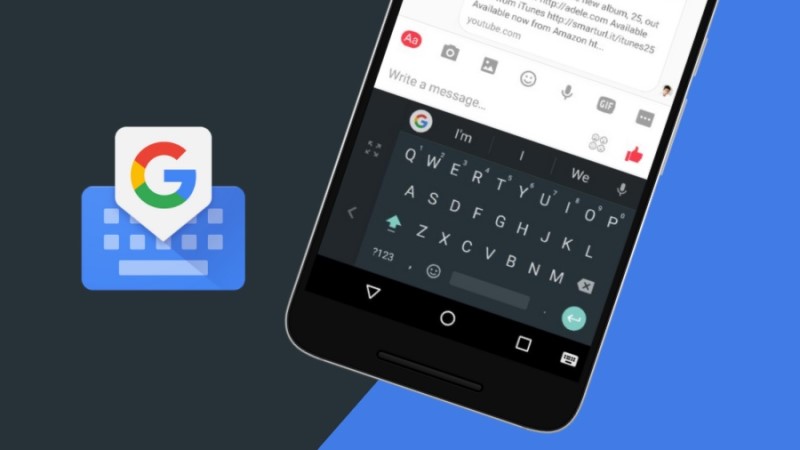 Developed by Google, GBoard is indeed one of the safest and reliable Android keyboards in the market. It comes with a minimal and fast interface loaded with features like glide typing, voice typing, handwriting, and multilingual typing, followed by support for translation on the go.
GBoard lets you search and share GIFs for the perfect reaction. Plus, it has a vast collection of stickers and emojis. There's also a text prediction service and dictionary knotted to your Google account. Those who love customization can choose from various built-in themes and can even use a personal image as the keyboard background.
Overall, it is one of the best keyboard apps for Android that can be trusted upon. It has got enough features and, of course, there are no ads on offer. As a matter of fact, GBoard comes pre-installed on Pixel-series and many Android One devices.
2. SwiftKey Keyboard
SwiftKey is one of the most popular keyboard apps for Android that has been in the market for a while now. And the fact that it's now owned by Microsoft makes it equally safe and reliable as GBoard.
For starters, the SwiftKey comes with excellent prediction capabilities and features a built-in emoji pallet. It learns from your typing style and adapts to it with personalized suggestions, including your slang, nicknames, and emojis. This makes up for a faster and effortless typing experience.
The keyboard also caters to all types of people with over 100 themes and the ability to customize keyboard background, size, and layout. You can enable up to five languages at once and can switch smoothly between them, which is quite useful for bilinguals.
The app is entirely free to use and doesn't pack any adverts. You'll usually find it as the default keyboard app on Huawei and Honor phones.
Download SwiftKey Keyboard (Free)
3. Minuum Keyboard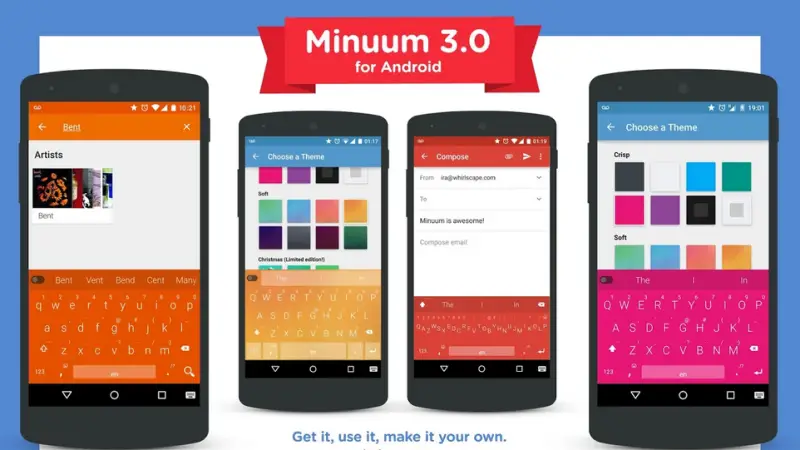 As the name suggests, Minuum Keyboard focuses on getting as small as possible in order to save screen space. It converts the multi-line QWERTY into a single row of alphabets in either of QWERTY, AZERTY or A-Z layouts. The same coupled with amazing predictions take the typing speed to a whole new level.
Now, it takes very little room on the screen- almost half when compared to GBoard and SwiftKey. Apart from that, it brings support for various themes, over 800 emoticons, and gesture shortcuts. More importantly, all the necessary languages are supported through language modules.
Having said that, it has a non-minimized mode too, which converts it back to a normal-sized keyboard. All it requires is a single swipe on the suggestions bar- yes, the keyboard mode can be switched through simple gestures. Anyway, the real fun lies in using the unique mini mode; try it for a day to see if it grows on you.
Download Minuum Keyboard (Free/ Full Version at Rs. 198)
4. Grammarly Keyboard
As a lot of you might've already guessed, Grammarly Keyboard is specifically crafted by the company for people who tend to make a lot of typos or mistakes while typing.
The keyboard employs a powerful grammar & spelling checker, accompanied by advanced punctuation correction and vocabulary enhancements & synonyms, to point out errors and improve your writing skills. And guess what? You'll also receive short, clear explanations for every correction made. This really helps in understanding the mistakes to avoid them in the future.
As for customization, it doesn't have much to offer except for light and dark theming options. Though, there's support for swipe typing and Smart correct features. Worth mentioning, the smart algorithm keeps suggesting you better word choices while writing to heighten the overall quality.
If you keep getting hit by Grammar nazis over careless mistakes, do consider using Grammarly keyboard. It's going to improve your typing skills for sure.
Download Grammarly Keyboard (Free)
5. AnySoft Keyboard
It's obvious for people to worry about their keyboard app accessing the internet, especially those who extensively care about their privacy. And this is where the AnySoft Keyboard comes into play.
For those who've heard it for the first time, AnySoft is an open-source keyboard that doesn't require internet permissions. As a result, what you type is bound to stay on your device. Plus, the open-source nature makes it easy for anyone to read its code, thereby maintaining assurance.
As for the features, the keyboard supports multiple languages and also offers personalized suggestions, including contact names. You get to choose from a couple of handy gestures, followed by voice input and the ability to add arrow keys.
AnySoft also comes with a Night Mode for a dark theme, as well as a dedicated Power Saving mode, which disables vibration, sounds, and suggestions to save battery. Just like others on the list, it's completely ad-free.
Download AnySoft Keyboard (Free)
Wrapping Up
So these were some of the best ad-free keyboard apps for Android. Personally, I've been using GBoard for a while now, thanks to its minimal interface and conventional features. Anyway, what's your choice? Do let us know in the comments below. Also, feel free to reach us in case of any doubts or queries.
Also read: