It's quite obvious for you to refrain from sharing your WiFi passwords with guests or even your friends or relatives. Because if you do, the key is likely to end up being shared with people you don't want to. Moreover, sharing passwords with people you don't know very well could also make your network vulnerable to potential threats.
So, what to do in situations when you want to share your internet without sharing the router's actual key? Well, don't worry, we are here with a simple guide on how to share WiFi without sharing the password.
Share WiFi without Sharing Password
Using QR Codes
There are a lot of applications and websites that let you share WiFi passwords via QR codes. In fact, some phones even offer this as a built-in feature where you can share the QR code with your guests, and they will be able to connect to the network by scanning it on their device.
So before you install any third-party apps, make sure to check if your phone has this feature inbuilt. As for now, it's available on all phones running Android 10, followed by Samsung devices running OneUI.
If you've got one, go to the WiFi settings, tap the WiFi network you're connected to and click the Share button. It'll then show you the QR code to be scanned to share the internet with other people.
For those who don't have the Share WiFi feature on their phones can download and install applications like WiFi QR Code Generator, WiFiKeyShare, and WiFi Easy from Google Play Store. These apps will help you transcribe your network's password into a QR code, which can be scanned on the other phone using majorly of QR Code scanner apps available in the market.
Additionally, you can also use sites like Qifi (https://qifi.org) and XZing QR Generator (http://zxing.appspot.com/generator) to create codes online, on any device. This is indeed the easiest and hasslefree way to share WiFi without sharing passwords.
Using NFC Tags
As an alternative to QR codes, you can also share your WiFi passwords with others using NFC tags or stickers that are usually available for cheap in the market.
To start with, get an NFC sticker, install & open the WiFiKeyShare app, and head to the NFC section. Now, bring the tag close to your phone and click on Write to Tag. You'll then see the list of WiFi networks you're connected to. Select the one you want to share, and wait for it to write information to the tag.
Once done, stick the tag at an accessible place for people to connect to your network by scanning it. As soon as you bring a phone close to the tag's proximity (less than 10 cm), it'll automatically prompt you to connect to the network. And of course, you don't need to install any third-party app for the same.
Important Note: The guest's phone is required to have the Near Field Communication (NFC) feature turned on to be able to scan the tag. The same is also needed on the phone you're going to use to write the tag. While sharing WiFi passwords via NFC tags is much easier than QR codes, not all phones, especially mid-range devices, are equipped with the required NFC hardware.
On iOS?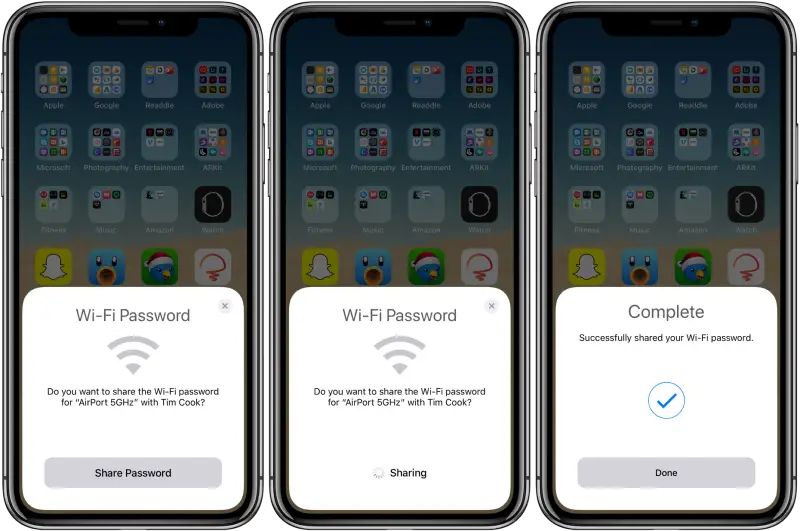 If you're using an iPhone, you don't need to follow any of the trickeries mentioned above. Instead, you can use iOS' built-in feature to share WiFi passwords with nearby iPhone, iPad, and Mac users.
Before starting, make sure that WiFi and Bluetooth are turned on both the phones, and your Apple ID is added to the other person's Contacts app. Once the phones are close enough, you'll automatically get a Share Password pop-up on your phone. Just click on Share, and you're good to go.
If the other person does not have an Apple device, you can still share your internet using the other workaround. But for that, you need to download and install the Shortcuts app on your iPhone.
Once installed, use this iCloud link, and you'll see a Make Wifi QR Code option in the app. Tap the option and enter the network's name & password to get the QR code. You can now use a QR code scanner on the other phone to scan and connect to the WiFi network.
Wrapping Up
This was all about how you can share your WiFi network without actually sharing its password with others, be it on Android or iOS. That said, always keep a strong password use additional layers of encryption for your network. Also, turn off the router when not in use and keep watching out for intruders. This will help safeguard your network against unauthorized access. Have a good day.
Also read: How to Share Screen Between Multiple Android Devices