The Coronavirus lockdown has disrupted the fitness schedule for many people. Facilities such as gyms and fitness clubs are shut, and people are looking for alternate ways to maintain their shape and health. If you, too, are planning to stay fit at home, do not worry, we've got your back. Here are five amazing fitness apps that can help you workout at home.
Fitness Apps to Workout at Home
1. Nike Training Club
Nike Training Club is currently offering free access to premium workouts for everyone. There are over 185 workouts in the app, ranging from strength and endurance to mobility and yoga. You can exercise anytime, anywhere, and track all your activity and stats within the app.
Besides, it incorporates body part-focussed workouts, targeted training plans, and bodyweight-only sessions with different levels and intensities depending upon your energy and stamina. You can even get recommendations from Nike trainers to help achieve your desired fitness goals.
2. Adidas Training by Runtastic – Home Workout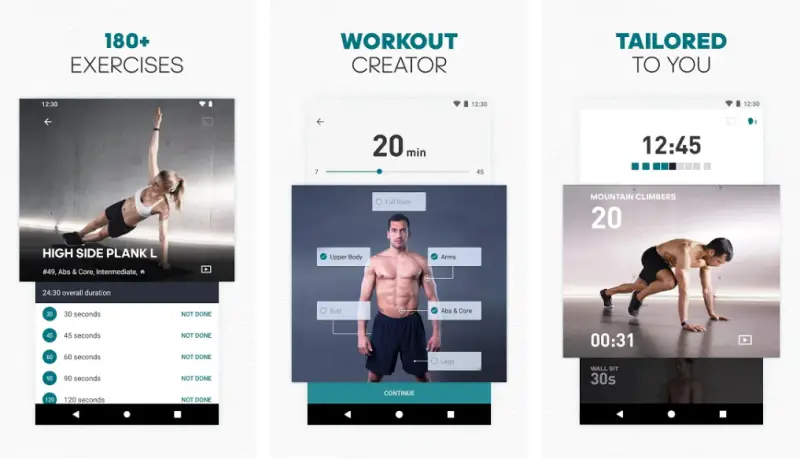 The Adidas training app by Runtastic is an efficient home workout planner that lets you customize your exercises based on your needs. Whether you want to build muscles, lose weight, or simply want to stay fit, the app gives you tailored options to reach your goals.
Based on your fitness level and ability, you can choose to complete two to five workouts a week with a variety of exercises targeting different body zones such as butt, abs, legs, or arms. Plus, there are about 180+ HD workout videos, including detailed instructions and demos by a fitness trainer for every exercise, helping you to do quick and focused workouts at your home without any equipment.
3. JEFIT Workout Tracker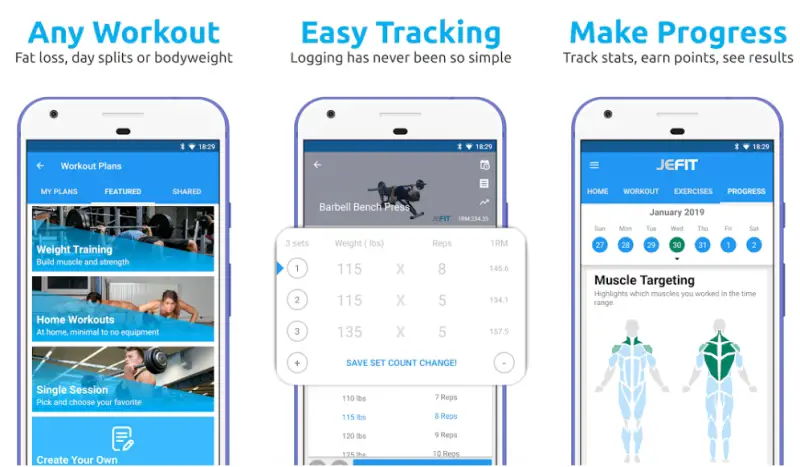 JEFIT Workout Tracker is specifically made for people who aim at weight loss and body-building. It lets you set your exercises, track weights, reps and offers detailed stats of your training. There are over 1,300 demonstrations from experts to follow the training sets correctly. Plus, you get a separate 'Home Workouts' plan to manage with minimal to no equipment.
Customized training programs include three to five-day splits, fat loss, 5×5, strength, bodybuilding, weightlifting, powerlifting, etc. Moreover, you can even set your goals, add friends and join the Jefit monthly fitness challenge to stay motivated. Apart from mobile devices, it can also be accessed on desktop and web.
4. FitOn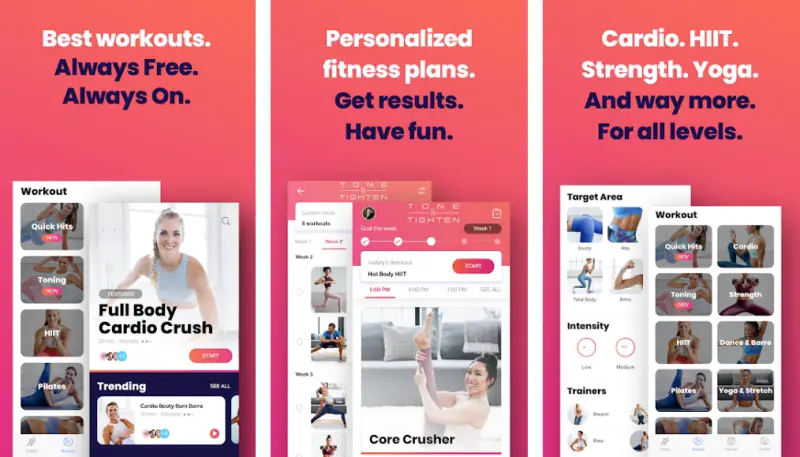 FitOn comes equipped with different exercise styles ranging from cardio to strength training to HIIT, yoga, pilates, dance, and more. It offers short & effective workouts from personal trainers and full-length video workouts with detailed voice and visual instructions.
You can customize workout plans for your goals, be it losing weight, getting in shape, building muscle, or simply relieving stress. The app even offers quick 10-minute workouts for when you're short on time. It's completely free to use and has no subscriptions or in-app purchases.
5. Abs, Core & Back Workout at Home by Fitify
As the name suggests, the app mainly focusses on abs, core, and back workouts for home and office. It comes with a total of three unique workout plans, including Insane Six Pack for flat and firm abdominal muscles, followed by Complex Core for strengthening core muscles, and Strong Back for maintaining your back's posture and getting rid of the pain.
There are a total of 80 bodyweight exercises that do not require any kind of equipment. In addition, it gives you high-quality video demonstrations with voice assistance that even works offline. You can build custom workouts with exercise types, duration, rest duration, and frequency. Moreover, you can take 30-day challenges to strengthen the given body areas in an efficient manner.
Wrapping Up
So these were some of the best home workout apps that'll help you maintain your shape and health during the lockdown. Anyway, what fitness apps have you been using so far? Do let us know in the comments below. Also, feel free to reach out in case of any doubts or queries.
Also, read- Coronavirus: 5 Apps to Make Your Work From Home Easier