With the surge in work from home culture due to COVID-19, Zoom has managed to gain a vast customer base across the globe. However, there have been multiple security and privacy concerns circling the service in the past few weeks. As a result, many have started looking for alternatives.
Now, people who no longer want to use Zoom can permanently erase their accounts on the platform. And the same can be done within minutes through your account dashboard. In this article, let's have a look at how to delete your zoom account.
How to Delete your Zoom Account on Phone or PC
Before we start, note that you cannot erase your account through Zoom's Android or iOS apps. Instead, you'll be required to log on to the website through your computer, as follows.
1] On your PC, open the browser and head to the Zoom website. If on the phone, open the site on your browser and choose the 'Request desktop site' option in the browser menu.
2] Hit Sign in and fill in your account credentials.
3] After you've logged into your account, check the Admin section given on the left sidebar. Under the same, click on Account Management and then tap Account Profile.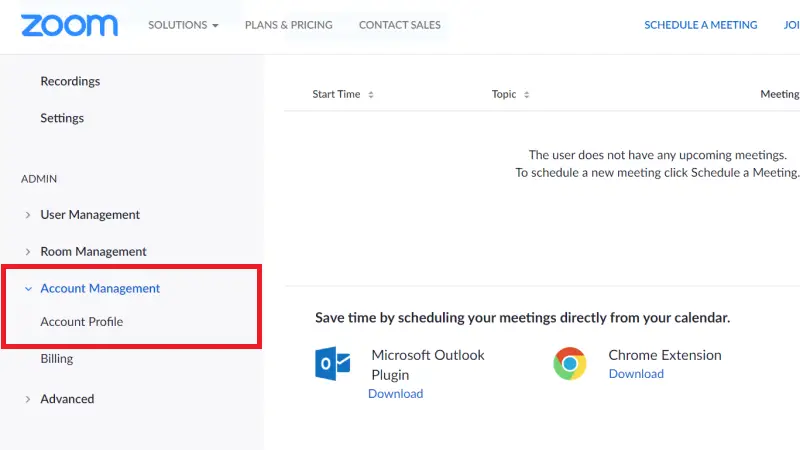 4] On the following page, click the blue-colored, Terminate my account button. Click on Yes to confirm when prompted.
That's it. You'll be now logged out, and your account will be deleted from the platform. It will also show a pop-up message that your account termination was successful.
Note that as of now, there's no option to restore an account. Yet, you can create a new profile anytime you want to. Also, if you are a paid zoom user, you'll be required to cancel your subscription before terminating the account. The same can be done through the Billing section under Account Management settings.
Wrapping Up
So this was a brief guide on how to delete a Zoom account. Anyway, what's your reason behind doing so? Is it security concerns or something else? Do let us know in the comments below. Moreover, feel free to reach out in case of any doubts or queries.
Also, read- Work From Home: Three Services to Conduct Online Meetings