Clean Master and DU Cleaner are two popular Chinese tools that claim to clear memory and speed up your phone. However, in reality, these apps track and collect user data. In fact, the two have recently been red-flagged over safety concerns by Indian agencies. So, even if you're installing such apps, it's vital to go for something that can be trusted upon. In this article, let's have a look at the top non-Chinese alternatives to Clean Master and DU Cleaner.
Also, read- Top 5 Indian Alternatives to UC News App
Non-Chinese Alternatives to Clean Master & DU Cleaner
1. CCleaner
CCleaner is a popular PC and Mac cleaning software which is also available for Android. It lets you clean unnecessary junk from your phone, including app cache, download folders, browser history, clipboard content, and more.
The app lets you uninstall unused applications in bulk. Besides, the Storage Analyzer feature gives you a better idea of how space is being used on your Android phone.
There's also a system monitoring tool to monitor phone's temperature alongside RAM and CPU used by installed applications. CCleaner is free to use but contains ads which can be removed by upgrading to Pro version.
Developed by: Piriform Ltd, England (Owned by Avast)
2. Norton Clean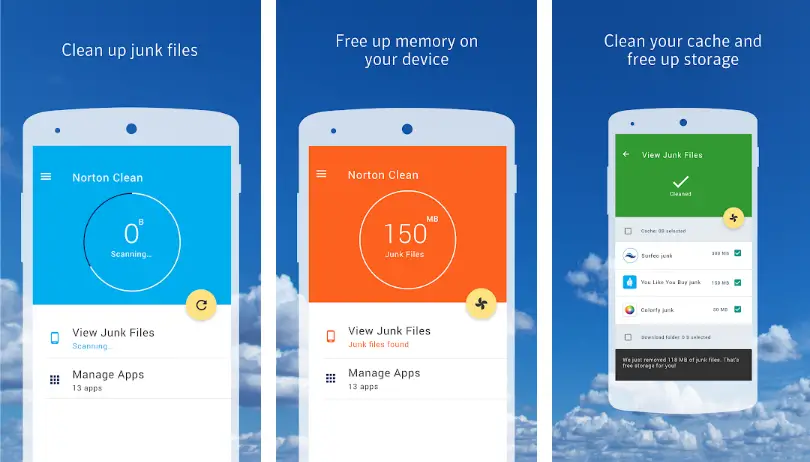 Developed by the globally trusted security software provider, Norton Clean lets you clean residual cache files often left by uninstalled apps, unnecessary junk files, as well as obsolete Android Packages on the phone's storage.
In addition, Norton also identifies the junk-creating behavior of installed applications to clean residual and temporary files efficiently. It even lets you identify and remove apps you rarely use, helping to reduce clutter and reclaiming memory to store new apps and media.
Norton Clean is entirely free to use and doesn't offer annoying advertisements.
Developed by: Norton Labs, USA
3. SD Maid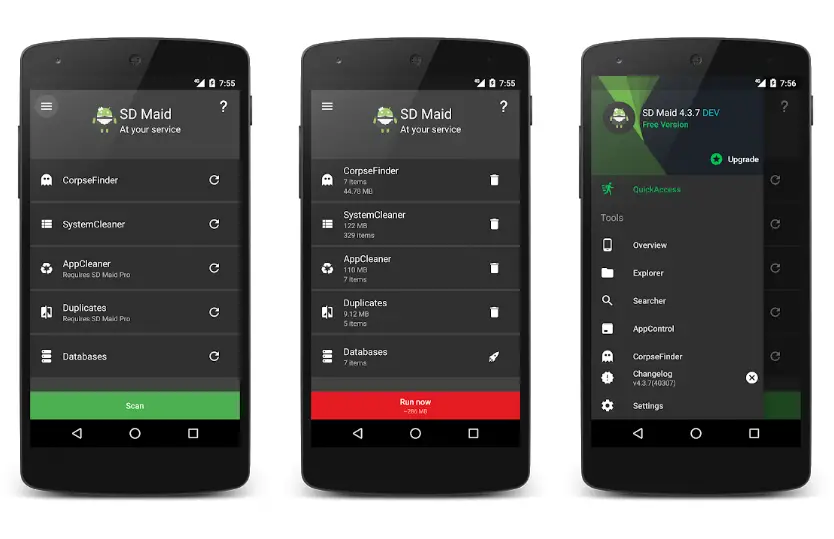 SD Maid is one of the most in-depth storage cleaning apps you'll find in the market. Notably, besides the usual cache and residue, it lets you clear logs, crash reports, and other files created by the system.
You can also remove unnecessary databases and expendable files. Not only that, but there's also a dedicated option to find duplicate pictures, music, or documents, independent of name or location.
While SD Maid is entirely ad-free, buying the Pro version unlocks additional features such as automatic cleaning.
Developed by: darken, Germany
4. Avira Optimizer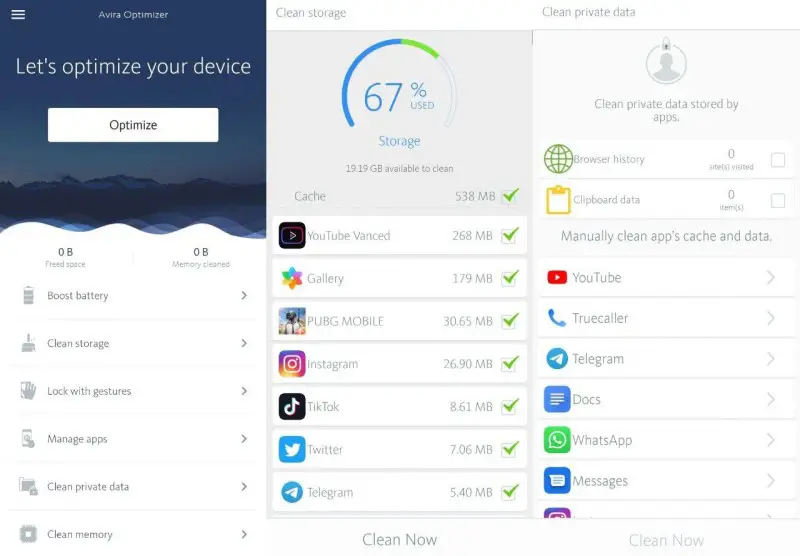 Avira Optimizer lets you clean cache, junk files, temp, and duplicate files on your phone to free up storage space for other stuff. There's a separate Clean private data mode to delete browser history, call logs, texts, and clipboard content.
In addition, the app also lets you boost battery life and gaming experience by closing down unnecessary applications running in the background. You can get an overview of apps on your phone, the space they take up, and uninstall them in one tap.
Avira has also included a built-in smart lock that locks your phone's screen when it's put down or placed in the pocket or bag. The app contains ads and requires you to buy the Pro version which also unlocks extra features.
Developed by: Avira Operations GmbH, Germany
5. Files by Google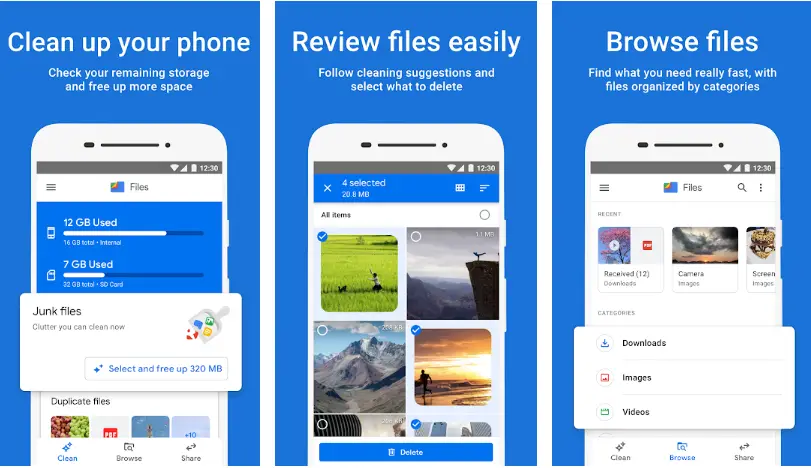 Files by Google is a multi-purpose file manager that also lets you clean unnecessary covered space on your phone. Plus, it also features fast offline file transfer.
The app has a simple and easy to use interface with a dedicated tab for cleaning. For now, it detects junk from applications, memes, unused apps, large videos, large files, duplicates, and more. You also get useful suggestions to keep from low storage issues.
Overall, it's a great non-Chinese alternative to Clean Master. However, you won't find as many cleaning options as in other apps mentioned above. Nonetheless, it's free to use and doesn't have any hidden paywalls or ads.
Developed by: Google LLC, USA
Wrapping Up
These were some of the top non-Chinese alternatives to Clean Master, Du Cleaner, and other shady cleaning apps available on the Play Store. Out of all, my recommendation is SDMaid for its to-the-point approach and extra cleaning options.
Anyway, which app did you like the most? Do let me know in the comments below. We've also done a detailed post on popular Chinese apps and their Indian and US alternatives if you're interested. Stay tuned to GadgetsToUse for more such articles.
Also, read- 5 Non-Chinese Alternatives to SHAREit App