Apart from direct contact, Coronavirus can also spread through things around you, including your smartphone. Now, many of you might be directly using sanitizers to clean your phone; however, it isn't the best practice. In this article, let's have a quick look at the ways to disinfect and kill Coronavirus from your phone.
How to Clean and Disinfect your Phone from Coronavirus
For starters, it's advised not to clean your phone directly (spraying or submerging) with any type of liquids, including sanitizer or alcohol solution. Doing so may lead to ingression, thereby causing permanent damage to essential components.
Besides, spraying Sanitizer or other alcohol-based cleaners on the screen may degrade its oleophobic coating, which provides resistance against dirt, dust, oils, and other residues. It also prevents fingerprints, smudges, and scratches.
It's further recommended not to use aerosol sprays, bleaches, or abrasives like paper towels. Although, it's safe to use certain disinfectants, make sure to use them with a microfibre cloth or towel instead of spraying directly.
Things to Kill Coronavirus & Other Germs on your Phone
Below are things you can use to disinfect your phone to keep it safe from Coronavirus and other bacteria and germs. But before you start, make sure to do the following things:
Turn off your phone.
Remove its case.
Remove charger if plugged in.
Sanitize your hands if not already.
1. Isopropyl Alcohol, Disinfectant Wipes
Apple, on its website, says that you can use 70% isopropyl alcohol wipe or disinfectant wipes like Clorox to clean your phone. Just turn off the device and gently wipe down the hard surfaces with the wipe while avoiding speakers and charging grill.
Don't have phone-friendly cleaning wipes? You can prepare a 50/50 cleaning solution with rubbing alcohol and spray it on to a microfibre cloth to create DIY wipes. That said, do not use 100% alcohol cleaning products.
2. Screen Protector + Hand Sanitizers
If you have a screen protector installed, use a small pinch of hand sanitizer with a microfibre cloth to rub over your phone. However, some sanitizers have additional ingredients like perfumes to give it a scent that may leave residue and make your screen smudgy.
Most sanitizers use ethyl alcohol (ethanol), which is not suitable for screens. And as mentioned above, using them on naked screens may damage the oleophobic and hydrophobic coating.
3. Soap Water and Soft Towel
Soap and water, too, is quite effective in killing Coronavirus and other viruses, germs, and bacteria on your phone. All you need to do is mix a small quantity of mild soap with water. You can then use it with a soft towel to clean your phone.
However, the towel shouldn't be dripping wet. Also, avoid getting any liquid in the charging port or other areas, such as speaker grills. Be careful with phones that do not bear water resistance.
4. UV Sterilizer Box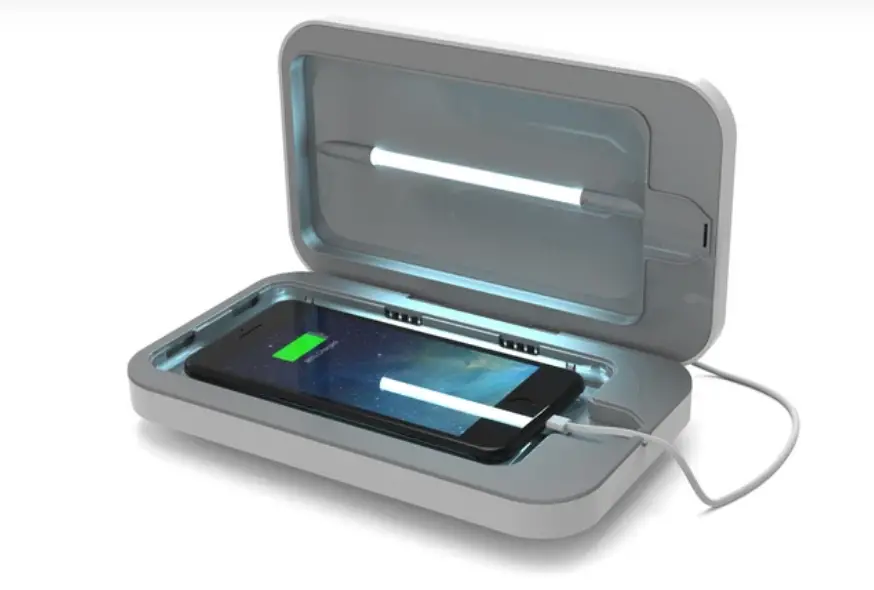 Several companies make portable UV sterilizers that can be used to disinfect smartphones. Besides, you can also use them to clean other things, including wallets, cash, jewelry, and keys.
All you need to do is keep your phone inside the sterilizer box, turn it on and wait till it finishes disinfecting the phone. These devices use Ultraviolet light, which is proven to be capable of killing Coronavirus and other viruses and bacteria.
Wrapping Up
This was all about how to disinfect your phone from Coronavirus. Anyway, apart from your phone, do not forget to clean its case and other accessories you carry along. Before using any chemicals or liquids on your phone, check if the manufacturer has mentioned any specific guidelines or instructions.
Also, read- Coronavirus: 5 Apps to Make Your Work From Home Easier