So, you just bought yourself a brand new phone and lifted it from the packaging, anticipating the new experience. At the same time, you may be worried about what to start with. Well, here are five things you should do on a new Android phone to get the best experience from the very beginning.
Things To Do After Buying a New Android Phone
The moment you turn on the phone, it'll ask you to go through the initial setup, which involves adding Google account, enabling the lock screen, and more. Assuming that you've done that or are already familiar with, let's move on to other essentials.
1. Check for Software Updates
Now, the first thing to do on a new Android phone is to check for software updates, especially if the device has been in the market for a while now.
To check for updates, head to Settings > About device > Software Update (varies across devices). Updating the firmware to the latest version enhances the performance, security, and overall stability of the phone.
The manufacturer may also push Android version upgrades, which are better to be installed fresh. Once done with OTA updates, you can update the stock apps on your phone from Google Play Store.
2. Remove Bloatware
The next step involves removing bloatware apps that come preloaded with the phone. Manufacturers like Xiaomi and Realme bundle tons of unnecessary apps that can be disabled from the settings.
However, if any particular app cannot be disabled, you safely uninstall it through ADB on your PC. We've done detailed guides on how you can uninstall stock apps from Oppo, Vivo, Samsung, and Realme smartphones.
3. Copy your Data from Old Phone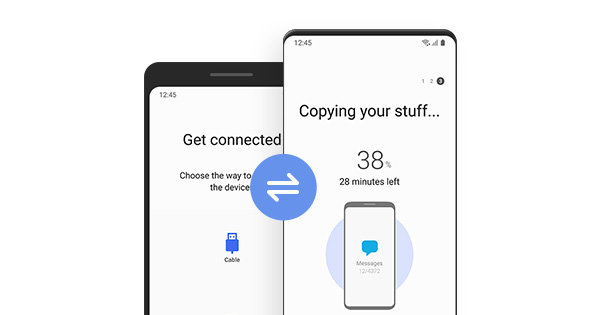 During the setup, Android asks whether you want to copy data from an old device. Using the feature, you can import all your apps and data from your old phone through a compatible USB cable.
Anyway, that's not the only option- there are several third-party file-sharing apps you can use to transfer files, apps, videos, music, and documents wirelessly to the new device.
Companies like Huawei, Samsung, and OnePlus have their own phone clone apps that can import not only apps and data but also text messages and call logs from the old phone.
4. Check Default Apps
Next, check for the default apps and set them as per your preference. They can be looked upon in Settings > Apps & Notifications > Default Apps. If you don't like something, you can look for its alternatives on Google Play Store.
Try out new launchers (home apps) like CPL, Lawnchair, Nova, and add new icon packs and widgets to enhance your home screen experience. You can even change your phone's dialer, SMS, and keyboard apps based on your liking.
5. Set Up Android Backup
Now that you're done with the basic steps, it's time to enable Android backup service. To do the same, go to Settings > System > Backup. Here, enable Backup to Google Drive and select your Google account.
Once enabled, all your apps and apps data, call history, contacts, device settings (including Wifi passwords), SMS, photos, and videos will be backed up to your Google Drive account.
Bonus- Enable Find My Device
Google's Find My Device service can help you locate, erase, and lock your phone remotely if it's lost or stolen. It could be a life savior, especially if you have important data on your device. So, make sure that it's enabled on the very first day.
To turn it on, navigate to Settings > Security > Find My Device and flick the toggle. Make sure that your phone is connected to the internet, and the location is on at all times for it to be able to track your phone.
Wrapping Up
So these were some quick things that you should do on a newly bought Android phone. Anyway, do you have anything else to add? Let me know in the comments below. Also, feel free to reach out for any doubts or queries.
Also, read- How to Enable Autofill Password in Android