Google is working on bringing Gsuite apps together so you don't have to install more apps, so you can just install one and it works for both services. But if you are not a fan of these two apps in one change then here is a step by step guide to tell you how you can disable the Google Meet tab in Android and iOS.
Google Meet is Google's meeting service and it was their years before budded as Hangout Meet. And this service was exclusive to the GSuite users before but now Google has made it free for all to compete with Zoom. This new Meet tab in Gmail app is only available to the GSuite users not to everyone.
Google has already announced this before but it recently came to existence. Some people are not liking it as it feels cluttered or bloated. So, if you feel the same then here is a step by step guide for you guys to disable this tab from the Gmail app.
Steps to Disable Google Meet Tab in Gmail
1] Open the Gmail with the Guite account logged in. There will be two Gmail app if you have the Gsuite and normal Gmail account logged into the same phone.
2] Open the Hamberger menu, you can do that by swiping right from the left edge.
3] Select Settings from there and then select the account.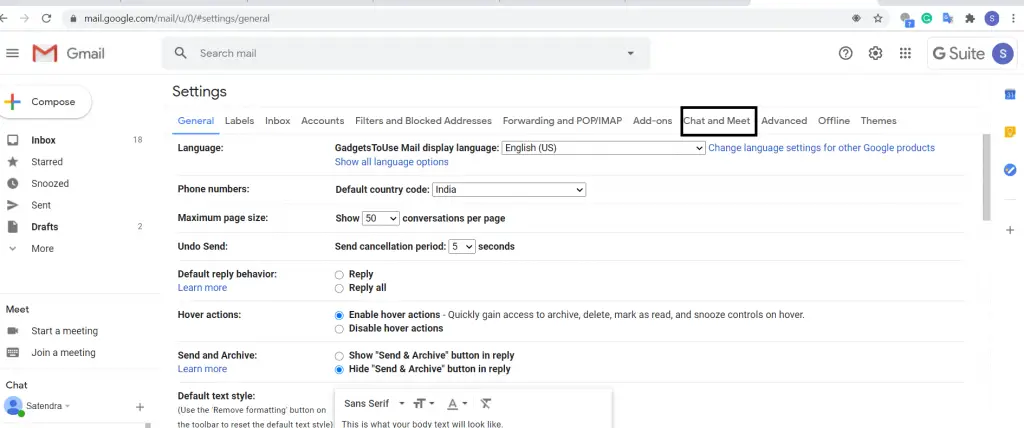 4] Scroll down to find the Chat and Meet section in settings then click on the Hide the Meet section in the main menu option.

5] Click on Save changes and the Meet tab will be disabled from the main menu.
Wrapping up
This is how you can disable the Google Meet tab in the Gmail account if it bothers you. For more Gmail or Meet tips and tricks, follow us on the Social media pages to stay updated.
Also, read How to Backup Gmail Account and Download All Data