WhatsApp released a new search the web feature in the app which lets you fight the misinformation getting shared in the chats and groups. Now you can direct search about those forwarded messages which seem misleading and wrong. This feature was in beta before but now it has been rolled out for all the users in some countries.
This search app puts a little magnifying glass icon at the side of the message which has been forwarded several times. This feature puts that icon on the side of the messages which seems suspicious.
WhatsApp Search the Web Feature
Follow the following steps to search for a piece of fake news on WhatsApp.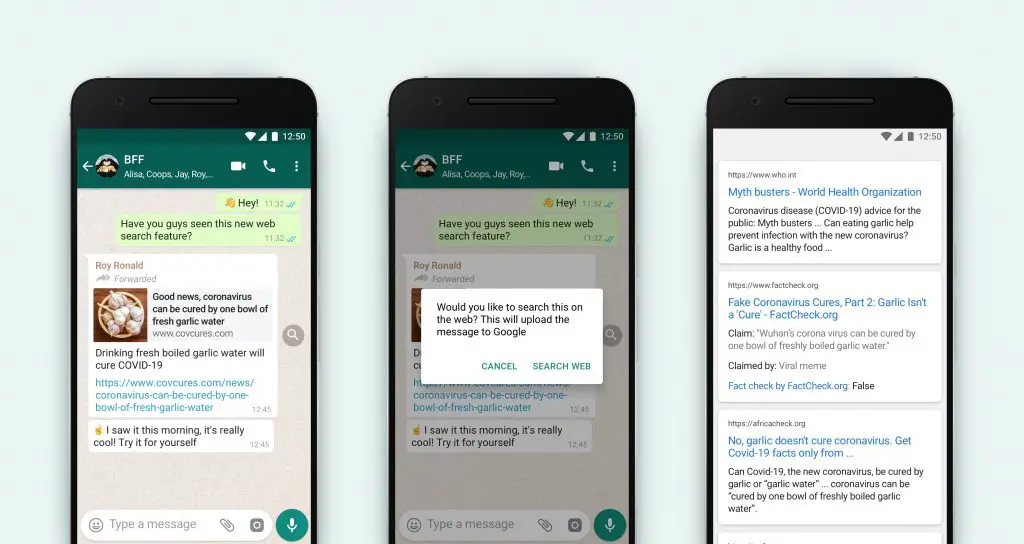 Update your WhatsApp from the Google Play Store (ignore if already updated.)
Now go to the chat or group which has some forwarded news like messages.
Tap the little magnifying glass icon beside the message.
It will ask you if you want to search that on the web, tap on the Search Web button.
This will take you to the browser with google search page about that message.
On the search page, you can easily spot if it is a piece of fake news or not by reading some articles related to that message. This is a really great feature from WhatsApp because most rumors and fake news get viral on WhatsApp really quickly.
Wrapping up
This WhatsApp Search the Web feature has rolled out in the WhatsApp version number 2.20.195.17 in Brazil, Italy, Ireland, Mexico, Spain, UK, and the US. If your app is updated to this version number, you will be able to use this feature on your phone.
For more tips and tricks like these, follow us on social media.