The 48-hour Amazon Prime Day Sale 2020 will continue from midnight of August 6 to August 7, and we've already shared the best deals with you. That said, not all products are as worthy as they're marketed to be, and there are better options to choose from. Here are some of the smartphone deals that you should avoid during this Prime Day Sale. We've also mentioned a couple of alternatives to go for.
Smartphones to Avoid in Amazon Prime Day Sale 2020
Redmi Note 9 Pro Max
The Redmi Note 9 Pro Max will sell for Rs. 16,999 through a flash sale on August 6. However, it isn't a wise choice at the current price since there are better alternatives available in the market.
Alternatives
For Rs. 500 more, you can get the Poco X2 with a better 120Hz display, powerful processor, and improved cameras. Then, there's Motorola One Fusion+ at Rs. 17,499 with a notch-less display, pop-up camera, and stock Android experience.
Redmi Note 8
The Redmi Note 8 is being offered at Rs. 12,799, which includes a total hike of Rs. 2,799 from what was announced at the time of its launch. Hence, you should avoid the phone, even if you using card offers.
Alternatives
Instead, you can check out the new Redmi Note 9 at Rs. 11,999 and Realme 6i at Rs. 12,999. Note 9 will be available through a flash sale on Amazon at 2 pm on August 6. Whereas, the Realme 6i can be purchased on Flipkart.
Vivo V17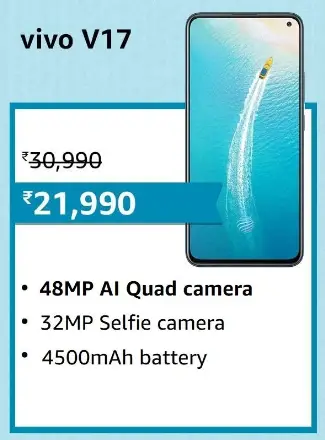 Amazon is offering Vivo V17 at a discounted price of Rs. 21,990 in Prime Day Sale. Unfortunately, the phone uses Snapdragon 675, which is a mid-range chipset found on sub-10K smartphones.
Alternatives
For Rs. 1,000 more, you can grab the Redmi K20 Pro, which features the much powerful Snapdragon 855 processor, notch-less display with pop-up camera and faster charging. If the budget is a constraint, you can check out the Poco X2 and Realme X2.
Samsung Galaxy M11
The Samsung Galaxy M11 was launched in March at Rs. 10,999 for the 3/32GB variant. However, the same launch price is now being quoted as a discount offer, which isn't fair, in my opinion. The same is the case with the Galaxy M01.
Alternatives
For starters, the M11 gets an HD+ display and mediocre Snapdragon 450 processor while other devices are offering much better specifications for the price. You can skip the deal for better deals such as the Redmi Note 9 and the freshly launched Redmi 9 Prime.
Redmi 9 Prime Redmi Note 9
Oppo A12, Oppo A31
As it's the case with most phones, the Oppo A12 and Oppo A31 are a part of the sale but don't bear any price cuts. Barring that, the problem with both these devices is that they feature HD+ display and sub-par Helio P35 processor.
You can skip both the phones and opt for either of Redmi 9 Prime, Redmi Note 9, and Realme 6i. If buying an Oppo phone is all you want, go for the Oppo A5 (2020), which at least gets Snapdragon 665 chipset and a larger 5,000mAh battery.
Panasonic Eluga i7

The Panasonic Eluga i7 will be sold for Rs. 6,499 during the Prime Day Sale. Now, a lot of you may want to buy the phone, given the cheap price tag. However, counting in the sub-standard specs, it isn't the right phone to spend your money on.
Alternatives
We'll advise you to get either Redmi 8A Dual or Realme C11 at Rs. 7,499. If you're on a tight budget, check out the newly launched Honor 9s, or Realme C2, and Realme C1.
Redmi 8A Dual
Wrapping Up
So, these were some of the smartphone deals that you should avoid in Amazon Prime Day Sale 2020 as we have better options available for the price. That said, make sure to check for the product's price history before you buy something that's marketed as a deal. You can use third-party apps and chrome extensions for the same.
Do let us know what you're planning to buy in this sale. Also, don't forget to bookmark our Prime Day Sale Discounts page for fresh deals once the sale goes live.
Also, read- How to Get Best Deals in Amazon Prime Day Sale