Back in August, Realme started rolling out the smooth scrolling on its smartphones. As the name suggests, the feature allows for a visually smoother and faster effect when scrolling. If you have a Realme phone, here's how you can enable smooth scrolling in Realme UI.
Enable Smooth Scrolling on Realme Smartphones
Realme smartphones used to run on ColorOS until they were updated to the much cleaner Realme UI. For starters, the custom skin has a dedicated Realme Laboratory where the company pushes some unique, beta features.
As a part of the Realme lab project, the "Smooth Scrollling" feature makes scrolling much smoother and faster than before, while scrolling upwards and downwards.
When it's turned on, the scrolling reaches further down the page and stops much later with a smoother scrolling animation- all of it with one upward swipe. It is particularly evident in apps or webpages with endless feeds like Facebook, Instagram and Twitter.
To Enable Smooth Scrolling on Realme Phone running Realme UI:
Before we start, make sure your phone is updated to the latest software version. You can check for updates in Settings > Software Update.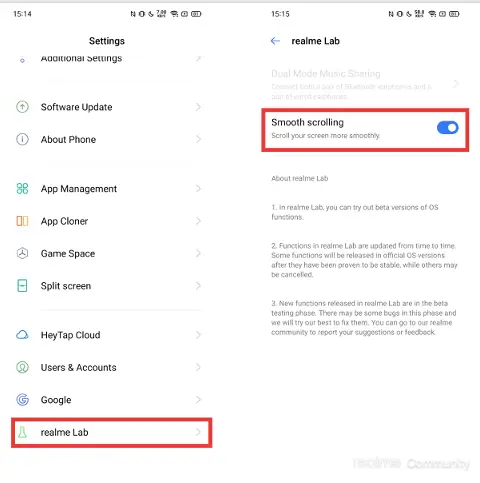 Open Settings on your Realme device.
Scroll down to the bottom of the page.
Click on realme Lab.
Here, turn on Smooth Scrolling.
That's it. Smooth Scrolling has now been enabled on your phone. You can check if it makes any difference for you in social media apps like Facebook, Twitter or other apps with endless feed.
Wrapping Up
So, this was all about how you can enable and use smooth scrolling on your Realme phone. Do note that it isn't available on all models. As per our knowledge, it's been rolled out to Realme 5s, Realme 5 Pro, Realme 3 Pro, Realme X, Realme XT, Realme X2, Realme X3 and Realme X3 SuperZoom.
The company earlier said in its forum that the feature is part of Realme lab project and will be available to all Realme devices running Realme UI very soon. However, I couldn't find it on my Realme C12. Do let us know if it's available on your particular model in the comments below.
Also, read- Realme 65W SuperDart Charging: How Does it Work? Is it Safe?