Lately, an Indian website called 'Tooter' has been trending on social media platforms. It identifies itself as a Swadeshi social network that is 'Made in India' and rivals the American microblogging site Twitter. In this article, let's have a look at some hidden and lesser-known things you should know before using Tooter in the form of a detailed FAQ.
Tooter FAQ: 10 Things to Know About the 'Swadeshi' Twitter Rival
Let's be very frank- Tooter is a social media network similar to Facebook or Twitter. If you start using it, you'll be giving away a good chunk of your data like other platforms. Hence, it becomes important to run a background check and see if the platform is actually worth using and can be trusted or relied upon.
1. What is Tooter?
Tooter (www.tooter.in) calls itself a Swadeshi social network, an alternative to Twitter.
The platform's About page reads, "We believe that India should have a Swadeshi social network. Without one, we are just a digital colony of the American Twitter India Company, no different than what we were under the British East India Company. Tooter is our Swadeshi Andolan 2.0. Join us in this Andolan. Join us!."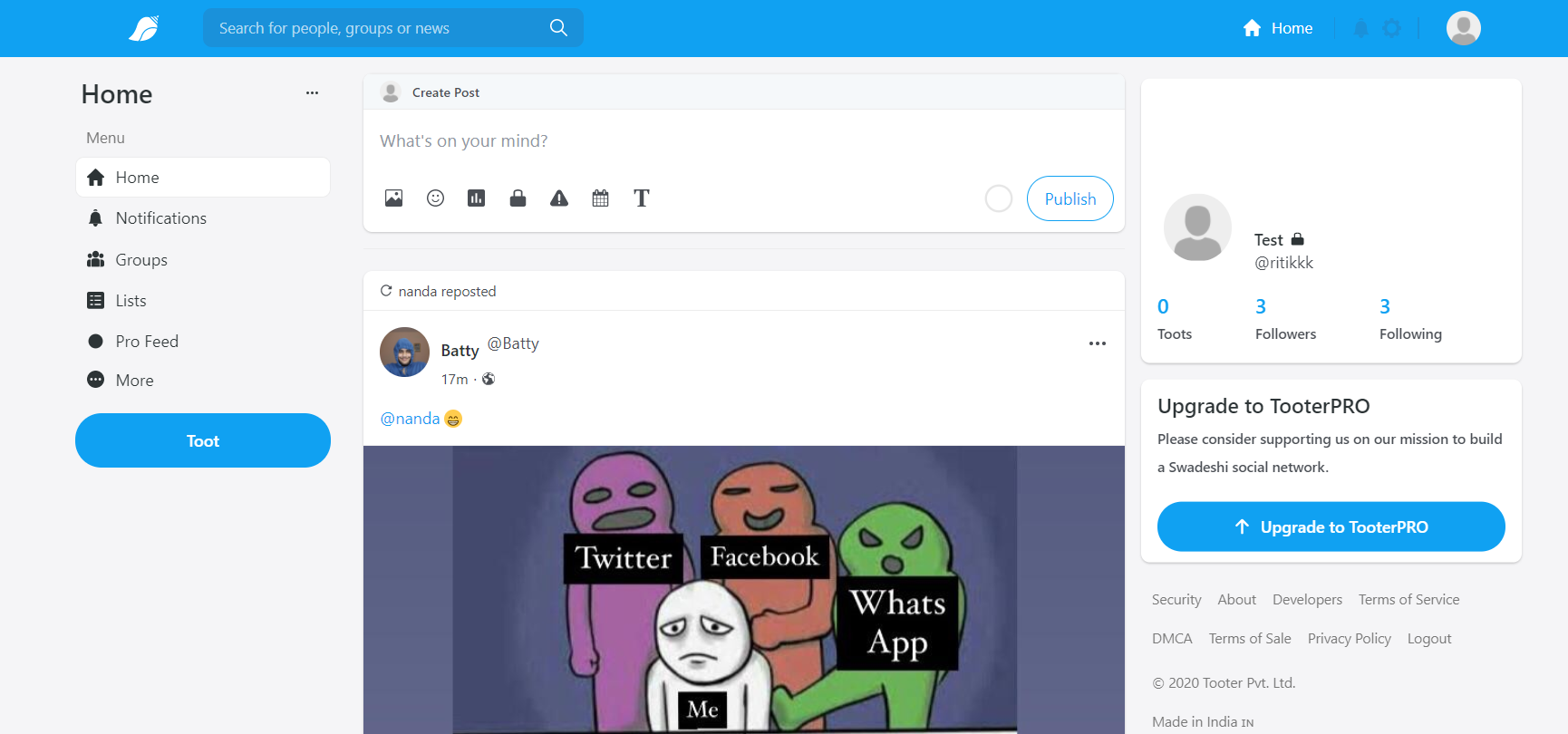 For starters, Tooter is heavily inspired by Twitter, ranging from the overall site design to the blue and white/ dark theme. It uses a blue-colored conch shell as its logo. It is Open Source and forked from the Mastodon project. You can download Tooter's complete source code here.
Tooter seems to have appeared in July this year. However, the platform has now gone viral on social media, particularly Twitter. It currently stands at 10,000+ downloads on Google Play Store.
2. Who is the Founder of Tooter?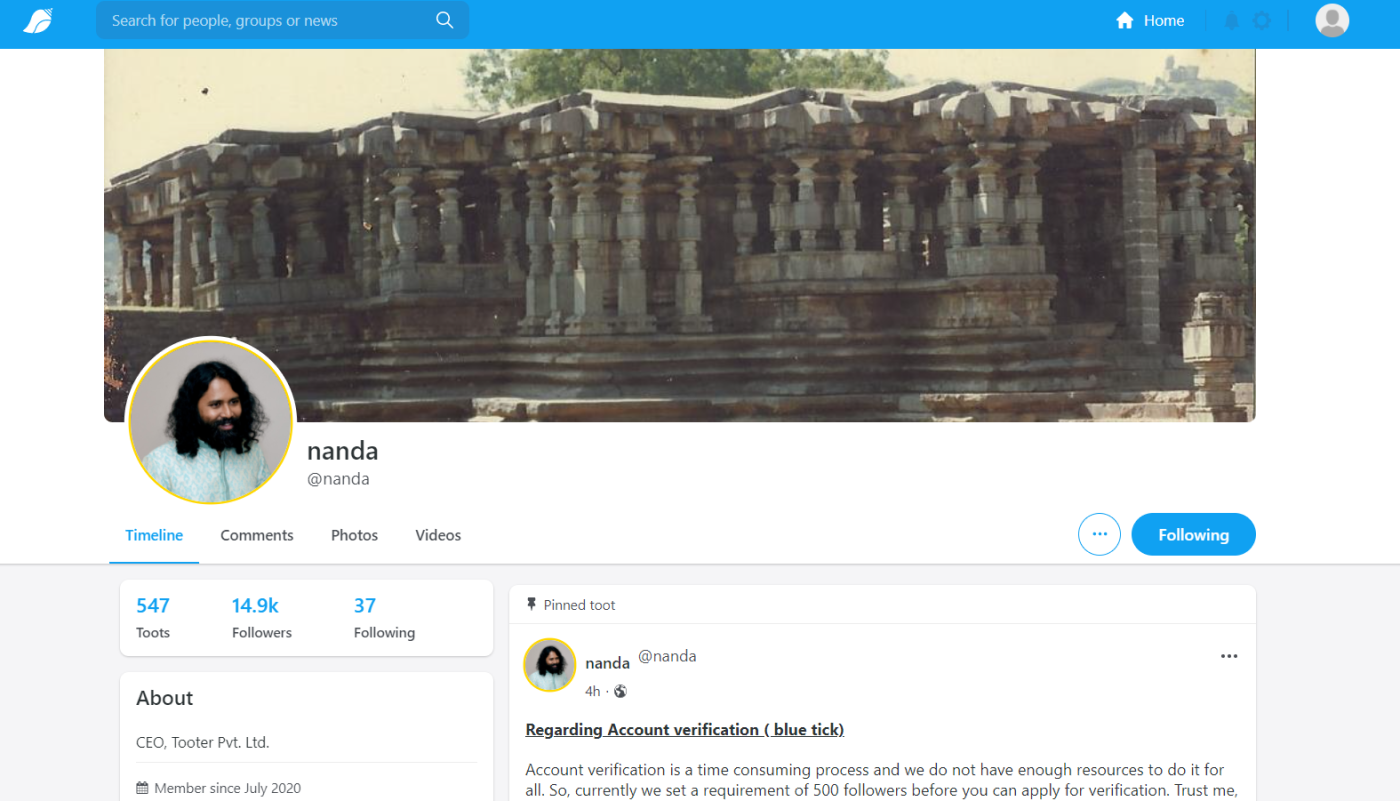 The CEO of Tooter is Mr. Nanda, who also has a verified handle @nanda on the platform. Tooter Pvt. Ltd. is based in SriCity, Barugudem in Khammam, Telangana. The company has two directors, namely Naresh Vankayalapati and Rameshwar Rao Vankayalapat.
3. How Do I Register On it?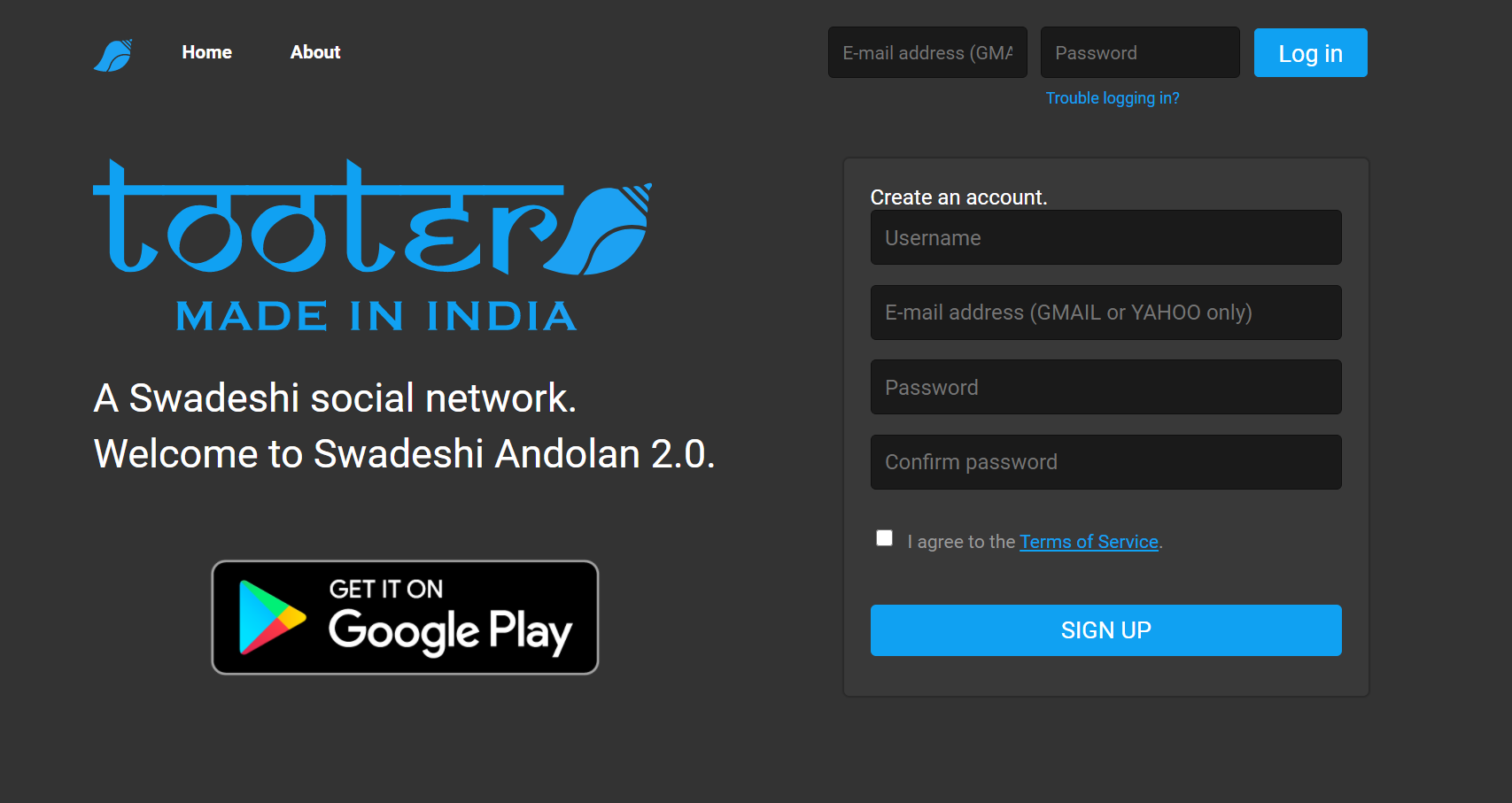 It is quite simple to register and sign up on Tooter. Visit https://www.tooter.in, enter your preferred username, email address, and set a password. You'll then get a verification link on your email ID.
If you don't get the confirmation mail, check the spam folder. As of now, it allows registrations only from Google and Yahoo email accounts.
4. Do We Have a Tooter App for Android & iOS?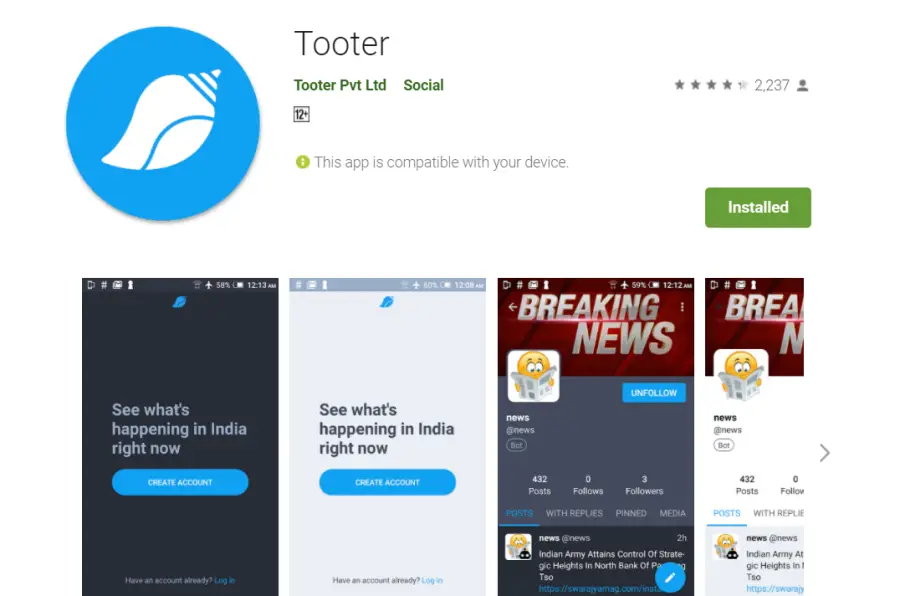 Yes, Tooter does have an Android app which can be downloaded from the Google Play Store. However, as of now, there's no app for iOS. iPhone users can still use the web version, while Android users can download the app from the link given below.
Download Tooter App for Android 
5. What All Can I Do On Tooter?
Tooter works very similar to Twitter. You have a profile with a unique @handle. You can follow people, surf through the news feed, and make your own posts.
Similar to tweets on Twitter, your posts are referred to as Toots on Tooter. Furthermore, you can join groups as well as create lists. There's no direct message feature, but it is expected to arrive in the coming time.
6. Who All Are on Tooter?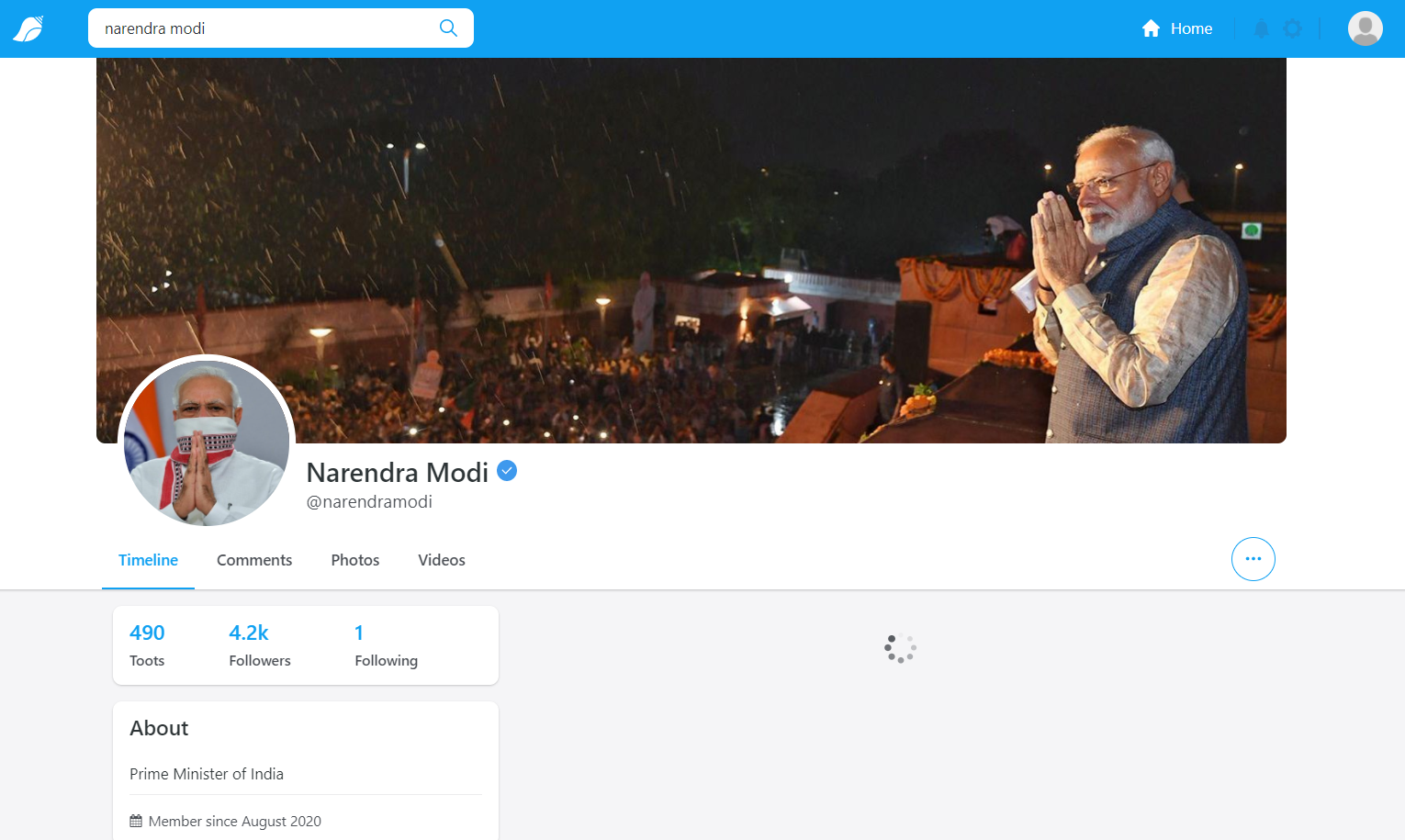 Tooter already has a lot of prominent personalities onboard. You can see PM Narendra Modi and former Congress president Rahul Gandhi with a verified account. Besides, BJP India's official handle, Defence Minister Rajnath Singh, Yogi AdityaNath, SadhGuru, Cricketer Virat Kohli, Actor Abhishek Bachchan, and more are on the platform.
However, there's a small catch- while the desktop site shows these accounts as if they are genuine, the mobile app marks them as 'bots.'
Moreover, a report by Livemint mentions- "When one checks the source code, it would appear that Tooter is scraping the data of prominent Indians from Twitter." So, yeah, it could just be using bots to copy tweets from their corresponding Twitter handles.
7. Is it Politically Biased?
The Indian 'Parler' is here. And it's called Tooter. And, Narendra Modi has a verified profile here. 🤔 pic.twitter.com/WhlwZLXF0H

— Venkat Ananth (@venkatananth) November 24, 2020
For the unaware, Parler is another Twitter alternative in America which is heavily popular amongst Donald Trump's supporters, right-wing extremists, and conservatives.
Since there are many famous right-wing personalities on Tooter, followed by right-wing-oriented content, some people are referring to it as the Indian 'Parler.' You can check the above thread by Journalist Venkat Ananth.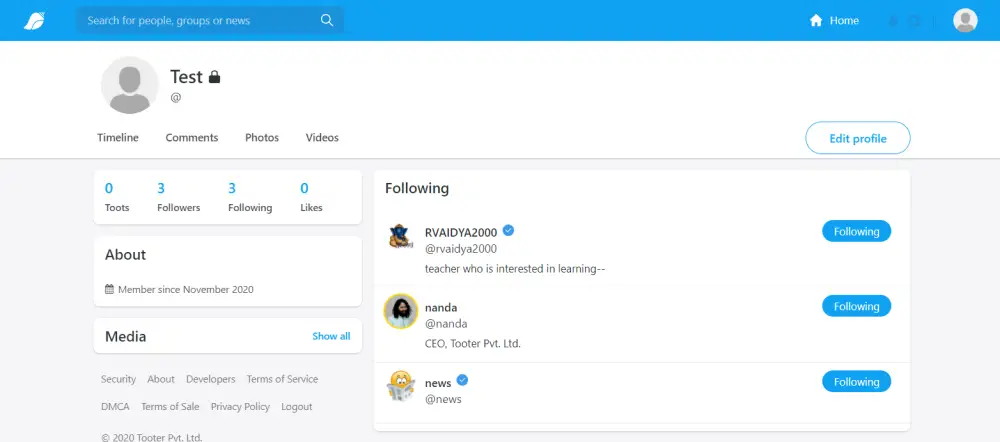 Tooter also has a 'News' bot which essentially copies tweets from the prominent right-wing SwarajyaMag. People had complained that it automatically follows the handle News, RVaidya2000 (a right-wing handle on Twitter), and the CEO Nanda's profile as soon as they register. I registered on the platform and could verify the same.
8. What are the Terms of Service and Privacy Policy?
Tooter seems very Indian and patriotic at first glance. However, it wasn't the same case with its terms of service and privacy policy.
A detailed report by Inc24 highlights how the privacy policy page mentioned that it wouldn't provide a user's data to any person "unless compelled by a court order issued by a US court, except in cases of a life-threatening emergency."
Similarly, another passage under the header "Children Under the Age of 18" read, "California residents under 16 years of age may have additional rights regarding the collection and sale of their personal information. Please see Your California Privacy Rights (below) for more information."
Similarly, the 'Terms of Service' mentioned that in matters relating to the website, any disputes or claims shall be governed in accordance with the internal laws of the State of Pennsylvania, a state in the US.
While the content seems to be rectified now, it gives us an impression that Tooter didn't have its original Terms of Service or Privacy Policy, and the same was lifted from somewhere else. You can read the detailed TOS here and Privacy Policy here.
9. What is Tooter Pro?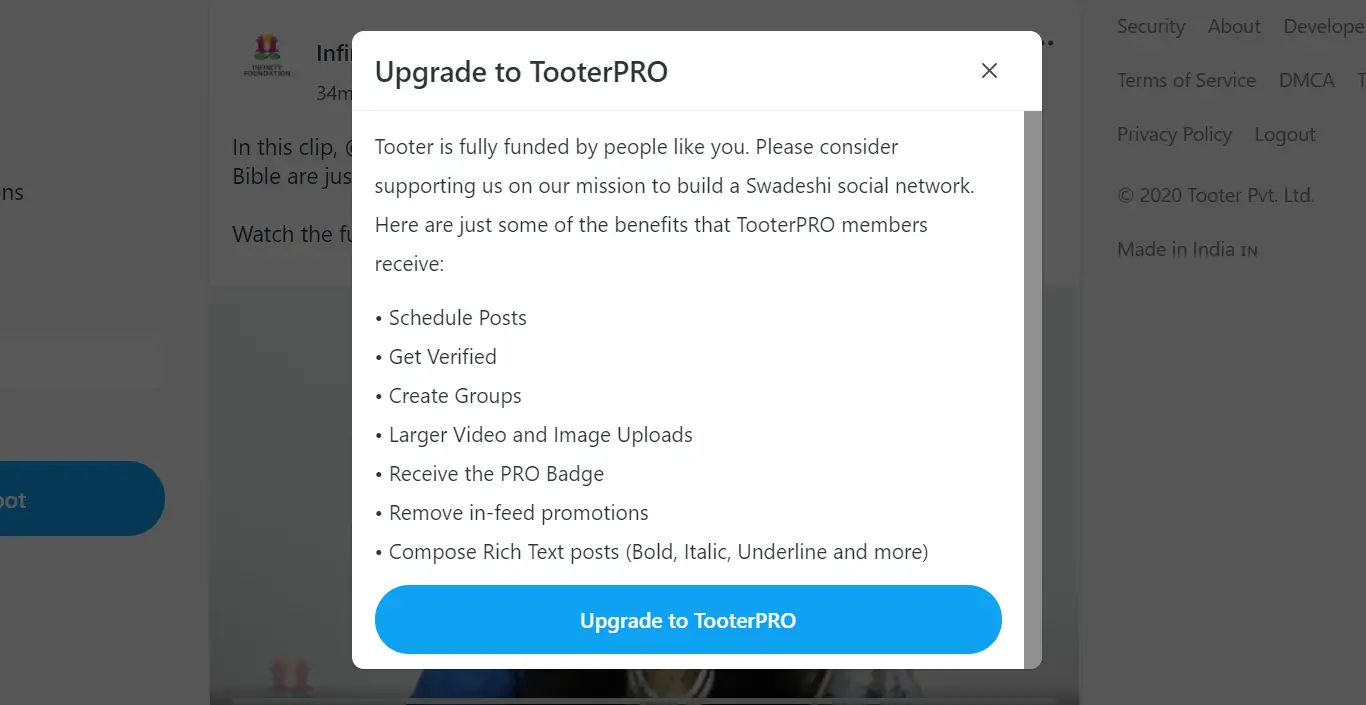 Tooter offers a Pro variant too- one can upgrade to it by paying Rs. 1,000. Pro users can schedule posts, create groups, upload larger images and videos, receive the Pro badge, get verified, and remove in-feed promos. They also get to compose rich-text posts with Bold, Underline, and other formatting options.
10. Should I Use Tooter?
Tooter is a fairly new social media network trying to cash on the Swadeshi sentiment. Moreover, it seems to have a right-wing orientation, as pointed by some people. Not only that, but questions have also been raised regarding the originality of Terms of Service, Privacy Policy, and we're not sure how will the user data be used.
It's completely on one's discretion whether to use the platform or not. You are always free to try it if you want to see how it works.
Wrapping Up
This was a quick FAQ on Tooter highlighting some hidden things about the 'Swadeshi' Twitter alternative. Anyway, what are your thoughts on it? Will you be using it over Twitter? Do let me know your opinion in the comments below.
Also, read- Chinese vs. Non-Chinese: Smartphones that are Made in India