Does your iPhone keep saying "Call Failed" whenever you try calling someone? It's a widespread issue wherein several users have faced call failure issues on their iPhone. And since you're here, there are chances that you, too, might be facing the issue on your iPhone. If yes, then do not worry; here are nine quick ways to fix the call failed error on iPhone.
Call Failed Error on iPhone? Here's the Fix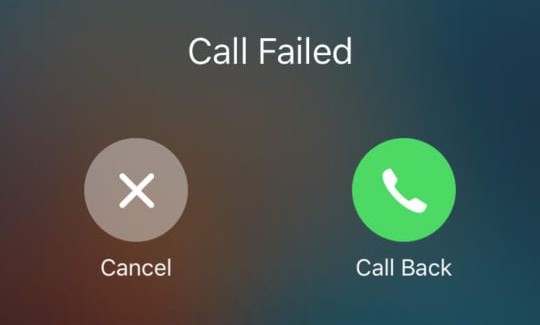 The "Call Failed" prompt on iPhone usually appears while calling or receiving calls from someone. It can also occur during the call, disconnecting it abruptly.
Now, many of you might be wondering what the actual reason for calls getting failed on iPhone is? Well, there's no pinpoint reason for this issue. It could be due to a bad network, carrier issues, glitches in software, etc. Below are ten ways to fix the call failure issues on your iPhone running iOS 14 or below.
Steps to Fix "Call Failed" Issue on any iPhone
1. Check Network Coverage
One of the most common reasons for call failure on iPhone is poor reception. So, check if your area has a bad network signal and whether the issue occurs only when you're in a particular area. If yes, then the issue is network-related, and you can't really do much about it.
If the call gets disconnected automatically in between, followed by the "Call Failed" message, it is likely caused by a poor network signal on either end.
2. Toggle Airplane Mode
If you're continuously facing the "Call Failed" prompt while trying to make a call, turn on airplane mode and then disable it after a few seconds. You should now be able to make calls without any issues.
You can turn on the Airplane Mode by tapping the Airplane icon in the control center's top-left corner. Alternatively, one can also toggle it through Settings. This also helps if you're in a bad network area.
3. Restart Your iPhone
A quick reboot can solve most temporary glitches and bugs on your phone. So, hold down the power key and swipe the power icon to the right to turn off your iPhone. Then, long-press the power key to turn it back on.
Now, check if you're able to make calls. If not, proceed with the other steps below.
4. Dial *#31# (Unhide Number)
Open the Dialer on your iPhone and dial *#31#. It's a hidden code in iOS to disable your outgoing anonymity. You can dial it to check whether you ever accidentally set your number to be hidden, which in turn could be causing the call failed issue.
5. Remove and Re-insert SIM Card
The other option is to eject and re-insert your SIM card to fix any underlying issues. The SIM card tray is usually located at the right on your iPhone. Remove the SIM card tray using the Sim ejector tool and put it back in.
Removing and re-inserting the SIM card will give your iPhone a fresh start and fix any network connection issues.
6. Reset Network Settings
Resetting your network settings can help fix the "Call Failed" error on your iPhone. However, note that this will also erase all your saved Wifi passwords and VPN settings.
Open

Settings

 on your iPhone.

Head to General > Reset.
Here, click on Reset Network Settings.
Enter your iPhone's passcode to continue.
Tap Reset Network Settings again to confirm.
7. Update Carrier Settings
A pending carrier update could be causing issues with calls on your iPhone. So, check if you have a pending carrier settings update and install it if available, as follows: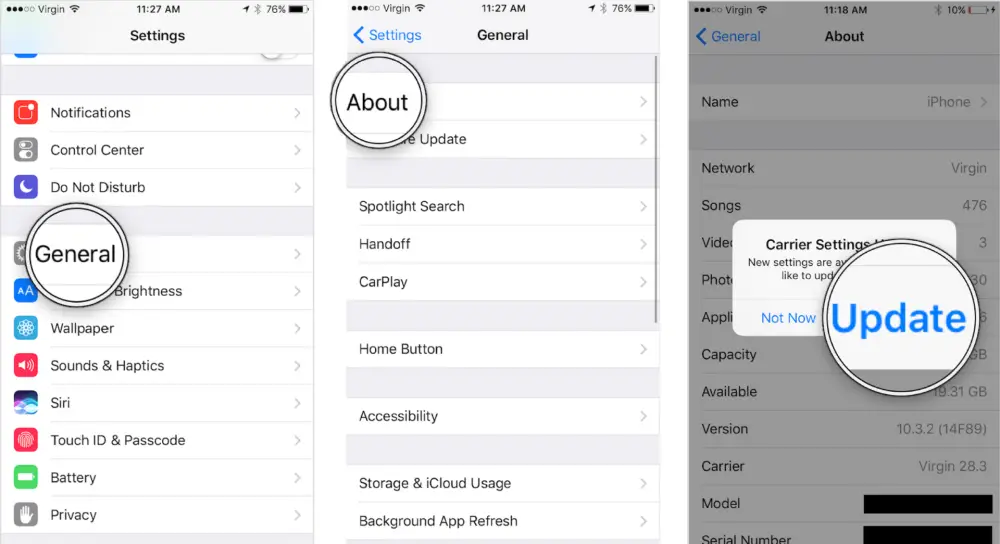 Open Settings on your iPhone and tap General.
Then, tap About.
Wait for about a minute or two.
If you see a message prompt saying Carrier Settings Update, click on Update.
Please wait for it to install the carrier settings update. And then, reboot your iPhone.
Now, try making a call to see if you face the issue again. Didn't see any update prompt? Probably no carrier updates are available for your iPhone- you can skip this step.
8. Update iOS to Latest Version
A bug in your iPhone's current firmware could be causing call failure issues on the device. So, check and update it to the latest available iOS version, especially if you're running a beta build or a too old version. To check for updates:
Open Settings on your iPhone.
Click on Settings > General.
Tap Software Update and download and install the update if available.
9. Nothing Worked? Try this
Contact your carrier's customer care to know the possible cause of call failure.
You can try using the SIM card with other phones.
Also, use other SIM cards with your iPhone to see whether the issue is with a particular SIM, operator, or your phone itself.
If you find issues with the SIM card, opt for a SIM card replacement from the service provider's store in your area. However, if you feel that something's wrong with your phone, contact Apple Support or take it to the service center for further troubleshooting.
We'll advise you to factory reset your iPhone once. But that may not be feasible for everyone since it erases all the data.
Wrapping Up
These were some handy solutions to fix Call Failed error on iPhone. Do try them and let me know which one helped you eliminate call failures issues on your iPhone. I, too, faced the issue, but it was specific to low network areas. Anyway, do let me know your experience in the comments below.
Also, read- 5 Ways to Fix Your SIM sent a Text Message Issue on iPhone
You can also follow us for instant tech news at Google News or for tips and tricks, smartphones & gadgets reviews, join GadgetsToUse Telegram Group or for the latest review videos subscribe GadgetsToUse Youtube Channel.