If you use Paytm, there are chances that you may also have a Paytm Payments Bank account. Till now, Paytm has offered only Rupay debit cards to its customers, which did not support international payments. However, you now have the option to upgrade to a Visa debit card, that too, without any extra issuance charges. Yes, you can convert your existing Paytm Rupay card to Visa and enjoy the perks like wider coverage and international transactions. Here's a step-by-step guide on you can get a virtual Paytm Visa International Debit Card for free.
Related | Paytm Mini App Store Review: Can It Be Google Play Store Alternative?
Paytm Payments Bank: Get Paytm Visa Debit Card for Free
If you're an existing Paytm Payments Bank customer, you're likely to have a Rupay debit card. The issue with the Paytm Rupay card is that it doesn't support international transactions or recurring payments. This is why they aren't accepted by subscription-based services like Netflix, Spotify, YouTube, etc.
Starting this month, Paytm has rolled out a new update where users can convert their Rupay card to Visa virtual debit card.
Steps to Get Paytm Visa International Virtual Debit Card in Paytm App
Update the Paytm app on your phone from Google Play Store or App Store.
Once updated, open it. Click on Paytm Bank.
Here, you'll see a banner offering you to upgrade to the Visa debit card.
Click on Get Visa Card Now.
On the next screen, you'll see the card's features and terms and conditions.
If you want to proceed, agree to the terms and conditions. Then, click Proceed to Upgrade.
Enter your Paytm passcode or fingerprint if asked.
You'll be instantly given a virtual Visa International debit card.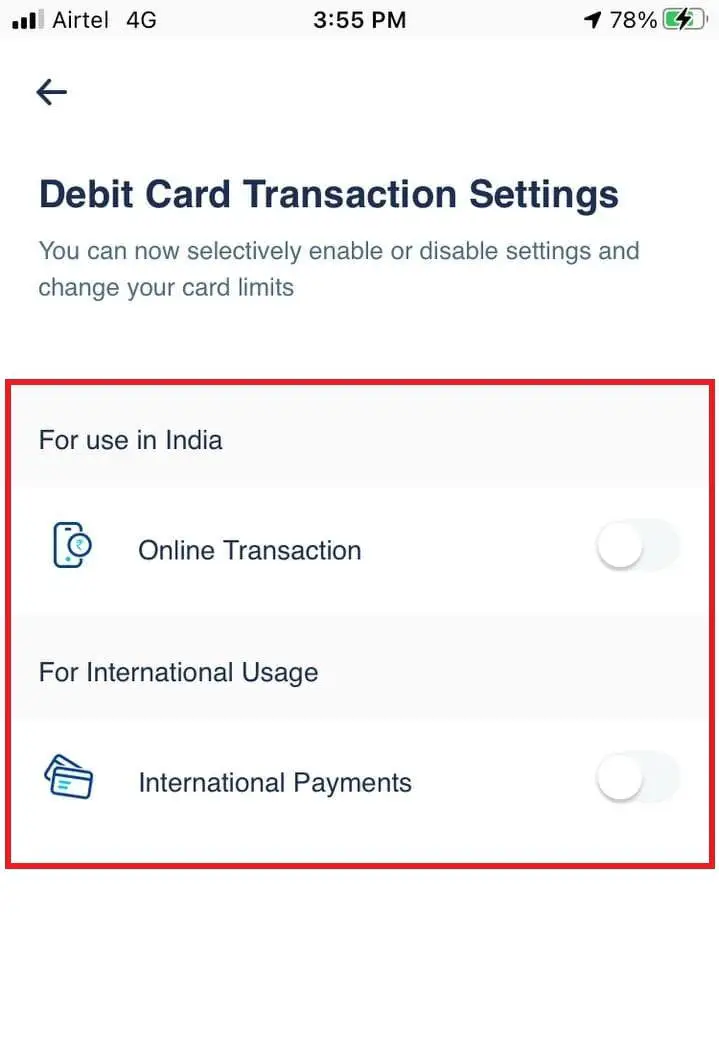 Now, close the Paytm bank section and open it again to see your debit card. You can now click on View & Manage your Debit Card > Manage Card and activate it for domestic online, and international transactions.
Note that upgrading will permanently block your existing Paytm Rupay debit card. So, keep a note of it. We've also mentioned the benefits and drawbacks of switching to the Visa card, which you can read below.
Can't See the Option?
Try updating your Paytm app to the latest version. If you still don't see the option to get the Visa variant, try contacting customer care. Or, wait for a few days for it to be rolled out for you.
Charges for the Visa Card
The issuance of a virtual Visa debit card on Paytm is completely free. You don't have to pay any charges whatsoever.
How to Order Physical Visa ATM Card?
Paytm is currently offering only virtual Visa cards, and you cannot request a physical card yet. There is an option to order the ATM card in the app, but read carefully- it's currently only for Rupay ATM cards, and proceeding will block your Visa card.
We'll advise you to wait for Paytm to launch physical Visa debit cards.
Benefits of Paytm Visa Debit Card
Internationally Accepted- You can make international payments with the Visa debit card. It also supports recurring payment and can be used on Spotify, Netflix, and other subscription-based services.
Cashback and Offers- You can enjoy discounts and cashback across a large number of merchants with your Visa card. Check Visa offers here.
Wider Acceptance- VISA is one of the largest acceptance networks in the world. Hence, you can use the card at any online merchant or POS without worrying.
Drawbacks of Upgrading to Visa Variant
Your current Rupay card will be blocked permanently- You won't be able to use it once upgraded. If you have an existing physical Rupay card, it'll be rendered useless.
No Physical Card- As of now, Paytm isn't offering physical cards for the VISA variant. Although, they are expected to launch it in the future.
Processing Fee- The processing fee for Rupay cards is cheaper since the transaction is processed domestically. In VISA debit cards, the processing takes place abroad, making it a little more expensive.
Wrapping Up- Get Your Paytm Visa Debit Card Now!
This was all about how a Paytm Payments bank user can get a free Paytm Visa debit card for international transactions. Besides, we've also mentioned the charges, physical card availability, benefits, and drawbacks of the new VISA variant. So, are you willing to upgrade your Paytm Rupay to a Visa debit card? Do let me know in the comments below.
You can also follow us for instant tech news at Google News or for tips and tricks, smartphones & gadgets reviews, join GadgetsToUse Telegram Group or for the latest review videos subscribe GadgetsToUse Youtube Channel.