Facebook keeps adding new features to its platform to improving its functionality towards privacy and mental peace of users. Last year it added a new Quiet Mode to help user limit their time on social media, and now it has brought another such feature. The new "Take a Break" feature lets you mute someone on Facebook, something like Instagram's Restrict mode. In this article, I am going to explain Facebook's Take a Break feature and how you can use it.
Also, read | 2 Ways to Turn Off "People You May Know" on Facebook
Facebook Take a Break Feature
The company already had such features that let you stop people from pestering you. For example, you can hide your online status on Facebook so that no one can message you when you are just browsing there. But this new feature is user-specific. Here are more details on it.
What's Take a Break on Facebook?
Facebook's "Take a Break" feature lets you mute any of your Facebook friends so that you cannot see their posts and vice versa. The best part of this feature is that you can do this without unfriending or blocking anyone. The feature could help in situations where a relationship is over and you do not want to seem rude by blocking or unfriending them.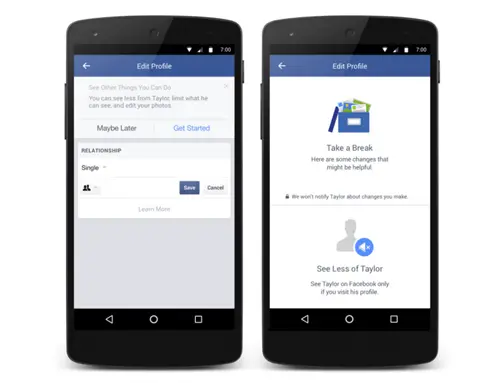 Here are some points to note after you enable the "take a break" feature for some friend on Facebook:
When you take a break from someone on Facebook, that person doesn't get to know about this.
After enabling this feature for someone, you will not be able to see their posts on your Feed. Also, Facebook lets you limit what that person can see on your timeline. You can edit your privacy settings of present and past posts to limit who can see those.
Besides that, you will be untagged from the individual's posts and vice versa. Finally, if you have posted anything on the individual's timeline, it will be deleted and vice versa.
How to Use Take a Break on Facebook App?
1. Open the Facebook app and go to that person's profile and tap on the "Friends" button. After that, choose "Take a Break" from the pop-up menu.
2. Now, you can customize that user's activity related to you. Tap on "See Options" under the "See less of (Friend Name)" section and then choose "Limit where you see (Friend Name)".
3. After that, tap on "Save" and it will limit that friend's posts or tagged posts on your feed and timeline. Also, you will not be prompted to message or tag him/her in photos.
4. Next, tap on "See Options" under the "Limit what (Friend Name) will see" section and choose "Hide your posts from (Friend Name)" and tap "Save".
5. It will put that friend on break, and he/she won't be able to see or interact with any of your Facebook posts.
If you have tagged that friend in past posts, he/she can see those posts. In order to put restrictions on those posts:
Tap on "See options" under the "Edit who can see past posts" section. Now select "Edit all of my posts and posts that I'm tagged in" and tap on "Save". This will limit the visibility of all your past posts where you and that friend are tagged.
Remove 'Take a Break' on Facebook
If you want to remove these limitations from that person after some time, you can easily revoke the restrictions in just a few clicks. To reverse these changes:
Tap on "Take a break" again from the friend's profile and open the specific sections and restore the changes to default. This will enable that friend to see your posts and message you again.
This feature is not available on the Facebook web. So you cannot enable this on a PC browser but this can be done on the mobile browser. The steps are the same as the app.
This was all about Facebook Take a Break feature. What are your opinions on this? Do you find this feature useful? Do let us know in the comments!
You can also follow us for instant tech news at Google News or for tips and tricks, smartphones & gadgets reviews, join GadgetsToUse Telegram Group, or for the latest review videos subscribe GadgetsToUse Youtube Channel.