Does your iPhone volume change automatically sometimes? Well, this may happen due to several reasons, including temporary glitches in software, faulty volume key, or some system issue. Or there are some features in the latest iPhones which can be responsible for this. So, here are some fixes for the "iPhone volume automatically goes down" issue. If it's about the ringtone, here's fixing iPhone ringtone volume reduces automatically.
Also, read | How to Copy Custom Ringtone to iPhone from Mac (2022)
Fix iPhone Volume Changes By Itself
As mentioned, there can be any reason for this issue, but most of the time, you can fix this on your own. If reasons that cause volume issues on your iPhone are limited to iOS glitches or features, or any connection or system issues, you can easily fix those.
However, if it is hardware damage, you will need to get your iPhone repaired from the Apple service center. Here's how to fix such issues.
1. Restart your iPhone
Just like Android, restarting helps a lot on iPhone too. It is the quickest way to fix any temporary glitch in the system that might be causing the volume issue. This hardly takes a minute to check if restart can fix the issue or not.
Here's how you can restart your iPhone:
For iPhone X, 11 or later: Press and hold the volume up or volume down and the side buttons at once. When you see the power off slider, slide it and wait for one minute. Now press and hold the side button again until the Apple logo appears on the screen.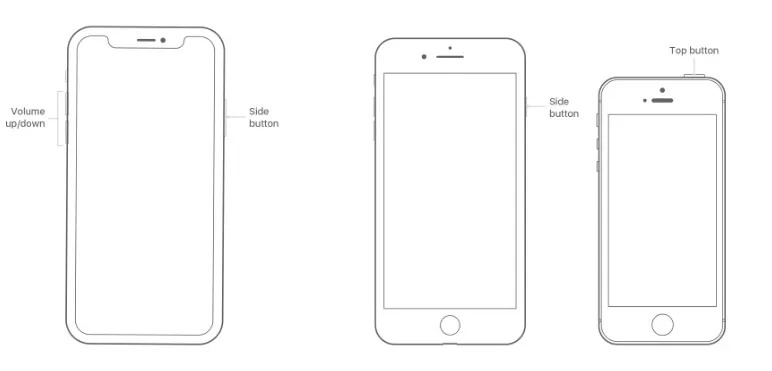 Older iPhones (iPhone 8 or earlier): Press and hold the side or top button until you see the power off slider and drag it. When your iPhone is turned off, press and hold the side or top button again until you see the Apple logo.
2. Disable Change with Buttons
As mentioned above, a faulty volume button may also cause this issue. To fix this, you can disable a feature named "Change with Button." To be noted, this feature helps in adjusting the volume with the buttons while ringing. In order to disable this:
1. Go to Settings on your iPhone and tap on Sounds & Haptics (or Sounds).
2. Now, turn the toggle off next to Change with Buttons.
When it is turned off, check if your problem still persists. You should also increase the volume by dragging the Ringer And Alerts slider towards the right.
3. Disable Attention Aware Features
If you own iPhone X or even a later model, you will need to check for a new feature to avoid this issue. This feature, called Attention Aware Features, comes with iPhone X and later models as they have TrueDepth cameras.
When enabled, using TrueDepth camera for the face detection algorithm, this feature can decide if you are looking at your phone, and hence it will lower the volume of alerts or even dim the display brightness.
Here's how to disable this feature:
1. On your iPhone, go to Settings and tap on Face ID & Passcode.
2. Here, scroll down and look for the Attention Aware Features option.
3. If it is enabled, turn off the toggle next to it.
Now, check again if your problem is fixed.
Bonus Tip: Update iPhone
Here, we are suggesting another bonus tip for you. You should check for any software update on your phone to make sure it is running the latest version of iOS. As sometimes, it could be a software-related bug that can be fixed by an update.
To update your iPhone, go to Settings -> General and tap on Software Update.
Your iPhone will check for updates, and if there is an iOS update available, you can tap on Download and then install it automatically. This might fix some other minor bugs that your iPhone could be facing.
If your iPhone volume still goes down automatically, you should contact Apple support as it might be a hardware-related issue. You'll need to take your phone to an Apple authorized store, and you can also contact Apple support online.
You can also follow us for instant tech news at Google News or for tips and tricks, smartphones & gadgets reviews, join GadgetsToUse Telegram Group or for the latest review videos subscribe GadgetsToUse Youtube Channel.