If you are looking for a way to find out whether the product you are about to purchase or have already purchased is genuine, has passed all the safety standards and quality checks or not? Then you have come to the right place. There's a BIS and ISI mark on the product to certify that, and today I'm here to guide you, how to check BIS, ISI mark, and also how to verify if it is genuine or not? So, let's get started.
Also, Read | Earphone Blast: Why It Happened? How to Prevent It? Be Safe
How to Check the BIS or ISI mark on any Product?
Before checking the authenticity of the BIS or ISI mark, let's get to know what they are:
Bureau of Indian Standards (BIS) – BIS is a body in India for the quality standards of products, it falls under the Ministry of Consumer Affairs, and Food and Public Distribution.  A BIS hallmarking is for consumer products like electronic gadgets, jewelry like Gold, silver, etc. It signifies that the said product has gone through various quality tests and rigorous testing, and the purity of materials in the case of jewelry.
Indian Standards Institution (ISI) – BIS was also called ISI previously, it is a standards-compliance mark for industrial products in India since 1955. It is mandatory for 90 types of products, while advisory for others.
Also, Read | 7 Ways to Find If an App Is Fake or Real Before Installing It
Where to find the BIS or ISI Mark for any product?
Usually, the BIS or ISI mark can be found on the packaging of the product, if not then it can be found somewhere printed on the product (which is very rare). Regarding online shopping, currently, there's no way to check these marks, as shopping portals do not list these details on their page, but well-known platforms like Flipkart and Amazon do mandate sellers to fill in info about BIS for required products in order to sell goods online.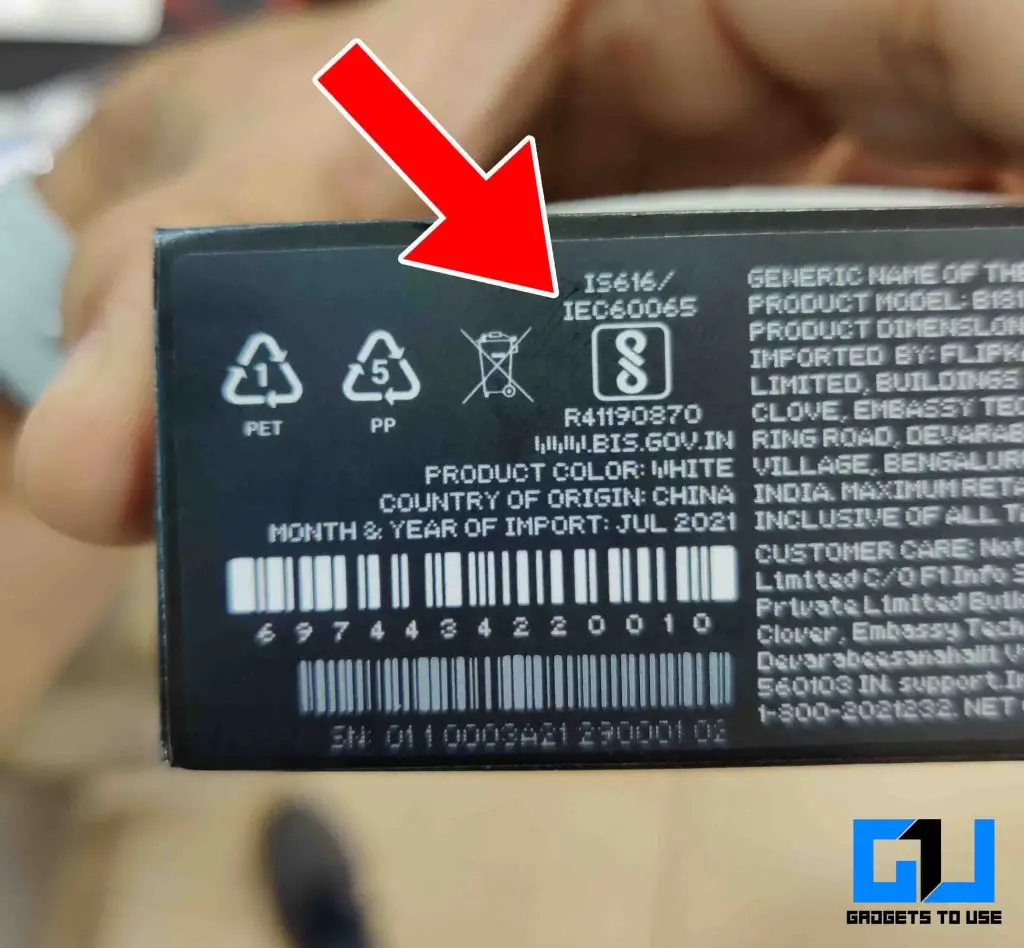 Also, Read | 3 Ways To Check Phone's IMEI Number to Find if it's Original or Fake
Steps to Cross Check the authenticity of BIS or ISI mark
Also, Read | 3 Ways to Get Refund If You Get Fake Product From Amazon or Flipkart
Cross Check the authenticity of BIS or ISI mark Via BIS Care App
There's also an app to check the authenticity of BIS or ISI mark via the official app, which is an easy and handy way. Like opening up a browser, and navigating to the page can be a cumbersome process for some, in that case, you can quickly check the validity within seconds by following these steps.
How to Find if the mark is Geniune?
Licenses to use the BIS Standard Mark, on a large number of products are granted to manufacturers under the Conformity Assessment Scheme/Hallmarking Scheme operated under the provisions of the Bureau of Indian Standards Act, 2016. The Standard Mark for every product is unique and is notified in the Gazette of India. A License number is also mentioned along with the standard mark. This helps in identifying the unit which has manufactured the product/marked the product at a specific location.
If the mark or any other detail is found to be fake, or you find someone misusing the mark, then you can report it to the authorities:
Also, Read | How To Verify Fake Email ID, UnSafe Websites Without Clicking Any Link
Penalty for Misuse of BIS or ISI mark
This is how you can check whether a product you have purchased or going to purchase, is genuine or not, whether it comes with a quality test checkup, and is it to buy and use that product or not. If you have any doubts left, let me know in the comments down below, I will try to answer them to the best of my knowledge.
You can also follow us for instant tech news at Google News or for tips and tricks, smartphones & gadgets reviews, join GadgetsToUse Telegram Group or for the latest review videos subscribe GadgetsToUse Youtube Channel.