If your work involves a lot of Google Docs usage, you should read this article till the end. We have covered the best Google Docs tips and tricks so that you can use this tool like a pro. You can use these tips in Google Docs on PC as well as on mobile to increase your productivity.
Also, read | Top 11 Gmail Tips and Tricks You Should Know About
Best Google Docs Tips and Tricks
Most users have some common queries like how to convert docs to PDF, how to use offline docs, or dark mode in docs, etc. In this article, I have all these small tips and tricks that can be useful for you. Read on!
Convert Docs to PDF
Converting Google Docs to PDF is quite an easy task. You have a feature for the same in the Docs itself or you can even use third-party services available online. You can also convert PDF into Google Docs as well.
1 . Open your Doc in Google Docs.
2. Click on "File" from the toolbar menu and,
3. Then click on "Download" from the drop-down.
4. Now, you will see different options and select "PDF Document" and that's it.
Your file will be downloaded as a PDF and you can share it anywhere. However, if you want to convert Google Docs to PDF without downloading, you can use any of the third-party services.
Use Dark Mode in Google Docs
You can get dark on Google Docs on your phone easily as Google has released the feature officially in the settings. However, on PC you'll have to use Chrome extension, here's how:
1. Go to Chrome Web Store and add the Google Docs dark mode extension.
2. Now open Google Docs in Chrome and click on the jigsaw icon to see all your Chrome extensions.
3. Select the "Google Docs Dark Mode" extension from the list.
4. You'll see two sliders, click on those to enable dark mode in Docs.
For more info, read this guide on how to enable dark mode in Docs.
Use Google Docs Offline
Sometimes when your internet is not working, and you need to get some work done urgently, Google Docs' offline mode comes to rescue you. Well, you can edit documents on Google Docs without the internet and when the connection gets back, it syncs the doc with your account.
Here's how to use offline mode:
1. Go to Google Docs on your PC in Chrome.
2. Click on File from the toolbar and then select "Make available offline".
Now you can use Google Docs without the internet and it will be synced after going online.
Use Voice Typing in Google Docs
This one probably is the most useful tip to use in Google Docs. Sometimes you just don't want to type, you can use the voice typing feature in Docs. It can also be useful for the time when you want to take notes during a meeting or class.
1. Open Google Docs on your PC, click on "Tools" from the header.
2. Now select "Voice Typing" from the drop-down or press Ctrl + Shift+ S in Windows.
3. You'll now see a mic icon at the top-left of the doc, click on it.
4. Now click on "Allow" on the pop-up to give microphone permissions to Google Docs.
That's all, now click on the mic button again and start speaking whatever you want to type. Click the mic button when you're done speaking.
Bonus: You can also add punctuations, new paras wherever necessary simply by using the terms like Comma, Period, Question mark, New paragraph, etc.
Mention people, Insert files, and other media
Most of the time we collaborate on Google Docs with others, be it our colleagues or someone for whom we are writing the doc. If you want to mention such people somewhere in the docs or want to attach a file to it, here's how to do this:
1. Open Google Docs on your PC or mobile.
2. Now on a blank page, type "@" and you will see a list with insert options.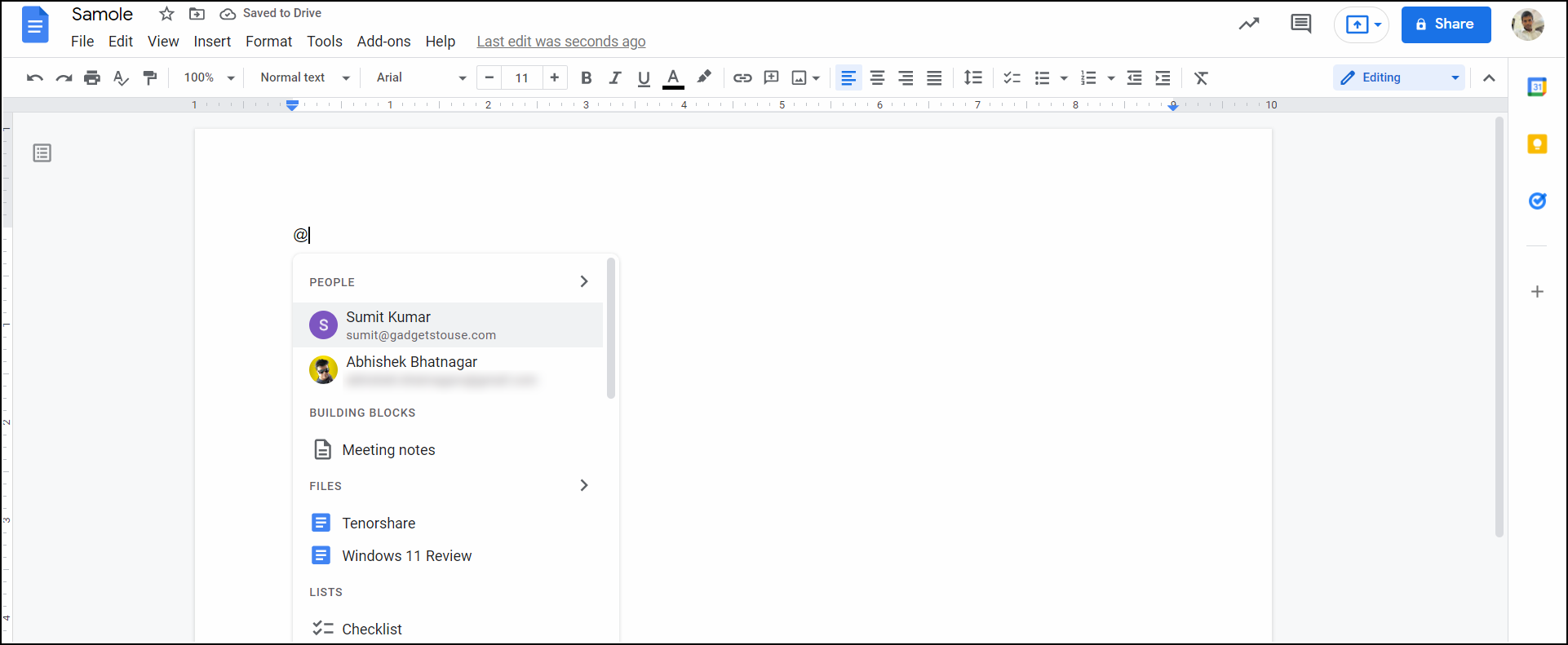 3. You can choose from the list which one you want to insert in the docs. To mention any person, tap on its name or to add a file, tap on it or click on a little arrow next to files.
Once you tap on the name or file, it will be added as a link to the docs. You will also have to share the document with the people in case you haven't already.
Use Google Docs in Both Landscape and Portrait
You can also use Google Docs in both landscape and portrait mode as per your needs. Moreover, you can also change your page size, add margins and watermarks to it. Here's how:
Open a document in Google Docs on your PC.
2. Click on "File" from the toolbar and select "Page Setup" from the menu.
3. Here, under "Orientation", you can change it to Portrait or Landscape.
4. On this same page, you can also change Paper size, Page color, as well as leave Margins.
5. Once you are done with your changes, click on "OK" or "Set as default" to save these settings for all docs.
So these were some of the best Google Docs tips and tricks that you use on your PC or mobile to increase productivity as well as use the tool like a pro.
For more such tips and tricks, stay tuned!
You can also follow us for instant tech news at Google News or for tips and tricks, smartphones & gadgets reviews, join GadgetsToUse Telegram Group, or for the latest review videos subscribe GadgetsToUse Youtube Channel.