Almost every other app now offers a built-in dark mode, including Meta's Instagram. If you have a habit of browsing Instagram till late at night, switching to the dark theme will make it less straining for your eyes. In this article, let's see how you can enable dark mode in Instagram on Android, iOS (iPhone or iPad), and Web on PC.
Related | 4 Ways to Save Mobile Data on Instagram
Enable Dark Mode in Instagram on Android
The dark mode is easier on the eyes, especially during the night. Besides, dark pixels consume less power. On some displays, black pixels consume no power at all. This is why most people prefer using dark mode in entertainment and social media apps.
Facebook long introduced dark themes for Instagram, WhatsApp, Facebook (and Facebook Lite), its website, and Messenger. If you want to enable the dark theme in Instagram on your phone or PC, follow the guide below.
Method 1- Using System-Wide Dark Mode
Phones running Android 10 and newer have a system-wide dark mode. Turning it on will switch the interface and all compatible apps to the dark theme, including Instagram. Here's how you can switch to a dark theme for all apps on Android:
1. Open Settings on your Android phone.
2. Scroll down and click on Display.
3. Here, enable the toggle for Dark Theme.
That's it. Now, launch Instagram and the dark mode will be enabled automatically. You can also set a schedule based on sunset and sunrise or a custom time where the phone will automatically switch to dark mode.
Method 2- Switch to Dark Theme in Instagram App
The other option is to switch to the dark theme from within the Instagram app. This option is only available for Android users. If you don't see it, update the app from Google Play Store.
1. Open the Instagram app on your Android phone.
2. Go to your profile and tap the hamburger menu at the top right.
3. Then, click on Settings.
4. On the next page, click on Theme and select Dark.
When set at "system default," Instagram will follow your Android's system-wide theme.
Method 3- Instagram Dark Mode on Android 9 or Earlier
On phones with Android 9 and earlier, you can use a third-party app to get a system-wide dark theme. Doing so will switch all apps on phone including Instagram to dark mode.
All you need to do is download Dark Mode from Google Play Store. Open the app and toggle Dark Mode. Your phone will now switch to dark mode and so will do the apps, provided the app is supported.
Enable Dark Mode in Instagram on iOS (iPhone, iPad)
Apple introduced a system-wide dark mode with iOS 13 and iPadOS 13. To enable dark mode in the Instagram app, all you need to do is switch to Dark appearance, as follows:
1. Open Settings on your iPhone.
2. Here, click on Display & Brightness.
3. Next, select Dark under Appearance.
Now, launch the Instagram app and it will open with a dark theme. You can further enable the "Automatic" option to automatically switch to the dark theme by the sunset.
Enable Dark Mode in Instagram Web (PC)
Instagram does not have a dedicated app for Windows or Mac. instead, you have to use the web version, which fortunately lets you post photos and videos now. But again, you don't have a direct option to enable dark mode. Yet, you can use the workarounds below.
Method 1- Using Custom URL
1. Open Chrome, Safari, or any other browser of your choice.
2. Type and enter instagram.com/?theme=dark in the address bar.
3. Instagram will now load in dark mode on your PC.
Whenever you refresh the page, Instagram will switch back to the default light theme. To always open it in the black theme, you can bookmark the above link in your browser.
Method 2- Using Chrome Flag
Google Chrome and other Chromium-based browsers like Edge let you force dark mode for web contents using experimental flags. When enabled, Instagram Web and all other websites will open in dark mode by default.
1. Open Google Chrome on your PC.
2. Type and enter chrome://flags in the address bar. Edge users need to type edge://flags.
3. On the flags page, search for "dark."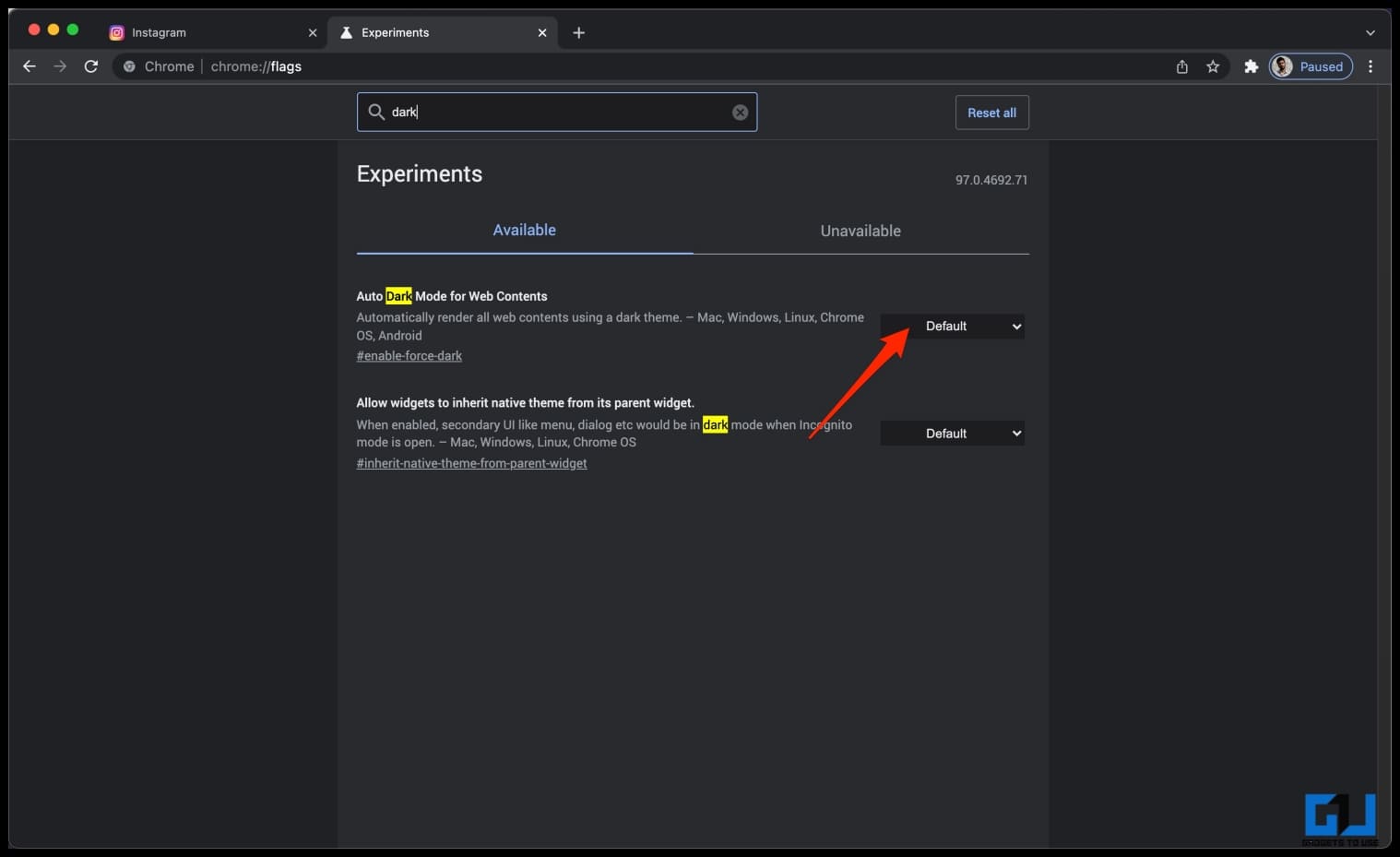 4. Tap the drop-down menu for the flag named Auto Dark Mode for Web Contents.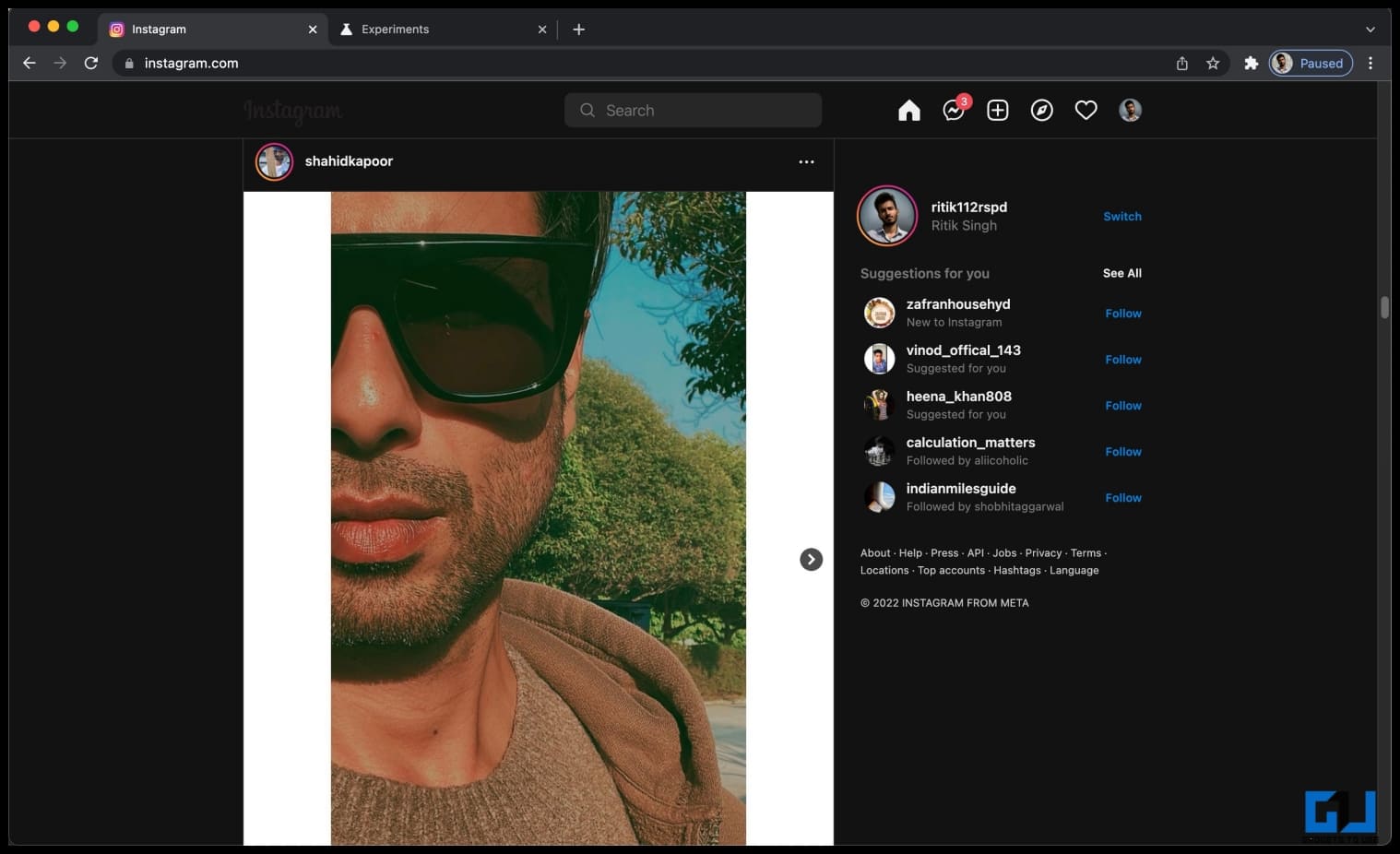 6. Now, relaunch Chrome and open Instagram.com. It should open in dark mode.
You can further install Instagram as a progressive web app on your computer using this guide.
Method 3- Dark Mode Extension for Instagram
There's also a dedicated Chrome extension to enable dark themes on the Instagram web. The extension would work in Google Chrome, Microsoft Edge, Brave Browser, and all other Chromium-based browsers.
1. Open Night Mode for Instagram extension page in Chrome Web Store.
2. Click on Add to Chrome.
3. Tap Add again when prompted.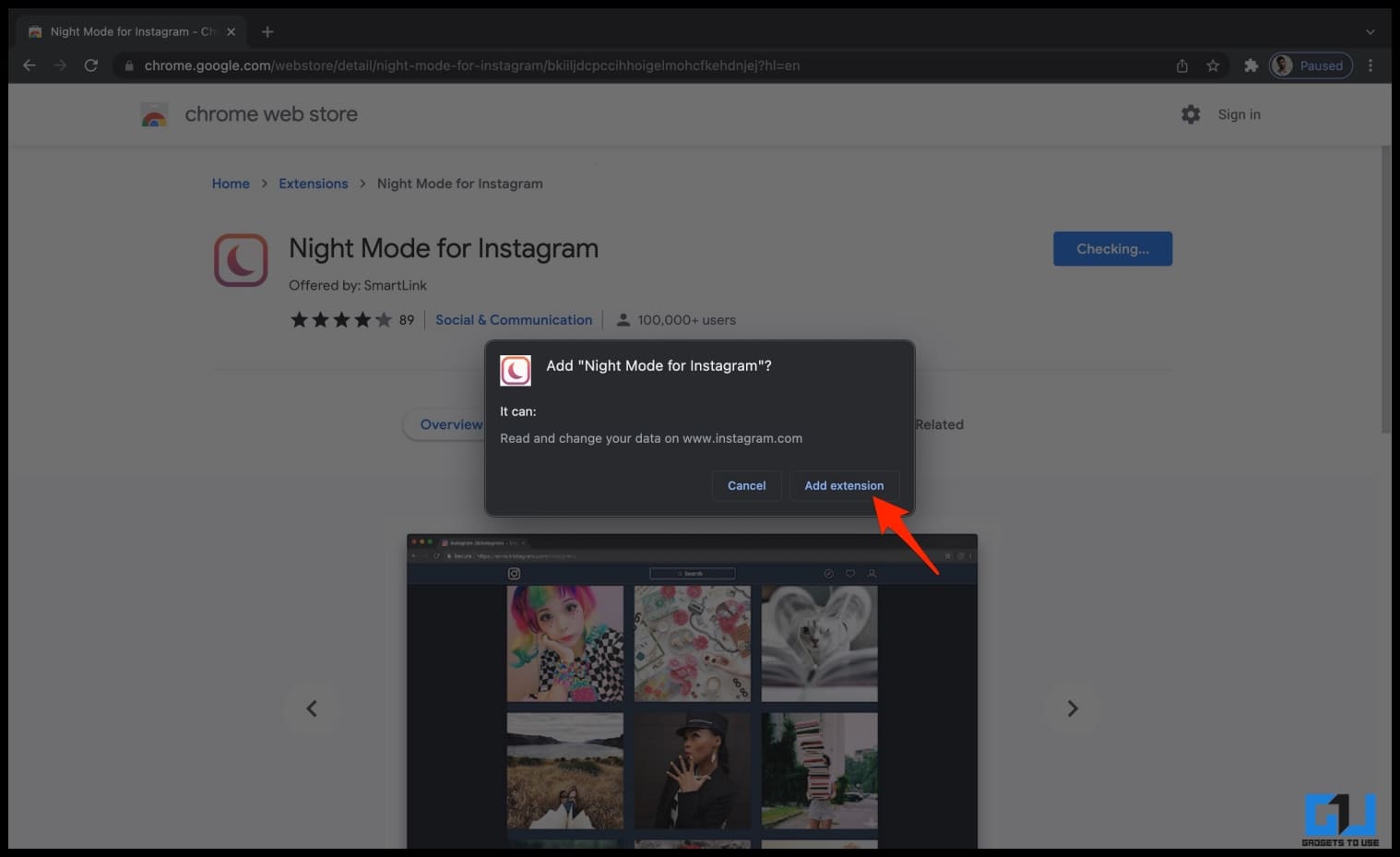 4. Now, open Instagram.com.
5. Once the site loads, click the extension icon at the top right corner.
Tapping the extension icon will instantly switch Instagram to the dark theme on your PC. The dark mode would stay even when you reload the website or close and reopen Chrome. You can switch back to the light theme anytime by tapping the extension icon.
If you want to use Instagram dark mode in incognito mode, you'll have to allow the extension for incognito mode on the extension setting page.
Wrapping Up
These were different methods you can enable dark mode in Instagram on your PC, Android phone, and iPhone or iPad. I hope this helps you enjoy browsing Instagram without putting strain on your eyes. By the way, if you're using an iPad, here are different ways to reduce eye strain from the iPad screen.
You may also like:
You can also follow us for instant tech news at Google News or for tips and tricks, smartphones & gadgets reviews, join GadgetsToUse Telegram Group or for the latest review videos subscribe GadgetsToUse Youtube Channel.