If you've been looking for a way to search trademarks or find if a logo is already trademarked, you've come to the right place. We have gathered all the details linked to trademarks and how to register a new one in this explainer to solve your unaddressed trademark concerns. Additionally, you can learn to search and download Trademark certificates online in India.
What is a Trademark?
A Trademark is a unique identifier (a word, phrase, symbol, design, or logo) that distinguishes a company's products or services from others. Simply put, you can consider it a proprietary symbol that a company puts on its product/service to stand out from the competition.
Trademarks are segregated into 45 classes, each representing a distinct set of goods and services covered under intellectual property rights.
Why is a Trademark Required?
Getting a Trademark is essential for your brand's security and safeguards your product from unauthorized usage in the long run. Moreover, marking products with your trademark helps consumers identify them, which builds up your brand's reputation.
In India, trademarks are regulated by the Trade Marks Registry, established in 1940, whose main function is to register trademarks that qualify for registration as per provisions of the Trade Marks Act. Furthermore, you can renew your trademark every 10 years and keep it for a lifetime.
How to Search for Trademarks In India?
To search trademarks in India, you first need to identify the product's class. The international trademark classification comprises 45 classes, where 1 to 34 are for goods and 35 to 45 are for services.
A class search should precede an initial trademark search to determine the product's class. You can view different trademark classes and details online on the official website. For convenience, you can refer to the image below to identify your product/service's trademark class.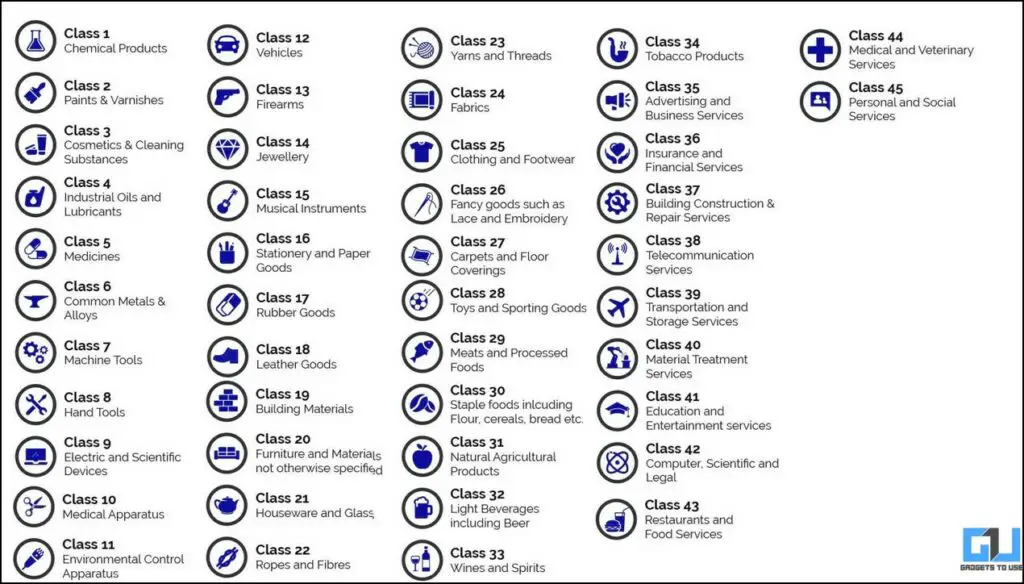 How to Find if a Logo is Already Trademarked?
To find out if a logo has already been trademarked in India, you need to search for the trademark on the official Trade Marks website by entering the class you have searched for earlier. Here are the steps you should follow:
1. Visit the Trade Marks Public Search Page on your web browser.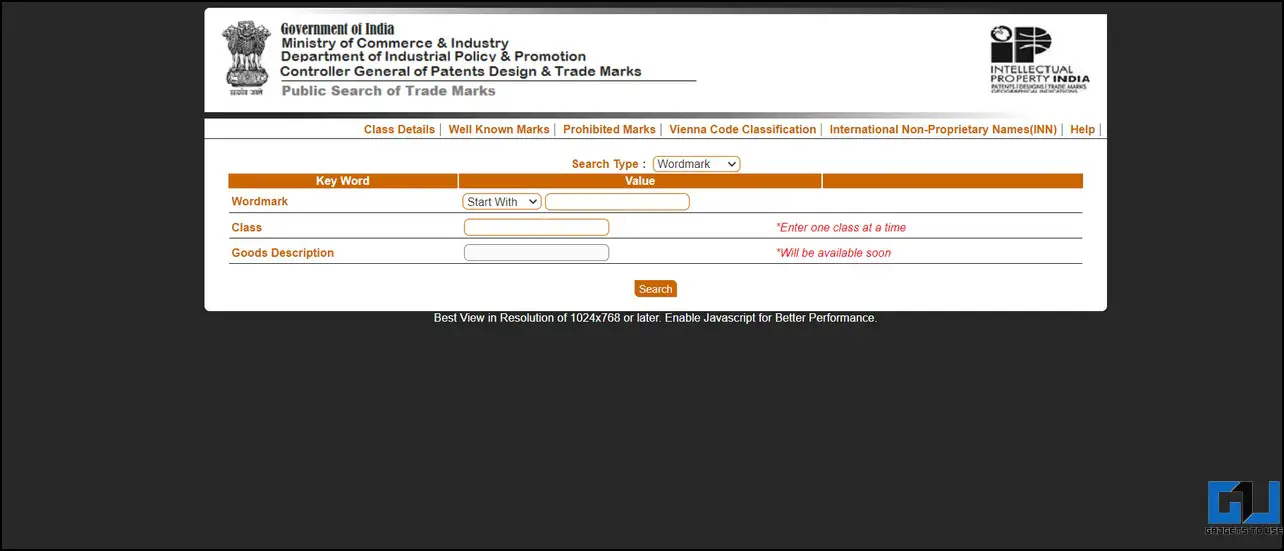 2. Here, you will have three options for the Search Type:
Wordmark: a distinct text-only name used as a branding
Vienna Code: It categorizes the figurative elements in trademarks, including symbols/elements/shapes/colors/logos/designs, etc
Phonetic: Searches for similar-sounding words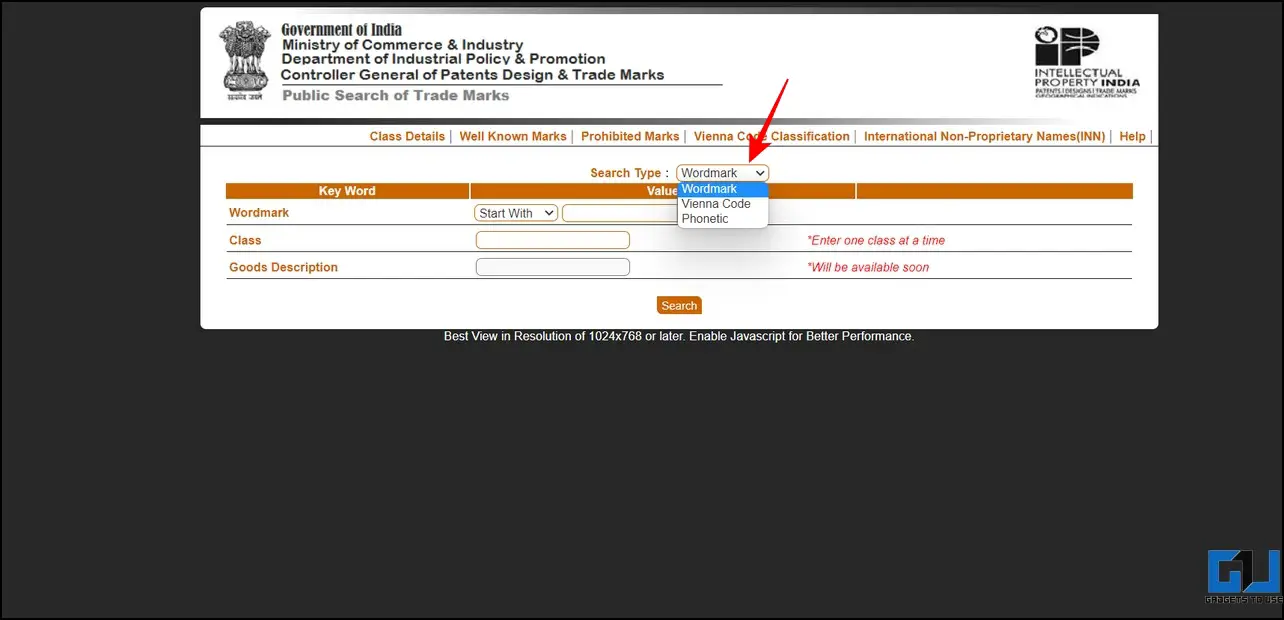 3. Enter the search type value, choose the class you picked earlier, and hit the Search button.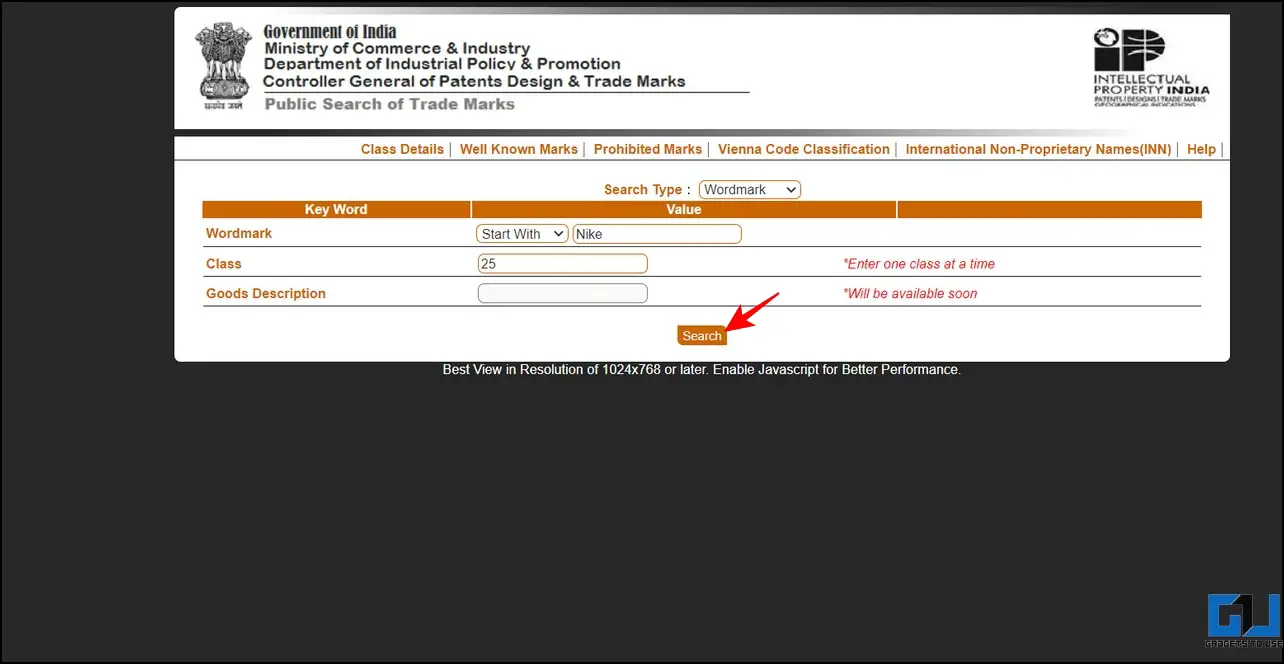 4. You can now view matching trademark results for your searched query.
5. Additionally, you can browse the Well-Known Marks and Prohibited Marks section at the top to find out if your trademark has already been registered/disqualified in the directory respectively.

6. To get more details and clear your doubts, contact the official helpline for Trade Marks Registry.
How to Register a New Trademark Online?
Now that you've captured details on the existing trademarks, you can file your own trademark for your business. You must apply for each class while registering your trademark if your brand produces multiple products or services. Here's how you can register your trademark in India.
1. To file a new trademark, you can either file a trademark online or visit the dedicated Trade Marks office in person, depending on the jurisdiction of the trademark.
2. If you file a new trademark online, you must register yourself on the Trademark Office Portal and fill out the TM-A Form.
3. Post filing and payment, the examiner issues a mandatory examination report after an extensive examination of the trademark application.
4. After a thorough examination, the Examiner may accept or reject the application if any objection persists.
5. Finally, the accepted trademark is advertised and published in Trade Marks Journal for 4 months to invite the general public to file an opposition, after which the registered trademark gets finalized.
FAQs
Q: How to Tell if a Trademark Logo Already Exists?
A: Anyone can search for trademarks for free using the USPTO's Trademark Electronic Search System (TESS) in the US and the Intellectual Property of India (IPIndia) website in India. Refer to the steps mentioned above to find the same.
Q: Can Two Brands Have the Same Trademark Logo?
A: Both companies can use the same trademark to brand their companies, but only one can own that trademark. However, one must license the mark to the other.
Q: Can I Use a Logo Without Trademarking It?
A: It is not compulsory to register your logo as a trademark, but there are benefits to doing so.
Wrapping Up
In this read, we discussed all the details you need to search for a trademark and register your own trademark in India. If you find this guide helpful, share it with your friends and check out the below links for more useful reads. Check out other useful reads below, and stay tuned to GadgetsToUse for more.
Also, Read:
You can also follow us for instant tech news at Google News or for tips and tricks, smartphones & gadgets reviews, join GadgetsToUse Telegram Group or for the latest review videos subscribe GadgetsToUse Youtube Channel.