Imagine having a personalized AI chatbot that runs by itself and completes all your tasks with the power of ChatGPT. Sounds unreal, right? AutoGPT is the next breakthrough after ChatGPT, capable of performing tasks with human-level intelligence without prompts. What makes it unique is its ability to think, reason, and execute actions autonomously. Today, we will discuss all the details of AutoGPT with the easy steps to use it in this explainer. Additionally, you can learn to fix ChatGPT "An Error Occurred" Issue.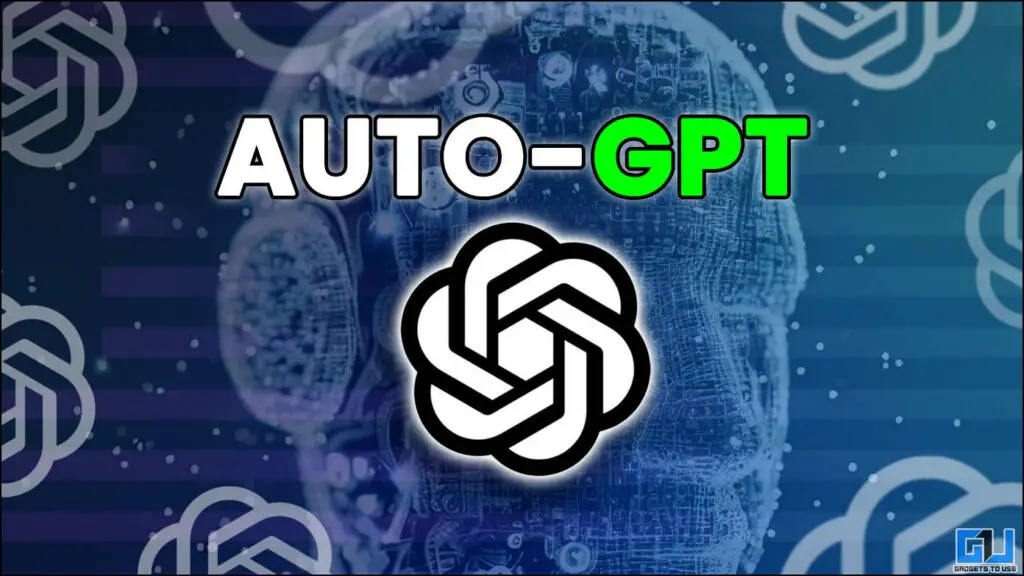 What Is AutoGPT?
AutoGPT is an open-source, experimental Python chatbot that uses the latest language models to automate and perform tasks with human-level intellectual. It is, however, a step ahead of the popular ChatGPT 3.5 Turbo, as it is based on ChatGPT 4 and uses AI to think, reason, and gather criticism before taking action to reach the end goal.
All you have to do is provide a goal, and AutoGPT will perform a series of tasks to meet the end results without asking you for prompts. A recent example of this tool went viral on Twitter, where AutoGPT created an app on its own without any human intervention.
autogpt was trying to create an app for me, recognized I don't have Node, googled how to install Node, found a stackoverflow article with link, downloaded it, extracted it, and then spawned the server for me.

My contribution? I watched. pic.twitter.com/2QthbTzTGP

— Varun Mayya (@VarunMayya) April 6, 2023
How Is AutoGPT Helpful?
While this 'no-human prompt' feature might sound scary initially, it is actually quite useful to automate a workflow or handle complex tasks that would otherwise consume a lot of time. For example, you can use AutoGPT to set up a 24/7 customer helpline that can interact and provide reasonable replies to visitor queries. This will improve the competition and reduce operational costs for smaller companies, giving them a solid boost.
Another useful example of AutoGPT is ChefGPT, which can explore the internet to create unique recipes and save them without user intervention. Similarly, you can use it to write codes for complex programs, and the tool will automatically debug it.
AutoGPTs are all the rage, but everyone's running it on their MacBooks.

Well, I got @SigGravitas's AutoGPT working on my iPhone using @Replit! I can now summon AI agents on-the-go!

Here's how to get it up and running, without writing a line of code, in under 60 seconds! pic.twitter.com/FSzSZTtjlh

— Nate Chan (@nathanwchan) April 12, 2023
How AutoGPT Is Different From ChatGPT?
Having learned about AutoGPT's features and its possible uses, you must be probably wondering how it differs from ChatGPT. Here's a breakdown of how AutoGPT is different from ChatGPT:
AutoGPT doesn't require continuous human inputs to reach a goal. In simple words, AI handles most of the decision-making to give you a reasonable result.
Since it is based on the latest GPT-4 language model, it provides more practical solutions to real-world issues. For example, someone has already built a financial analyst based on AutoGPT that continuously analyzes the market and suggests the best course of action with minimum risks.
Unlike ChatGPT, which is trained on natural language models, AutoGPT is trained with a massive dataset that can learn patterns, and structure of language and also rewrite them.
Easy Steps to Use AutoGPT
Normally, you have to install Python and Git on your device to pull and run the AutoGPT repository. However, the AgentGPT web app (which is built on AutoGPT) creates a custom AI agent for your tasks. Here's what you need to follow:
1. Visit the OpenAI website and log into your account to get the API Keys required to run AutoGPT.
2. Click on Create a New Secret Key.
3. Provide a new name for the key and click the Create Secret key button.
4. Once created, press the Copy button to copy the secret key to your clipboard.
5. Next, open AgentGPT in your web browser and click Settings in the left sidebar.
6. Select the GPT model and paste the copied key in the Key tab. If GPT-4 model is not available, you can pick the 3.5 turbo model.
7. Press the Save button to apply changes.
8. Finally, create a new Agent, enter a name, and type a goal to obtain results. Once entered, deploy the agent using the button at the bottom.
9. The AI agent will analyze the goal and list all tasks in the right sidebar which will be processed sequentially.
10. Once completed, you can obtain the results by clicking the Save button. Alternatively, you can get the results in image format by clicking the Image button.
FAQs
Q. Who Created AutoGPT?
Auto-GPT is an open-source application based on GPT-4, AutoGPT is created by Toran Bruce Richards (the founder of video game company Significant Gravitas Ltd). Auto-GPT was released on March 30, 2023.
Q. How do I get AutoGPT?
Auto-GPT can be downloaded from GitHub, and it requires installing Python and Git to get up and running on your machine. In order to use it, it must be registered with an OpenAI Account API key.
Q. How to Use AutoGPT Without Installing Python?
You can access AgentGPT, which runs on AutoGPT, to experience its capabilities without installing it locally on your system. Follow the detailed steps mentioned above to use AgentGPT.
Q. AutoGPT Is Based on Which OpenAI Model?
AutoGPT works best with the GPT-4 language model and is also compatible with GPT-3.5 to work autonomously.
Q. How is AutoGPT different from ChatGPT?
Contrary to ChatGPT, which relies solely on human prompts to generate results, Auto-GPT uses AI to make decisions. In addition, the latter can handle far more complex situations besides carrying out normal conversations like ChatGPT.
Wrapping Up
We believe that AutoGPT is truly revolutionary and shall prove to be a major game changer in the coming time, especially for reducing the operational costs of small businesses. If you find this read helpful, share it with your friends, and subscribe to GadgetsToUse for more informative guides. Meanwhile, you can check out the following useful links on ChatGPT:
Also, Read:
You can also follow us for instant tech news at Google News or for tips and tricks, smartphones & gadgets reviews, join GadgetsToUse Telegram Group, or for the latest review videos subscribe GadgetsToUse Youtube Channel.