Subscribe for free to our youtube channel by clicking subscribe button below for latest updates on JIO, Tech Exclusive News, Gadgets Reviews, Upcoming Phone Deals Etc.
Ads by Google
Improv Electronics,  formed in 2010 as the consumer products subsidiary of Kent Display,  announced the unveiling of two new Boogie Board LCD eWriter models — the Boogie Board Jot 4.5 LCD eWriter and the Boogie Board Sync 9.7 LCD eWriter — at the International Consumer Electronics Show (CES) in Las Vegas. This boards are the electronic replacement of sketch books, scratch pads, note books and other writing and drawing mediums
Boogie Board jot 4.5 LCD ewriter is a wireless board, where as the Boogie Board Sync 9.7 LCD eWriter is to be introduced in pocket size model. This are the newest paperless writing innovations which provides you the stylus and Board which could give you the feel of real writing on paper and pen. This are the eco-friendly device which could minimize the use of paper. This paperless LCD writing tablet is perfect for leaving messages, sketching ideas, and practicing anything from handwriting to calculus without killing a single tree. Users can save hundreds of pages in SD memory and then transfer files directly to a computer, tablet, smartphone or other mobile device instantly and wirelessly via Bluetooth
Like the Boogie Board Jot 8.5 eWriter, the new Boogie Board Sync 9.7 eWriter and Boogie Board Jot 4.5 eWriter combine the superior writing experience and high contrast provided by Reflex LCD technology with a sleek, contemporary industrial design and enhanced functionality. The bold, modern design is perfect for style-conscious business professionals and students. The 9.7-inch, pressure-sensitive writing surface (measured diagonally) provides the precision and control of a fine tip pen. Boogie Board Sync 9.7 eWriter is fully compatible with Windows and MAC OS and popular applications/technology like Evernote, OCR, Adobe® Illustrator and Adobe® Photoshop. It has a writing space screen as much as a half sheet of letter sized paper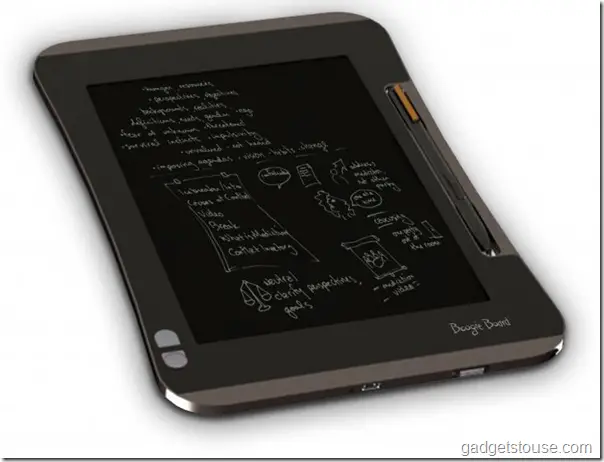 It looked and felt solid and comfortable to use, were easy to look at and text, words and drawings appeared clear.
Highlighting the Product and its Specifications:
Can Use any non-scratchy tool to write like finger, pen cap, plastic compass, stiff brush, cookie cutter
Compatible with Windows and MAC OS
Compatible with Applications like Evernote, OCR, Adobe
Write or doodle with the stainless steel, telescoping stylus
Product Dimensions: 8.8 x 5.6 x 1.5 inches
Pressure-sensitive surface allows you to vary line weight
Ultra portable: Only 1/8" thick and 4.2 ounces
Erase with the touch of a button (and a cool flash from the display)
Durable materials will withstand years of use and abuse
LCD display lasts for approximately 50,000 uses
The included battery will last 6 years if the tablet is erased 20 times a day
Improv stated that the product will likely be available late 2013 to the public. The price of this product is also unrivaled yet. As the phone reduces the use of paper and helps one to be eco-friendly, this board definitely deserve to be checked for.
Hands on Boogie Board Sync