Huawei has just introduced the Honor 8 Pro in India as their Premium high-end smartphone. The phone features a 5.7-inch 2K Quad-HD display. It sports a Kirin 960 octa-core processor clocked at 2.4 GHz with 6GB RAM and 64GB ROM with expandable memory up to 256GB via microSD card. Honor 8 Pro features a 4,000 mAh battery and a Dual camera at the back. It runs on Android 7.0 Nougat based EMUI 5.1.
We got our hands on the Honor 8 Pro. Here are our first impressions of the latest Honor-branded smartphone from Huawei.
Honor 8 Pro Pros – Reasons To Buy The Honor 8 Pro
Quad HD Display
The Honor 8 Pro sports a 5.7 inch Quad HD LTPS IPS LCD display with a pixel density of ~515 PPI. It is protected by Corning Gorilla Glass 3. While the pricing details are not known yet, it is expected to be affordable, making it one of the rare phones with a Quad HD display in this segment.
Build and Design
The Honor 8 Pro comes with a sleek metal body design which is just 6.97 mm thick. The design is very refreshing in three color variants, Blue, Black, and Gold. The phone has a 3.5 mm audio jack as well and has a neatly placed fingerprint sensor at the back. The camera module is also sleek and well placed.
In terms of design, the Honor 8 Pro looks as good as a flagship device with good color options as well as excellent build quality.
Battery
Honor 8 Pro comes with a massive 4,000 mAh battery that the company claims, will drive the phone for 2 days at standard usage and 1.5 days at heavy usage. Although it lacks Fast charging, the 4,000 mAh battery, coupled with an optimized OS, you can expect a long-lasting battery life.
Camera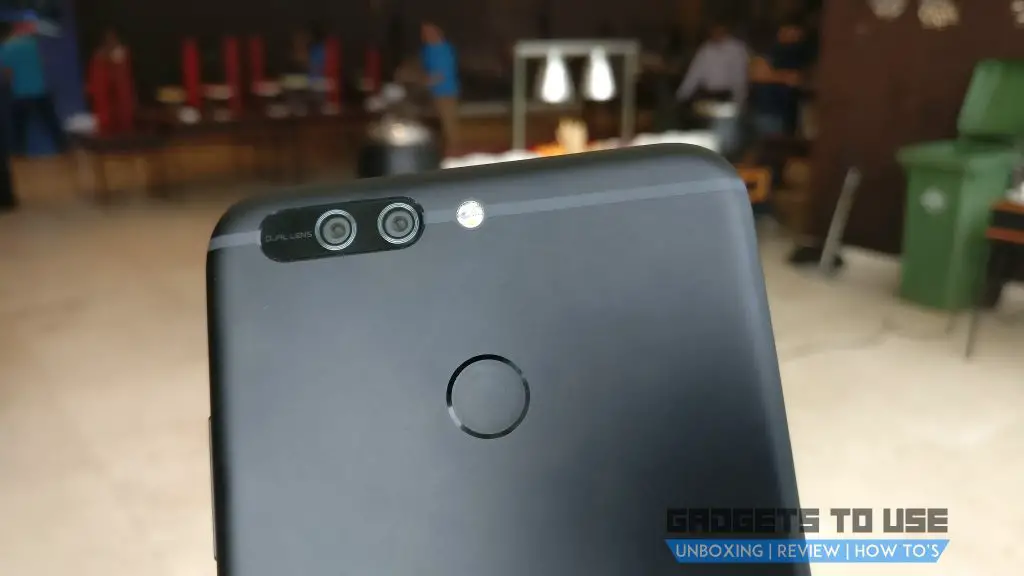 The camera on Honor 8 Pro is a Dual camera module. Both cameras in the main module are 12MP shooters with f/2.2 aperture, Dual LED flash and are capable of shooting 2160p videos @ 30 fps. The camera also features Laser Autofocus, Phase detection, and Geotagging.
The front-facing unit is an 8MP camera with f/2.0 aperture with a 77-degree wide-angle lens. The Honor 8 Pro features one of the best cameras in its class.
Sensors
The high-end Honor 8 Pro also boasts an Infrared Blaster and NFC connectivity. The presence of an IR blaster means that you can control appliances like TV, Air Conditioners and DVD players from your phone itself. Having NFC connectivity makes the phone compatible with mobile wallet applications. Though they're no major thing, these sensors do come in handy.
Honor 8 Pro Cons – Reasons To Not Buy The Honor 8 Pro
Big Display Size
Since this phone features a 5.7-inch display, controlling it with one hand can be a mess. You do have the option of toggling one-hand usage but then it feels awkward to be holding a 5.7-inch phone and using just one portion of the QHD display. This can be an issue for some users who prefer smaller displays.
USB C port
The Honor 8 Pro has features like NFC but lacks when it comes to USB connectivity. The phone has a USB type C port, but it is based on USB 2. The latest standard being USB 3.1, the Honor 8 Pro definitely misses out on using the full potential of the USB-C port.
No Waterproofing
Waterproofing or at least splash protection has become more common these days. The Honor 8 Pro, sadly, doesn't come with waterproofing. While the design and build-quality are very good, adding waterproofing would have made the Honor 8 Pro an even better option.
Conclusion
The Honor 8 Pro is a good phone when it comes to performance and design. It has all the essentials of being a decent package. The size may prove to be a problem for some, although you do get a high-quality Quad HD display. While Huawei India has revealed that it will be priced in the affordable price segment, it remains to be seen how much it will cost.