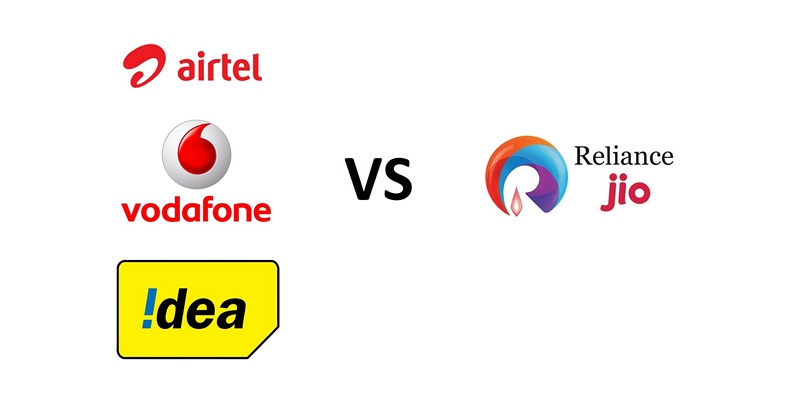 Bharti Airtel, Vodafone India, and Idea Cellular are all set to launch voice over LTE or VoLTE services by the end of September this year. This may come as part of their efforts to upgrade this technology and to compete with the new entrant Reliance Jio.
VoLTE, which offers the voice in a data format, is set to gain importance with the time when low-cost VoLTE-ready devices are expected to increase rapidly in the domestic market. With the increased usage of this technology, consumers can expect a considerable drop in voice call charges, and perhaps even free calling with good 4G data connectivity. Reliance Jio is already offering free voice calls to all Jio subscribers.
Analysts report that this could help these telecom operators in keeping their subscribers from switching to Reliance Jio which runs an all-VoLTE network enabling users to make free voice calls over data networks.
Reliance Jio is presently the only operator in India offering 4G VoLTE services and with the arrival of VoLTE from other telecom players, the Mukesh Ambani-led operator will face a tough competition.
"Airtel's VoLTE plans are on track having kicked off field or commercial trials in Mumbai and Delhi, and it will soon launch the service commercially in India," a spokesperson told Economic Times.
Another person from Vodafone has revealed that the company has done the basic trials of VoLTE technology and is readying to launch the services soon.
Same goes with the Idea as the company might launch the service anytime between July and September as expected. "We are initially planning to be able to build VoLTE for about 20-25 million customers, which is enough to be able to take care of our 4G expectations in volume in India," said Idea Cellular managing director Himanshu Kapania.
Although no official statement on launch has been made from either Airtel, Idea or Vodafone. All the three operators have recently launched multiple data packs and offers for prepaid and post-paid customers.
The arrival of Reliance Jio created a revolution in Indian telecom market. Earlier we have heard about Vodafone India and Idea Cellular announcing the merger, Airtel acquiring Tikona etc. Though there has been no further update post these initial announcements. Same with the VoLTE services, all the details are expected to arrive towards the end of this year.
VoLTE device proliferation outside of Jio's base is probably not at a critical mass, a reason why Airtel and other incumbents haven't launched VoLTE services yet. Telcos should continue with VoLTE testing and be ready to launch commercially once device proliferation reaches critical mass.