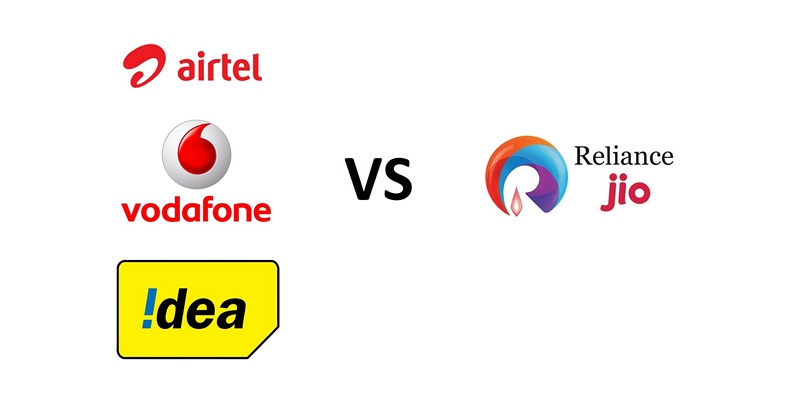 The issue of interconnect usage charges (IUC) has once again emerged as a potential disaccord between the top telecom operators of India. Bharti Airtel, Vodafone India and Idea Cellular want the IUC to be raised, and new entrant Reliance Jio is asking it to be eliminated.
Along with the cut in licence fee, Spectrum Usage Charge (SUC) and Universal Service Obligation Fund levy to ease financial stress in the telecom sector, IUC is now once again in the highlights. IUC is the charge paid by one telco whose subscriber makes a call to another network.
Airtel, Vodafone and Idea want the IUC to be raised from current 14 paise per minute that is calculated nearly half of these operators' cost of a call. So, all of these incumbent carriers want it to be raised.
However, Mukesh Ambani led Reliance Jio wants it to be scrapped as Jio relies on free call offers to attract its 100 million+ customers. Abolishing of Interconnect Usage Charges would directly benefit Jio as it would reduce its IUC cost. It is to be noted that Jio has more outgoing calls made to subscribers of larger network operators such as Airtel, Vodafone or Idea.
Telecom industry experts who are advocating for higher IUC quote that terminating 4G voice calls on traditional circuit switch (CS) networks and delivering them on ordinary feature phones that are owned by nearly 70% of the Indian population involves higher costs. So, the IUC must remain.
Sandip Das, a senior adviser at Analysys Mason, believes that IUC charges cannot be abolished immediately as majority of telecom networks in India are of the circuit switch (CS) variety. And, it will only be possible if these mobile networks will become IP-based and migrate to VoLTE.
What is IUC?
Interconnection Usage Charges (IUC) or also known as Termination Charges are payable by one telecom operator, whose user makes a call, to another operator whose subscriber receives the call. The charge is payable by the first operator for using the second operator's network.
The origin of IUC in India dates back to 2003, when the Calling Party Pays (CPP) rule was introduced. So, since this rule barred operators from charging customers for incoming calls, the IUC was the only way left to recover cost of incoming calls.