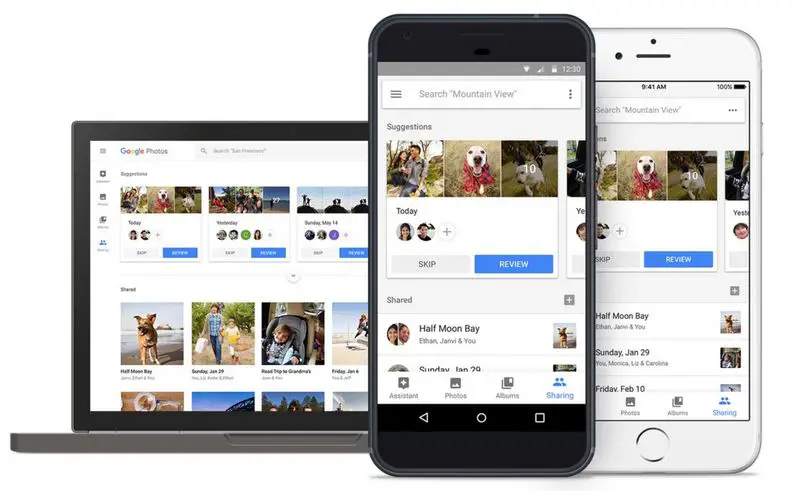 Google is rolling out new Suggested Sharing and Shared Library features for Photos. The updates which are coming today were introduced at Google I/0 earlier this year. Suggested Sharing gives suggestions to share photos based on your sharing history and the people you have shared images with. The Shared library feature allows you to share all your images or selected images with a particular person.
Suggested Sharing
A new 'Sharing' tab will appear at the bottom right of your Photos app. In this tab, you can see Google's sharing activity, which will display photos shared with you and the ones that you've shared with others.
You'll see the Personalised Sharing 'Suggestions' on top, based on your sharing history and the people in those images. Photos also goes much beyond recognising various people in the images.
It suggests you share images with those who would like to see them. The app will also send reminders to people using photos to add photos taken with you, to the album. This way, you can see all your photos in one app, at one place.
Shared Libraries
The second new feature comes in the left-side drawer menu. This is the 'Shared Libraries' feature which allows you to share all or selected photos with anyone you want.
Shared Libraries offers liberty to share all images, images from a certain date or those of a certain person. Others can also make a shared library with you and you don't need to worry about images flooding your device storage.
When someone shares a library with you, you get notified whenever they take new photos and you can select if you want to save all the images or selected ones. Same goes when you share your library with someone. They get notified and can save selected images.
Other features of Photos app
Auto Archive images
A recent update from Google added the Auto-archive feature to Photos app. Earlier you could manually archive images without deleting them altogether. The new feature lets Assistant detect photos that can be archived and then suggest those to you.
You can then either archive all the images suggested or deselect some and let others be archived automatically. Archived images are not deleted from your phone and remain searchable, but they don't appear in the Image Feed.
Scan images
In April this year, Google introduced an update to directly scan and save your photos in your phone. The feature allows you to scan images through Google Photos app itself.
Although it is yet to be perfected, the feature comes in handy if you want to digitally save an old image without losing much detail.
Availability
These new updates make it more seamless to share images using the Google Photos app. The app is available for Android and iOS. A web version is also there so you can access all your images on the go.