Mozilla launched its private web browser Firefox Focus for Android today. The browser comes with features like a built-in ad blocker and private browsing mode that is always on.
Last year in November, Mozilla introduced this new web browser for iPhone and iPad. Now it is also available for Android with the same features as its iOS version. You can browse on Focus without being followed by trackers and websites.
Firefox Focus features the simplistic design without too many graphical elements and has only a frame with a menu to its top-right corner. With its Android release, the browser has enabled a few other features too.
Mozilla Firefox Focus Features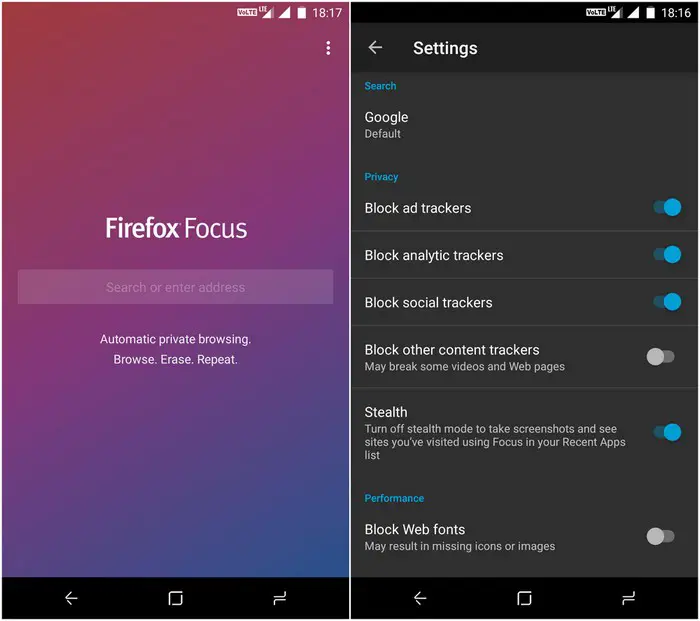 You can think of Firefox Focus as a very simple browser that works in Incognito/Private mode only. By default, the browser blocks ad trackers, analytics trackers, social trackers and other content trackers. In addition to that, the browser also lets you disable screenshots feature within the app.
However, if any of the features cause issues in loading a website, you can toggle them and reload the page.
Since the alpha versions, Mozilla has added the following features in the release version of Firefox Focus.
Disabling tracker blocker: You can disable the tracker blocker for the sites that are not loading correctly. Go to the settings and disable the tracker and browse hassle free.
Ad tracker counter: If you are curious and want to know how many ads have been blocked  and on which site, you can check the list of ad trackers in counter.
Reminder to erase history: When the browser is running in the background, you will get a notification to erase your browsing history. You can erase the history simply by tapping on the notification.
Overall, the lack of tabs to offer simplicity is something that makes it less usable than other browsers. Another drawback can be its default search engine that is Yahoo.
Also, since the browser is always in Private Browsing mode, once you close the browser, all the browser history is cleared, and you lose the previous browsing session. However, the browser can be useful because of its size, simplified graphics and privacy mode.