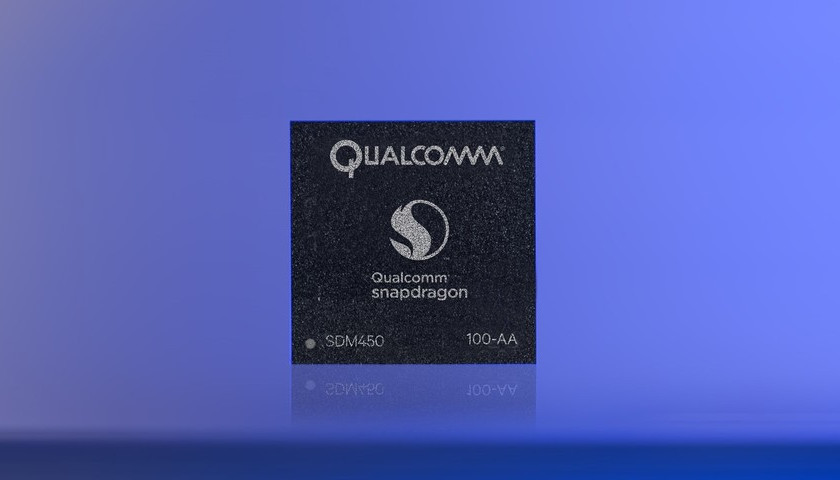 Qualcomm Technologies Inc has announced a new entry to its Snapdragon 400 Mobile Platform series- the Qualcomm Snapdragon 450. Qualcomm Incorporated, the parent company of QTI, has revealed this at the Mobile World Congress, Shanghai 2017.
The new SoC is designed to deliver noteworthy improvements in CPU & graphics performance, battery life, imaging and LTE connectivity over its predecessor, the Qualcomm Snapdragon 435 which is the current most-powerful 400-series chipset.
The Snapdragon 450 is the first one to use 14nm FinFET process in Snapdragon 400 series, that basically caters to mid-range smartphones and tablets. This change will bring significant efficiency boost in performance as earlier 400 series chips are on 28nm process.
Qualcomm Snapdragon 450 Features
The Snapdragon 450 Chipset is designed to mainly focus on improvements in the following categories –
CPU and GPU Performance
The octa-core ARM Cortex A53 CPU is clocked at up to 1.8GHz on the 450 compared to a max clock speed of 1.4GHz on the 435. This results in 25 percent increase in CPU performance compared to its predecessor. Additionally, the Snapdragon 450 is integrated with Qualcomm Adreno 506 GPU that also delivers a 25 percent increase in graphics performance over the Adreno 505.
Battery Life
The Snapdragon 450 process is said to deliver up to four hours longer battery life compared to the 435.  The new chipset also offers up to a 30 percent less power usage when gaming. The Snapdragon 450 comes with Qualcomm Quick Charge 3.0 support.
Camera and Multimedia
The Snapdragon 450 supports real-time Bokeh effects for better imaging performance. It is also designed to support dual camera at 13+13MP, or single camera support up to 21MP. The Snapdragon 450 will also support 1080p video capture and video playback at up to 60fps.
The new chipset also has support for 1920×1200 full HD displays, with Qualcomm Hexagon 546 DSP, that enables multimedia at greater performance and is up to five times as efficient as the previous generation.
Connectivity and USB
It also comes with the Snapdragon X9 LTE modem at 2x20MHz carrier aggregation. That means it can offer peak download speed and upload speed up to 300 Mbps and 150 Mbps respectively. The Snapdragon 450 also supports USB 3.0 for fast USB data transfer.
So, this new SoC comes up with an important upgrade for the budget-segment devices. According to the company, the Snapdragon 450 is expected to be available in devices by the end of this year.