Xiaomi devices are finally set to receive an upgrade to Android 7.0 and 7.1 Nougat. A Chinese website has a leaked list of 14 devices which will be getting the Nougat update anytime now. While these 14 devices are confirmed to receive updates, the company is also reported to be running Internal tests on some more devices.
This is good news for Xiaomi users as the company has a reputation of delayed upgrades to Android version. However, Xiaomi provides its users with upgrades to MIUI, its customized user interface which enables users to have new features.
The complete list of Xiaomi devices getting Android Nougat update is as follows: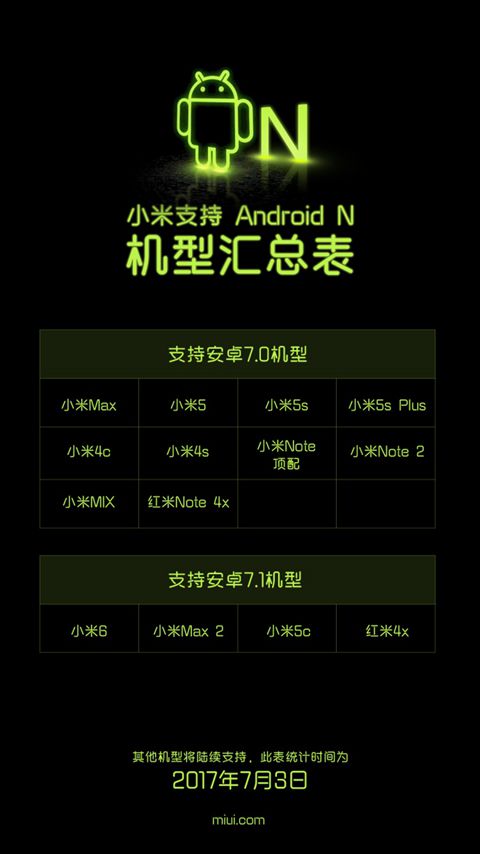 Android 7.0 Nougat
Mi 4c
Mi 4s
Mi Note
Mi Max
Mi 5
Mi 5s
Mi 5s Plus
Redmi Note 4 (India)
Mi 6
Mi Max 2
Mi 5c
Mi Note 2
Mi Mix
Android 7.1 Nougat
Mi 6
Mi Max 2
Mi 5C (Latest release)
Redmi 4X
Xiaomi Mi 6 and Mi Max 2 will be running Android 7.1.1 Nougat out of the box. Also, some of the devices in the above list are reported to have already received an update to Android Nougat.
What's new with Android 7.0 Nougat?
Android Nougat is the latest version of Android. It has an array of new features compared to Android Marshmallow. Here we have some of the best features of Android Nougat.
Android 7.0 Nougat offers smarter bundled notifications that can be app-wise expanded. Also, notifications on Nougat can be blocked or muted from the notification itself.
Nougat update allows you to use two apps at a time via split-screen multi-window. So you can do more with your Android 7.0 update on your already good MIUI 8. You can also unlock the System UI tuner on Android 7.0 Nougat, allowing you to customize what all you see on your phone's status bar.
If your device is not listed in the ones above, don't worry because Xiaomi consistently keeps rolling updates for its MIUI, hence adding new features without the core Android update.
So even if your phone is not listed above, you will probably get updates through MIUI updates or a scheduled update to Android 7.0 later.