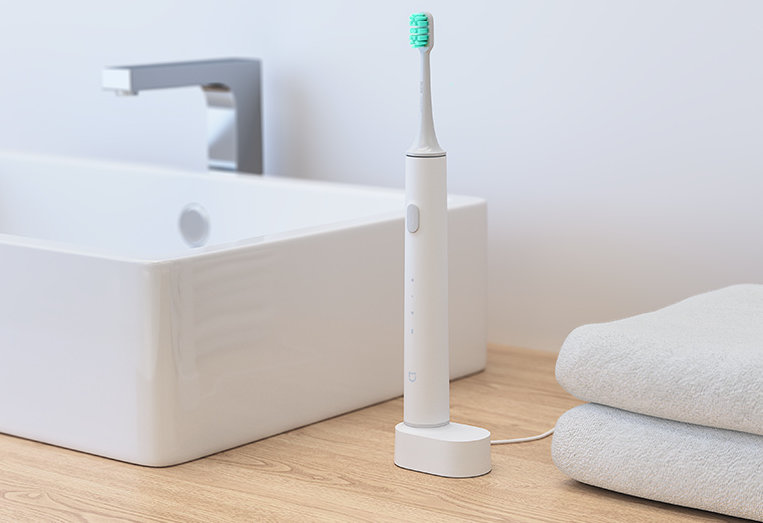 Xiaomi has unveiled its Mi Ultrasonic toothbrush at its Mi Ecosystem Event. The electric Ultrasonic toothbrush is the latest edition in the Beauty and Personal Care segment. It offers up to 31,000 vibrations a minute, Waterproof body and 700 mAh battery that can keep it usable for 18 days.
The Mi Ultrasonic toothbrush is an addition to the already existing electronic toothbrushes from Xiaomi.
Build and Usage
The Mi Ultrasonic toothbrush has a waterproof body with an IPX7 rating. The brush head is made of high-quality StaClean bristles by American company DuPont. The brush features a sleek design and a Mechanical button to control vibrations as well as power.
This electric toothbrush also features personalized brushing experience through customization of the toothbrush via Mobile app. This customisation mainly controls the intensity of brushing.
Battery and Charging
The Mi Ultrasonic toothbrush is powered by a 700 mAh battery and can be used for 18 days on a single charge at 4 minutes per day of usage.
When it runs out of juice, you can easily charge the Mi toothbrush through its charging dock and even with a power bank if you're on-the-go.
Pricing and availability
The Mi Ultrasonic toothbrush will be available in China from 18 July at a price tag of 199 Yuan which is approximately Rs. 1,900. Details about the availability of the toothbrush in India are not known yet.
Mi Ecosystem
Xiaomi is aiming to build its own ecosystem of IoT (Internet of Things). Many products have already been included in this sub-brand, ranging from Smart Lights, Air & Water Purifiers to Rice Cookers and Personal Care equipment.
The Mi Ecosystem is set to be announced in India in September this year. A Tweet from Xiaomi India Head, Manu Kumar Jain hinted towards the Mi Air Purifier 2 being the first Mi Ecosystem product for India.