Subscribe for free to our youtube channel by clicking subscribe button below for latest updates on JIO, Tech Exclusive News, Gadgets Reviews, Upcoming Phone Deals Etc.
Ads by Google
Flipkart big billion days are on roll, as most of us know, today is 3rd October 2016 which is means the best offers for mobile phones.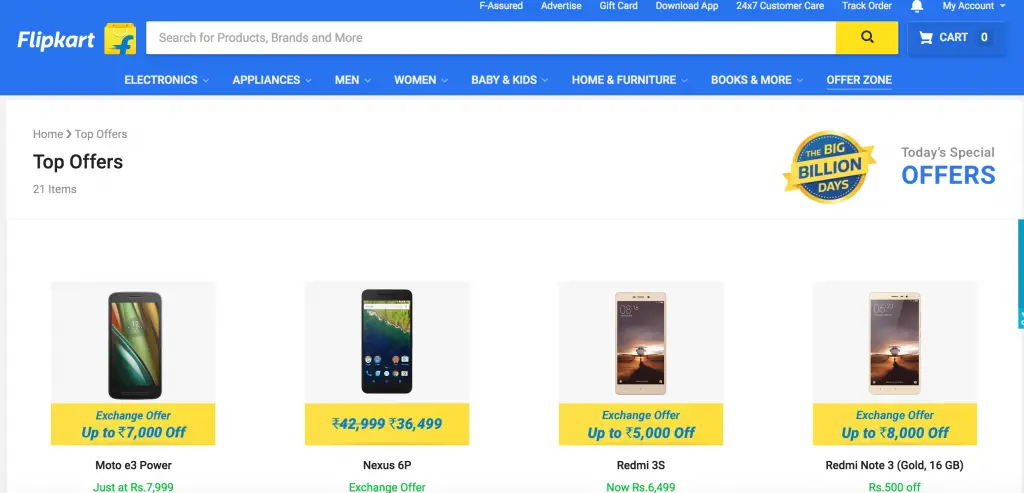 Below is the list of all offers, with full information on discounts, but don't go by all the offers listed here, watch our videos and also read the posts before you make a choice. In case you have any questions about any offer we have not talked about, tweet to us on twitter @abhishek or leave a comment on this blog post through the comment section below.
Terms for SBI Credit Card and Debit Card Holders
Flat 10% instant discount on purchases using SBI Bank Debit / Credit Card(s)
10% Instant discount is valid from

3rd October 2016

from

00:00

HRS to

23:59

HRS
Minimum cart amount to avail the discount is Rs 5000
Maximum discount per card will be Rs 1750
The Offer is NOT applicable on Flipkart EGVs, Samsung Tablets and select Samsung Mobiles Phones, except Samsung Galaxy On5, Samsung Galaxy On7, Samsung Galaxy J5 – 6 (2016 Edition) and Samsung Galaxy On8
This offer will be applicable over & above all the other on-going deals listed below
All Offers For Flipkart Big Billion Day 2
Other Mobile Phones and Exchange Offers
Flat Rs. 9000 Off on Asus Zenfone2 4GB|32GB | Upto Rs 8,000 Off on Exchange | No Cost EMI
Flat Rs. 18000 Off on Moto Turbo | Now at Rs. 13999 | Upto Rs 12,000 Off on Exchange
Flat Rs 10,000 Off on Moto X Style | Upto Rs 16,000 Off on Exchange
Flat Rs 6500 Off on Nexus 6P | Upto Rs 23,500 Off on Exchange
Samsung Galaxy On5 at just Rs 6990 | Upto Rs 5,500 Off on Exchange
Flat Rs 4,500 Off on Moto X Play Turbo Charger (16GB) | Upto Rs 12,000 Off on Exchange | No Cost EMI
Flat Rs 1000 Off on Lenovo Vibe K5 Plus 3GB | Upto Rs 5,500 Off on Exchange
Flat Rs.6000 Off on Mi 4 | Upto Rs 8,000 Off on Exchange
Flat Rs 2200 Off on Samsung Galaxy On7 | Upto Rs 6,500 Off on Exchange
Flat Rs. 2500 Off on Moto G Turbo | Now at Rs 9999 | Upto Rs 3,500 Off on Exchange | No Cost EMI
Moto X Force (32GB) at just Rs.26,999 | Upto Rs 23,500 Off on Exchange
Flat Rs 4,000 Off on Moto X Play Turbo Charger (32GB) | Upto Rs 12,000 Off on Exchange | No Cost EMI
Flat Rs 3000 Off on Honor 7 | Upto Rs 18,300 Off on Exchange
Flat Rs.5000 Off on Mi 5 | Upto Rs 18,300 Off on Exchange | No Cost EMI
Flat Rs. 1500 Off on Swipe ELITE Plus (FHD) at just Rs 5,499 | Get Rs 1,000 Off over regular exchange rates
Flat Rs 1500 Off on Lenovo K3 Note | Upto Rs 8,000 Off on Exchange
Flat Rs 1500 Off on Honor 5C | Upto Rs 9,000 Off on Exchange
Flat Rs.1,500 Off on Cloud String v2 | Upto Rs 4,000 Off on Exchange
Flat Rs.1400 Off on Canvas Xpress 4G | Upto Rs 4,500 Off on Exchange
Flat Rs 2500 Off on Panasonic Eluga Note | Now at Rs 9499
Flat Rs. 1500 Off on Yu Yunicorn | Upto Rs 10,000 Off on Exchange | No Cost EMI
Flat Rs.1000 Off on Mi Max | Upto Rs 12,000 Off on Exchange
Flat Rs.300 Off on Xolo ERA 1X | Upto Rs 3,500 Off on Exchange
Moto X Force (64GB) at just Rs.30,999 | Upto Rs 23,500 Off on Exchange
Flat Rs 700 off on Xolo Era X
Extra Rs 1500 Off on Samsung A3
Flat Rs.1000 Off on Yu Yureka Plus
Launching Samsung On8 | Flat Rs. 1000 Off | Free 32GB microSD card | Upto Rs 13,000 Off on Exchange | No Cost EMI
Flat Rs.2,000 Off on Le1s Eco (3GB|32GB|FHD) | Now at Rs. 7999 | Upto Rs 6,500 Off on Exchange
Flat Rs 2300 Off on Samsung J5-6 | Now at Rs. 10990 | Upto Rs 9,000 Off on Exchange | No Cost EMI
Flat Rs 1,500 Off on Le 2 | Upto Rs 8,000 Off on Exchange
Flat Rs.5,000 Off on LeMax 2 | Upto Rs 16,000 Off on Exchange | No Cost EMI
Flat Rs.500 Off on Redmi 3S | Upto Rs 5,000 Off on Exchange
Flat Rs.500 Off on Redmi 3S Prime | Upto Rs 7,000 Off on Exchange
Moto E3 At Just Rs. 7999 | Get additional Rs 1500 Off on Exchange | No Cost EMI
Power Banks and Other Consumer Electronics
Designer Cases Under Rs.299
TP-LINK TL-WR740N 150Mbps Wireless N Router- Just at Rs.899
WD 1TB External Hard Disks at Just Rs.4099
Flat 30% Off on Bose Headphone – SoundTrue Range
Google Chromecast 2 Media Streaming Device at Rs.2999
JBL Flip II Portable Bluetooth Mobile Speaker at Rs. 3999
JBL T250SI On-the-ear Headphone at Rs.699 (70% Off)
Philips BT120 Bluetooth 20W Speaker at Rs. 3999
Philips BT50 at Rs 999
Rs 1000 Off on New Google Chromecast 2 with selected Television Range
Skullcandy Jib wired headphones with With Mic at Rs. 549
Flat 40% Off on Smart Wearbles from Fitbit
Apple iPads Flat Rs. 5000 off + Upto Rs. 10,000 off on Smartphone exchange