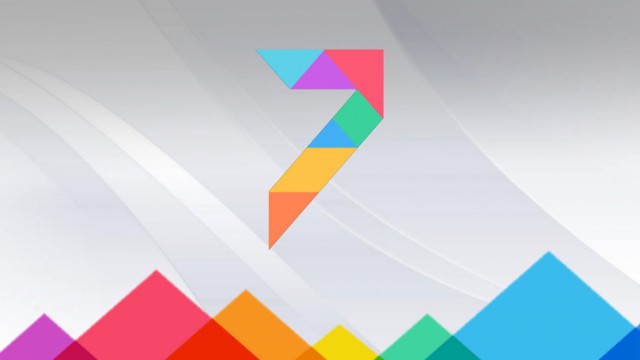 Subscribe for free to our youtube channel by clicking subscribe button below for latest updates on JIO, Tech Exclusive News, Gadgets Reviews, Upcoming Phone Deals Etc.
Ads by Google
The Xiaomi Mi5 is the latest flagship from the company that comes with Android 6.0 Marshmallow out of the box. On top of Android, Xiaomi uses its own custom skin called MIUI. The Xiaomi Mi5 comes with MIUI 7 which is the latest version. It is a heavily customized skin. Xiaomi has made it truly unique with its own extensive set of modifications and feature additions.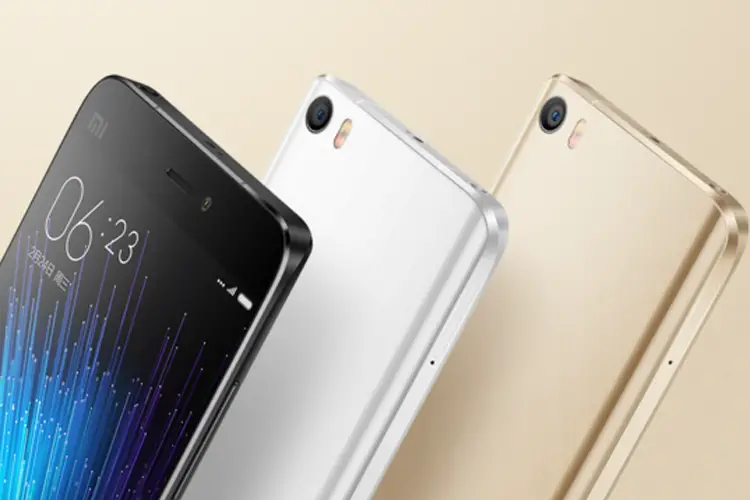 We have to say that MIUI 7 is one of the best looking custom skins out there. It looks very pleasing aesthetically. While it hides Material Design in almost its entirety, Xiaomi has made sure that it is worth it. It also runs extremely smooth, so you don't have to worry about the performance.
We have been using this device from last few weeks and have come up with few helpful tricks for the Mi5 users.
Lock apps with fingerprint sensor
Xiaomi has been on the top of its forms since its first device was released. The only thing which was not seen in its phones was the fingerprint sensor, and Xiaomi brought it to its smartphones with the Redmi Note 3. Mi5 also comes with a fingerprint sensor built in the home button and it comes with a very useful feature that allows you to lock apps and unlock them using the saved fingerprint.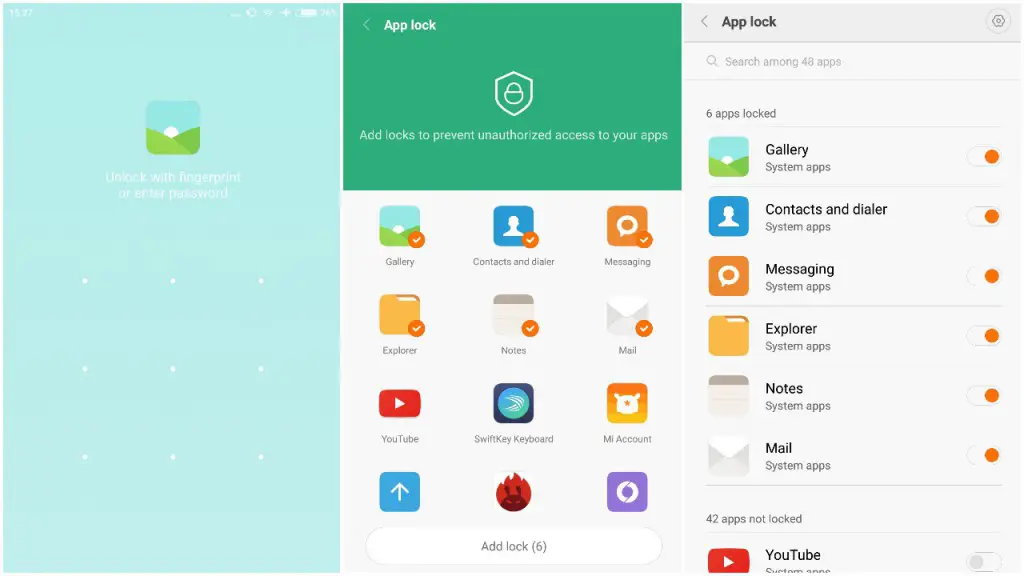 All you have to do is to setup the apps that you want to lock by reaching Settings> Additional settings> Privacy> Privacy protection> App lock.
Change recent apps interface
If you are using the Mi5, then you must have noticed that the minimized apps are shown as cards. Xiaomi gives you an option to change the look of the recent apps. You can choose between the card view and the icon view. The icon view will show you the icons of the unclosed apps at the bottom of the display. These small icons look simple and are easy to organize, and you can simply swipe them off to directly close the apps.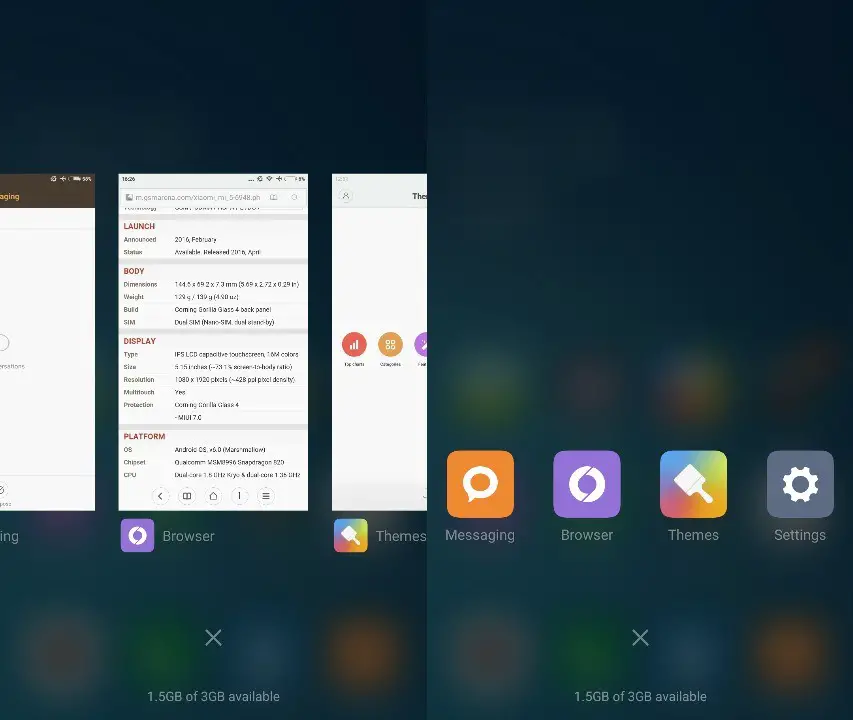 To switch between the recent apps interfaces, all you need to do is to pinch in and pinch out on the screen.
Change lock-screen wallpaper quickly
The Mi5 offers you a wide range of high definition wallpapers to choose for your homescreen. But they have included an unconventional way to change the lock-screen wallpapers. While the device is locked, you will need to wake up the screen and look for the small icon on the top right corner of the display. Tap on the icon and it will take you to the gallery where you can simply swipe left or right to choose between the given wallpapers.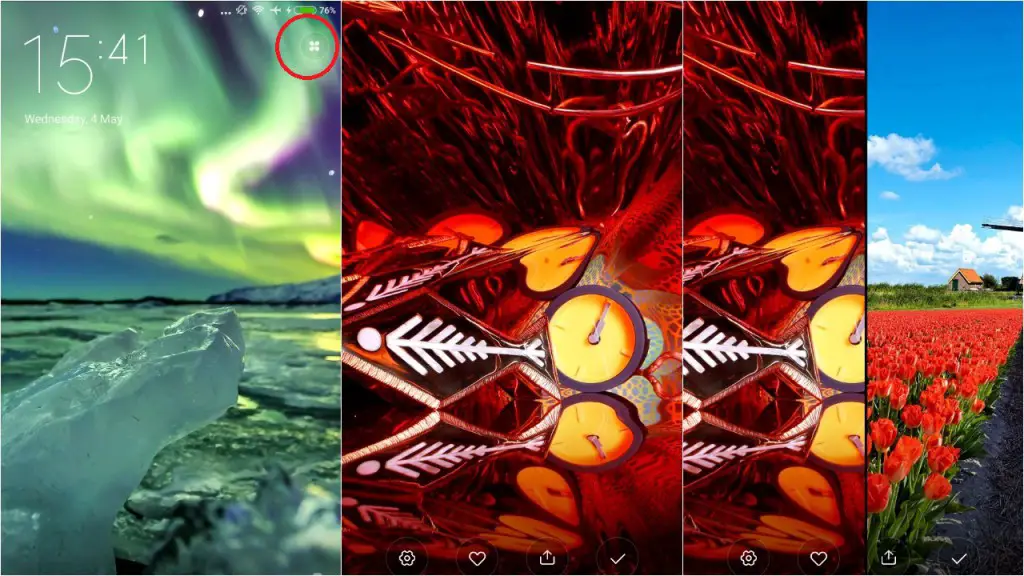 Customize navigation keys
Like OnePlus phones, Xiaomi Mi5 also lets you edit the use of navigation keys. This allows the user to assign the back and recent functions. Left handed users can switch the functions of the two navigation keys if they are not used to this setting. To change the navigation key functions go to Additional Settings> Buttons> Navigation Buttons.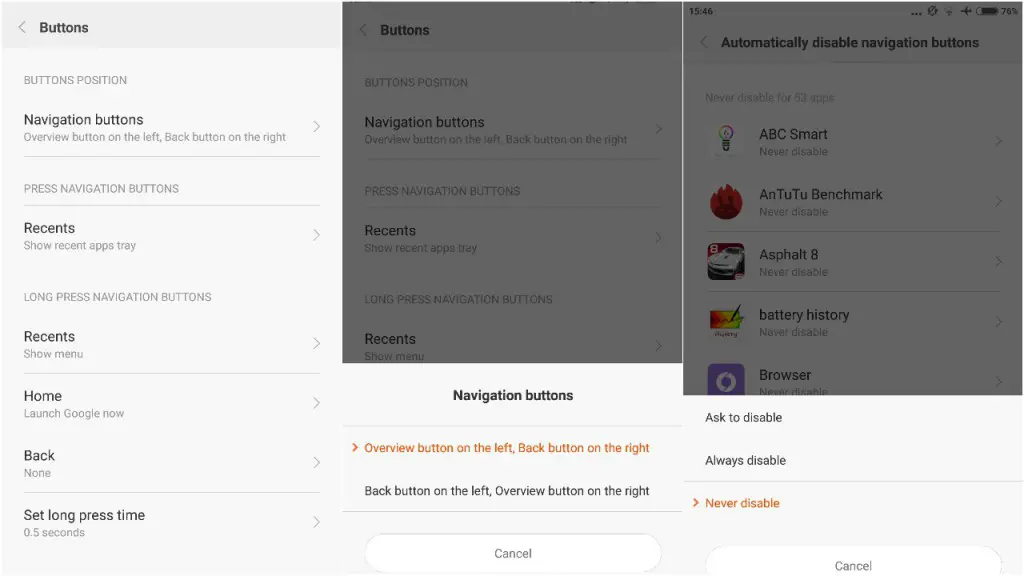 It also allows you to freeze the navigation keys for some apps, which can avoid accidental touch while typing or playing games. To enable this go to Additional Settings> Buttons> Automatically disable navigation. This will let you choose from the apps you want to configure with this setting.
Use Mi Remote
IR blaster is not a common feature in most of our smartphones these days. Companies like Samsung and HTC are moving over the concept of adding the IR blaster in their phones but Xiaomi is still putting IR blaster in its smartphones. You can make the most out of your IR blaster with the Mi Remote app, that allows you to control all electronic appliances like AC, TV, Music systems and more using Mi5.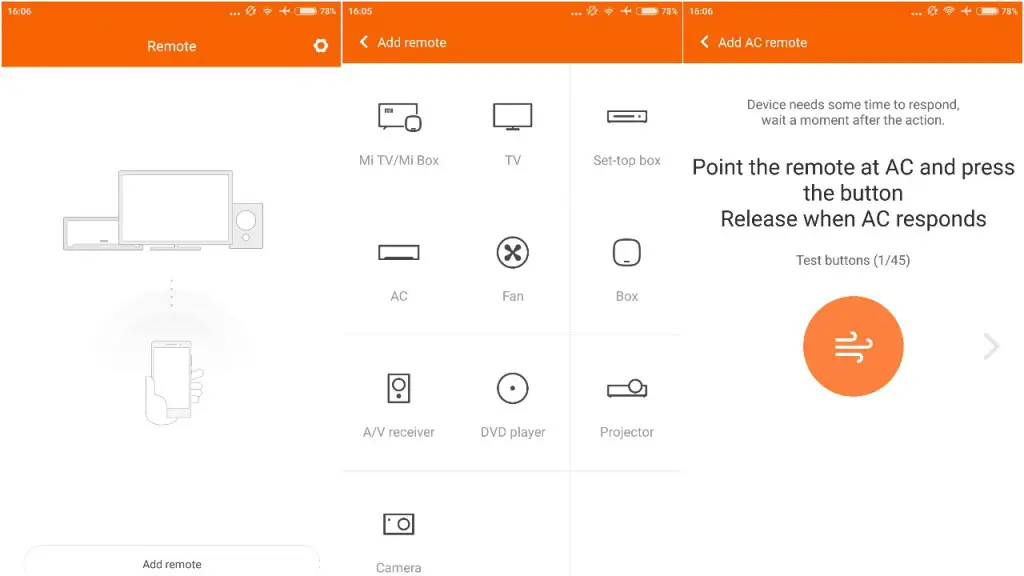 The good part is that Xiaomi keeps flowing regular updates by adding more and more compatible devices.
Use Read mode
There are a countable number of smartphones in the market that come with an in-built reading mode like apple. Reading mode basically tweaks the display temperature and saturation, which reduced the strain on your eyes while reading. This mode makes the display more pleasant for reading in dim light and also helps in getting a better sleep.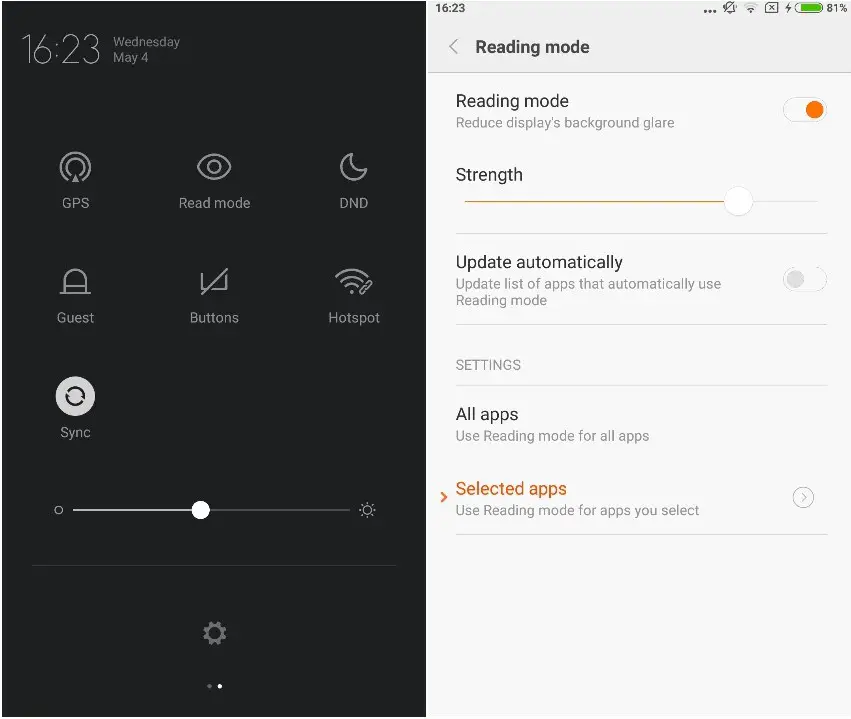 To enable Read mode go to display settings and enable the reading mode, and you can also enable it directly from the quick settings panel.
Turn on data saver
We have seen browsers like UC browser and Opera Max that are known for their data optimization features. Browsers like these consume less data and help reducing your data bills. To provide you with an economical data usage experience, Mi5 comes with an integrated data saver mode which helps you to save a lot of megabytes. To enable the data saver, open the Security app that can be found on the homescreen> Data Usage> Restrict Data usage and configure the apps according to your need.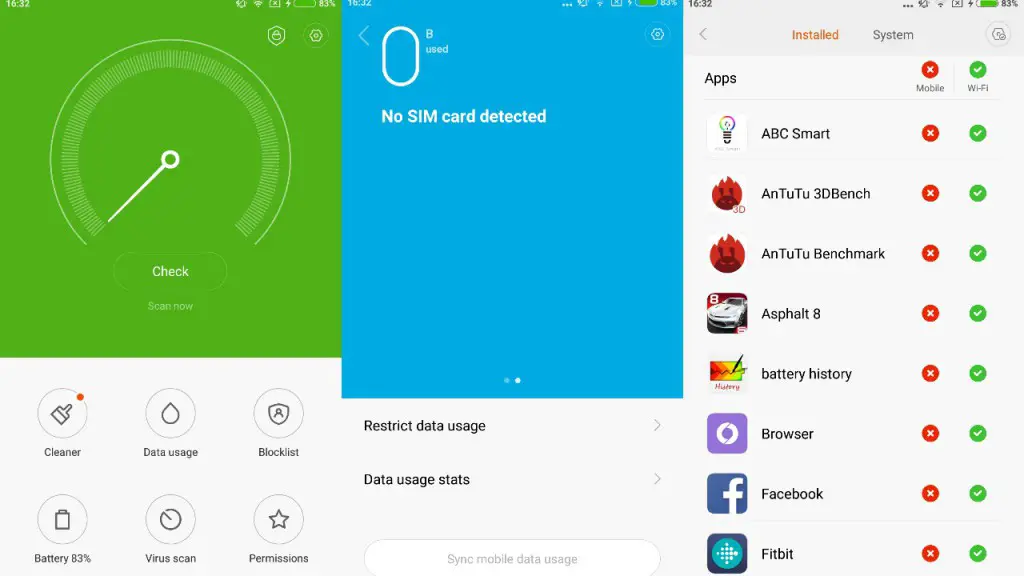 Use home button as capacitive button
This is one of the coolest options that it offers, it is not a very important feature but for someone like me it is, because I am one of those who do not like clicking the hard physical button again and again. That is irritable and also the risk of malfunction is more when the buttons are physical.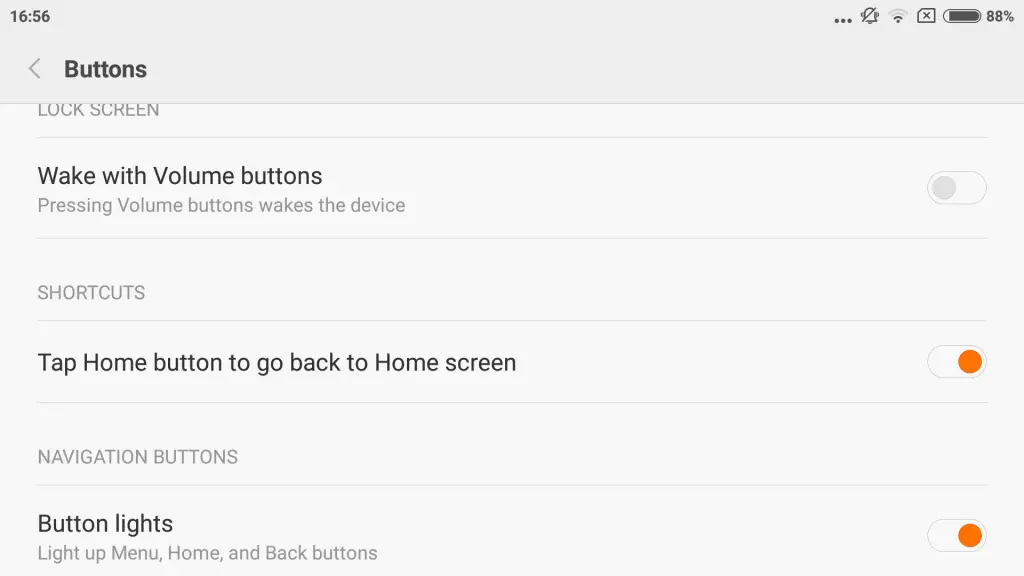 To change your physical home button as a capacitive one, you simply need to go to Settings> Additional settings> Buttons and enable 'Tap Home button to go back to Home Screen' option. This will enable the capacitive sensor under the home button and a slight touch of your thumb will take you to the home screen.
Enable permission manager
As you may know that the MiUi 7 does not come with the App permission manager. But the Mi5 was running on Android Marshmallow, so we expected it to have the permission manager by default but for some strange reason, the company has disables the permission manager on Mi5. It automatically allows the installed apps to access the permissions they need.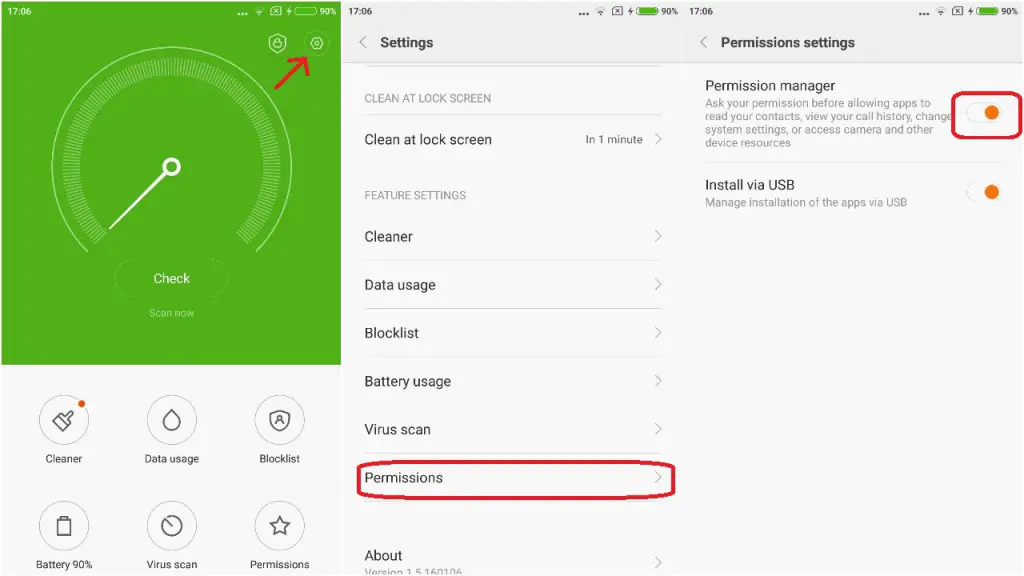 After a little digging we found that there is a way to enable the permission manager on Mi5. Go to Security app> Settings (top-right corner)> Permissions and enable the Permission manager.
Record calls automatically
It is not a new feature for the Mi users but it is worth mentioning for the first time users, who cannot locate the call recording settings. It comes with an in-built call recorder that keeps a record of all your voice calls and the voice clips can be accessed at any point of time. To enable this feature, go to Contacts> Tap the menu button (3 dots on the top-left)> Settings> Record.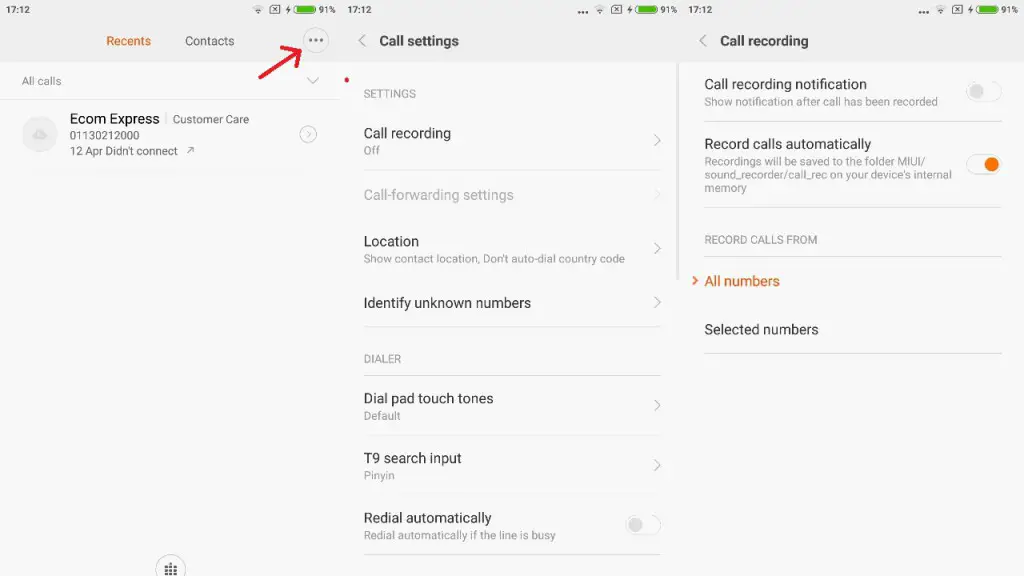 It further allows you to choose the specific contacts you want to record a call for.
Additional MiUi 7 Tips and Tricks
We have covered some more amazing MiUI 7 tips and tricks in our older article based on the Redmi Note 3. Do read this post to find out some more amazing features for your Mi5.