If you really feel the need of keyboard for your iPad, then you should consider Logitech Ultrathin Keyboard for iPad. I never liked the idea of a external keyboard for iPad, but this one is keyboard + cover for iPad which the most lightest keyboard which also act as cover as well.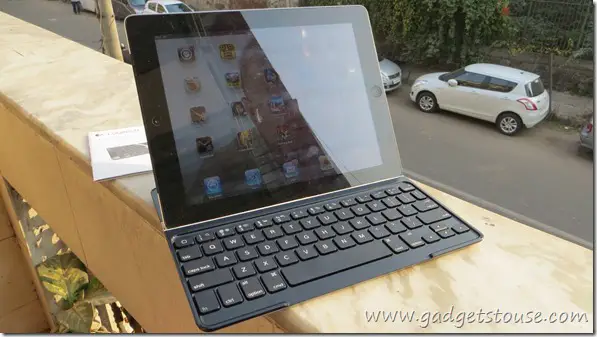 Once I started using this keyboard + cover, I never felt the need to put my apple full body case + cover which I had been using for a long time.
Design
It looks like one of the sleekest iPad cover + keyboard and other the other hand feels very light in hands as well, it is covered with aluminum from the cover side which looks like the back side of the iPad only difference is it has Logitech logo.
the other side it has glossy finish keyboard keys which are sufficiently big enough of most of the fingers including the thick ones.
Form Factor and Portability
The light weight of Logitech Ultrathin keyboard is already less than 12 ounces which makes it fairly light and it will not add much weight to your iPad when you are using it as a cover + case with your when you are moving around.
Functions Keys
In order to make it more useful, Logitech has added function keys for home, search, volume increase and decrease and you also have play, pause, previous and next.
Keys Feedback
Talking about the keyboard keys quality it is quite nice as they are quite tactile and have nice short travel which provides a good feedback to the user and you wont feel any issues while typing on this keyboard.
Pros:
Comfort Typing
Good Quality
Good Battery Life
Cons:
Expensive
Minimal protection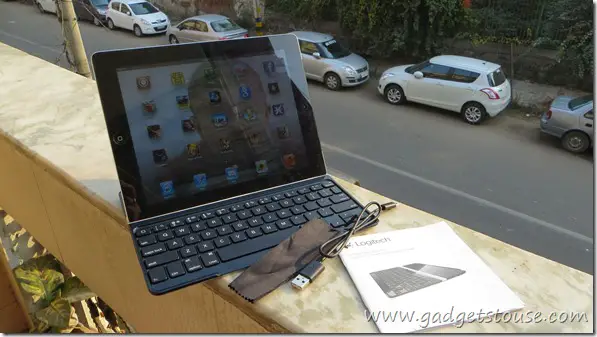 It comes with a screen cleaning cloth and USB to micro USB charging cable as you can see in the image above.
Conclusion
In all this is one of the best keyboard you can get, it really fulfills the expectation of the user but on the other hand it comes at a premium price which is Rs. 6599 INR, and at this premium price you get the best keyboard for your iPad 2, 3 or 4th gen iPad as well.