Jabra SPEAK™ 510 is the perfect audio companion; anytime anywhere, whether on the move, at home, listening to music or attending conference calls. Using plug-and-play connectivity, Jabra SPEAK™ 510, makes sure that the user is just seconds away from virtual meetings and hands free conversations.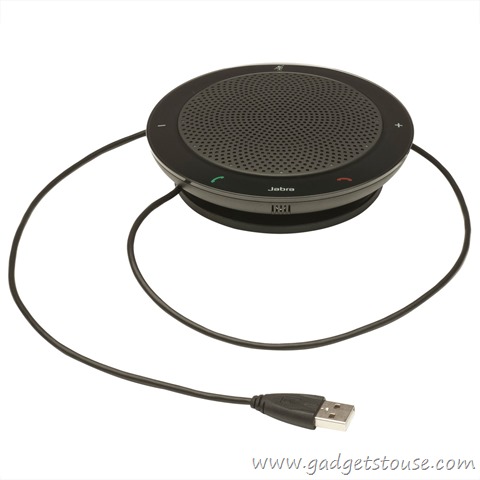 Jabra Speak™ 510, a portable unified communications speakerphone gives the power to literally turn any room into a conference room. Users get outstanding sound quality and a plug-and-play solution that can connect to PC, tablet or smartphone. Jabra Speak 510 has a compact design and a travel case that make it well-suited for transport. Whether it's setting up a quick conference call via UC in someone's office, or taking it along on the road, collaboration is made easy. Get empowered and join the conversation anytime, anywhere.
With its Bluetooth technology, the Jabra SPEAK™ 510 becomes 100 percent wireless enabling the user to connect to any Bluetooth® enabled device, which adds to the convenience of increased flexibility and connectivity via mobile- and smart phones, tablets, laptops and headsets – at the office, at home and on the go. SPEAK 510 offers wireless connection to PC, tablets and Bluetooth enabled mobile phones and headsets giving enhanced mobility with up to 100 meter range for Class 1 supported devices.
Connectivity and Availability
Personal device to call and multitask on your terms – at the office, at home, or on the go. Works with PCs and any Bluetooth enabled device. So it works via bluetooth and USB cable both, its just plug and play for a PC. Jabra SPEAK 510 are launched at Rs. 11,000 INR and are available for home and business purpose.