This is truly a year of Tablets with all the electronics companies such as Acer, Micromax, iBall, and many others entering into the world of low budget tablets. The competition for the low budget Tablet is at its high in the market now a days and so lava, with the launch of its Etab Xtron is ready to challenge its competitors. The Etab Xtron is company's first Android 4.1 Jelly Bean tablet followed up on its eTab Z7H tablet. This eTab Xtron by Lava is sleek and stylish and has robust features. The tablet has an aluminum enclosure which makes it easy to hold and has 7 inch multi touch display screen that has resolution of 1024 x 600 pixels which makes it ideal for playing games, watching videos, reading books and for many more. With the dimensions of 184 x 131 x 11.5 mm this tablet will be 350 grams. Toward the technical face the tablet runs on latest Android OS i.e Android 4.1 Jelly Bean and is powered by a 1.5GHz Cortex A9 dual-core processor. It comes with 8GB of internal memory, and it is expandable up to 32GB via a microSD card and will be supported with 1GB DDR3 RAM. It will also get the support of Mali 400 GPU. It has no rear camera which seem to be common in tablet but has a 2MP of Front camera which will help you for video chat. All of this is powered by a 3,500mAh battery, that can run seamlessly for 4 hours with Wi-Fi connectivity on. It could also support 3G support via USB dongle.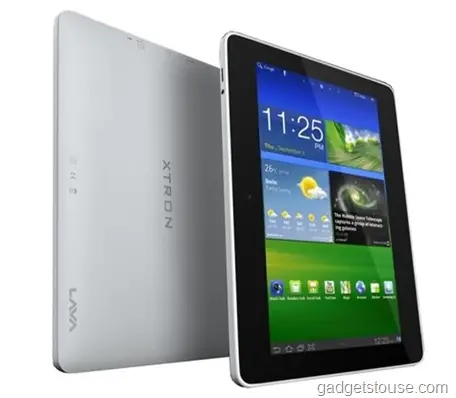 Moreover the ETab Xtron will come pre-loaded with a slew of apps, including Office Suite, Nimbuzz, Fusion music player, Adobe Reader, as well as games such as Pizza Ninja, Chess, Sudoku, Solitaire, Minesweeper, and Ping Pong. It has tied up with various partners for the tablet and packs in some goodies with it like entertainment package worth Rs 2,000 from Hungama.com, a one month unlimited movie package from BigFlix for Rs 1. There are also a free Vedic maths package, discounts worth Rs 4,000 from Meritnation.com, a free Career Booster package.
Highlighting the specs and features for Etab Xtron:
Sleek and stylish with dimensions of 184 x 131 x 11.5 mm and weight of 350 grams
7-inch IPS display with 1024 x 600 resolution and support multi-touch input
latest OS i.e Android 4.1 Jelly Bean
1.5GHz dual-core Cortex A9 processor
Mali 400 GPU with 1GB RAM
8GB internal storage, expandable via microSD card up to 32GB
2MP front camera
3,500mAh battery
3G support via USB dongle
Good and Bad:
Etab Xtron looks a technology sound device with really a good price. But while the IPS panel will give the tablet decent viewing angles, the resolution seems rather low, as is expected from a tablet with this price. But still I will be looking forward to get the hands on this tablet for the other technical specifications and  the tablet looks worth for Rs.6,499. The preloaded apps and the package with the box makes it more attractive.