Huawei released their new high-end phone with the latest techs being talk about these days starting from 4G LTE connectivity to the QPC to increase the battery life. It was released today at MWC and they mentioned that it will be launched globally in Quarter 2 of this year with the prices at €400 (which is thinkable before spending on a phone). Other phones in the segment are Sony Xperia Z and HTC One.
Specifications and key Features
Screen is of 4.7 inches which is decent not small and not too large to be considered under the category of phablets with a display of 720p. Rumors indicated that it will have Full-HD display but unluckily this didn't happen but it is 321ppi which is again highly decent.
This phone does not have any slot for external memory cards and has 16Gb of Internal marking the limit of storage capacity for the phone. This is somewhat similar to the iPhone.
It brags about the 4G LTE connectivity which can offer up to 150 MBPs transfer.
Coming on to the processing speed, the processor used is of 1.5GHZ quad-core processor (again it was expected by the rumors) with 1GB of RAM.
Its 13 Megapixel camera (which we also expect to see in the upcoming Samsung Galaxy S4) with HDR in both image capturing and video recording make it a decent choice.
It will operate on 4.1 Jellybeans which has already got the primary features to increase the battery life and adding to it the phone will use Quick Power Control feature to reduce the charging time and the power consumption by 25%. Again it is a decent key for this phone.
It is sensitive even when you will use it wearing the gloves (same as it was in Nokia Lumia 920) and it has a coating of Corning Gorilla Glass 2.0.
Hands-On Video
Coming Soon…
Hands-On Images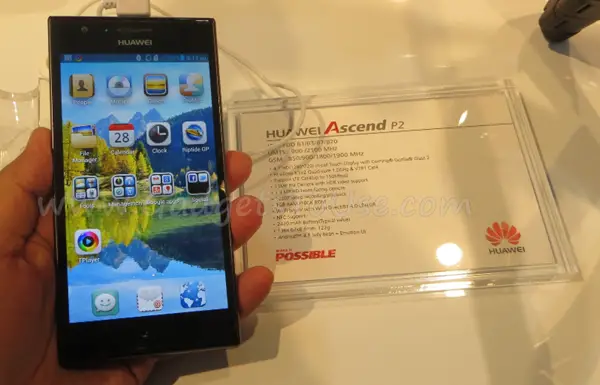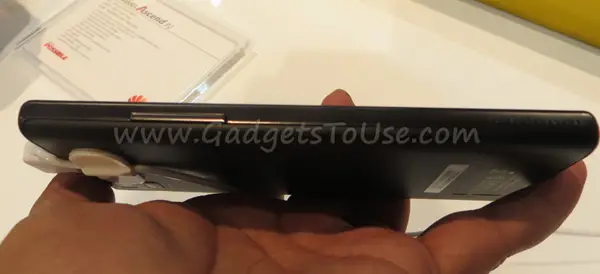 Conclusion
The phone is worth giving a shot but if you are really selective while buying a phone then it might not be a great choice especially when Samsung and HTC phone of the same range are already available in the market. Well Huawei promises to release more products by the end of this year.