The Nokia 301 is bringing a simple, affordable mobile phone experience. This is another a simple and budget phone coming from Nokia after Nokia 105. It offers more affordable Internet and email access, and camera experiences as well.
The Nokia 301 supports 3G Internet and coupled with the Nokia Xpress Browser. It can even stream videos from YouTube, let you download them from the Vuclip app. Facebook, eBuddy, WhatsApp and Twitter are all preloaded to the home screen.
It has a 3.2-megapixel camera, with some clever software features like it has a self-timer for taking pictures. The camera also has a handy self-portrait feature that uses voice prompts to tell you how to position the phone so your face is properly in the frame. It can take panoramic photographs, as well and can click the sequential shot, which takes 3-5 frames and lets you choose the perfect picture. Nice to see the high-end innovation reaching to the low budget phone. Also when you've taken the picture and applied effects from the 5-in-1 camera app, you can share the image on social networks. Or you can send it straight to another person's phone, using the Slam feature.
Highlighting The Specs of Nokia 301
System: GSM 850/900/1800/1900, WCDMA 900/2100, 850/1900
Size & weight: 114 x 50 x 12.5 mm Weight: 102g
Display: 2.4" QVGA TFT color display
Memory: Up to 256MB, 64MB RAM (Expandable up to 32GB microSD card)
Connectivity: 2.0 mm Charger Connector, 3.5 mm AV Connector, Bluetooth 3.0
Battery: 2G 20hurs with talk time
Single SIM – standby 2G/3G: 37/39days,
Dual SIM – standby 2G/3G: 31/34days
Hands On Video Nokia 301
Hands on Pictures of Nokia 301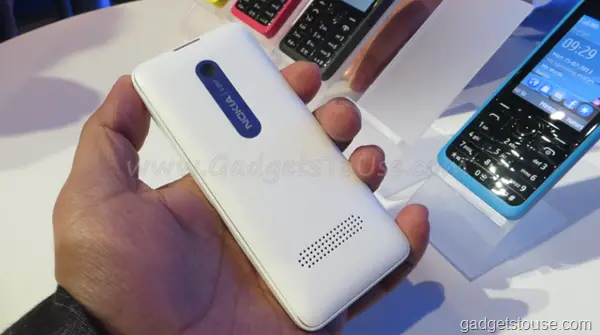 Conclusion:
The phone really looks good with the 3.2 camera and many smartphone feature including preloaded application likes Whats app, facebook. Though the phone does not have any high resolution display and no touch as compare to Nokia Asha series still the featured camera increases the worthiness of the phone. The long surviving battery adds the boast to the device. The Phone is expected to come to India in Mar-April 2013 with the price tag of Rs.4500.