Lava has released a new phone named as Xolo X1000 and this one of the most expensive phones launched by Xolo as we can see its price on Flipkart at 19999 INR. It has recently been released in Goa at their press release event. The price is justified as we see its speed is much better with the help of 2GHz Intel Atom Processor, this 2GHz is something really strong seen in the smartphones for the first time.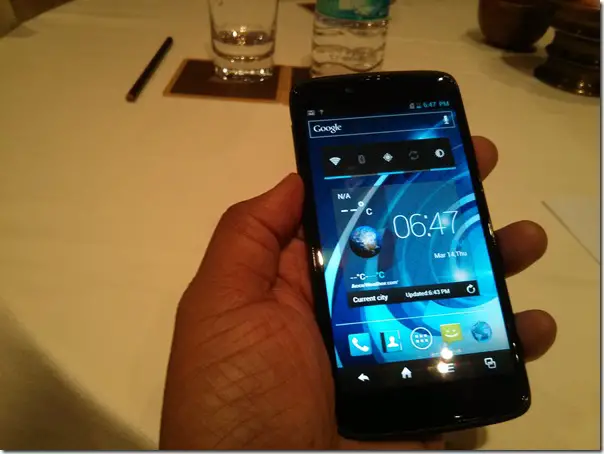 You can expect the smartphone to be pretty responsive with this sort of processor. The Hyper-Threading technology is something new seen in the processors of Intel, this technology increases the efficiency of the processor by enabling the operation of multiple thread in various cores. As of now we do have any information on the number of cores this processor has.
The display size is of 4.7 inches with sharp TFT transitive LCD with 314 ppi which is quite close to retina display observed in iPhone 5. The primary is of 8MP having BSI sensor which is getting popular these days and has the purpose for getting a clear photo in low-light condition, it is also supported by a flash light. The camera can operate in the Burst mode and has the ability to record HD videos. The secondary of the front facing camera is 1.3 MP.
We are disappointed by the RAM and the OS version on this phone which is 1GB and Android Ice Cream Sandwich respectively, as taking a look at the price of the phone they both could have been better. The internal memory is 8GB which is nice and it can be expanded upto 32GB. Battery is decent but not too good which is 1900 mAh and it claims to offer 4hours of talktime on 3G. The stand by time of this phone is around 13 days and we should see a upgrade to Jellybean soon as promised by the company.
Xolo X1000 Hands on Photo Gallery
Conclusion
We will talk about the other specifications in detail comparing it with other phones in the same segment, in our next Xolo X100 Hands on post on reviewing this gadget. The phone seems to be powerful from some aspects when talking about the processor and the camera with the burst mode and BSI sensor but then the older version of Android may spoil the game for this phone in the market.
[ Image Credit – Raju PP ]