After some time releasing A116 high-end Android phone now Micromax jumped to the section of the low-end Smartphones. They have launched a new phone named as Micromax A51 under the Bolt section of the smartphones launched by Micromax with low-level hardware specification and at a low price. So, the users who do not want to spend much but still want to have a glance of Android then it can be a good choice for them.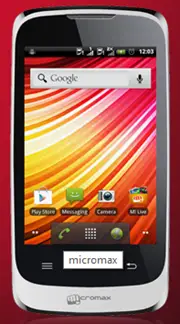 Micromax A51 Specifications and Key Features
The Operating system on this phone is Android 2.3.7 (Gingerbread) which is powered with a single core processor of 832 MHz and RAM of 256 MB. The size screen is of 3.5 inches and has TFT display with the resolution of 480×320 and 216k colors. The phone is obviously with no power to handle any game so my suggestion will be to keep it less-loaded with the games or other applications which you do not use regularly. The whole idea is to keep this phone less crowded with the applications if you do not want to experience huge UI lag in near future.
The battery strength of this phone is 1500 mAh, which claims to provide the standby time of 140 hours and the talk time of 4.5 hours. Even at the price of 4700 INR you can enjoy the facility of video calling because Micromax A51 offers you a primary camera of 2MP and a VGA secondary camera. The primary camera has the feature of auto-focus also. Talking about the internal storage, then it has 200 MB, so it will be advisable to leave this storage for the applications only and try to save other files like images, videos, eBooks and others on the external storage area which can be extended up to 32GB.
It does not have in-built GPS but still the location service based applications like Google Maps, Zomato, Foursquare etc. can be used as they will use WiFi and 3G feature of this phone to get the location details, it might not be as precise as provided by GPS technology but still you will be able to manage with it.
Phone Type: Dual SIM stand-by mode.
Processor: 832 Hz Single core processor
RAM: 256 MB
Display Size: 3.5 inches
Software Version: Android 2.3.7 Gingerbread
Camera: 2MP with auto-focus
Secondary Camera: VGA
Internal Storage: 200 MB
External Storage: up to 32 GB
Battery: 1500 mAh.
Connectivity: Bluetooth, WiFi, 3G, micro SD card slot and 3.5 mm jack for headsets.
Conclusion
Micromax is a low-level android smartphone which has been launched as the successor of A35, you can see only these 2 phones in the BOLT section of Micromax. This phone as of now is a good option for the users at 4700 INR but as expected after 1 year it will show off huge UI lag making it really difficult for you to access the applications and use this phone properly and this is where you are expected to compromise.