Nexus S of Google was released from Samsung and Nexus 4 was released with the help of LG. Usually Google opens the offer for its product prototype to most of the reputed manufacturers and then on the basis of the best prototype version it selects the manufacturer of its product. This time in the case of Nexus 5, LG has already released its prototype and it has been leaked on internet. The specifications of the released prototype are really impressive but again these are still the rumors and nobody knows that with whom Google will partner to release their Nexus 5. Let us take the hardware specifications into consideration.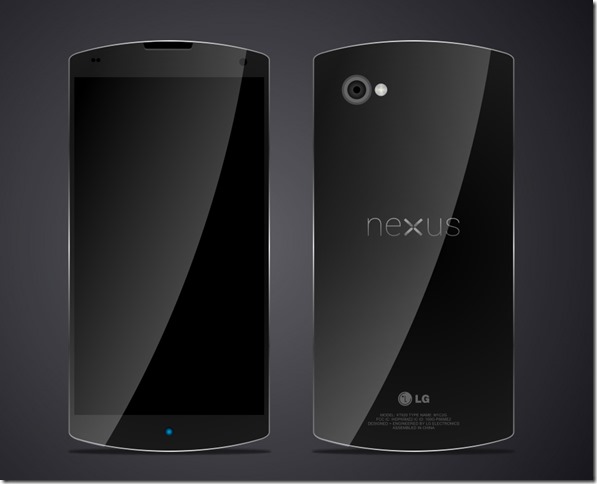 Specifications and Key Features
The screen size is 5.2 inches which is said to be equipped with 1080p HD display using OLED technology (which is really expensive). The phone will be powered with 2.3 GHz Quad-Core Qualcomm Snapdragon processor along with 3GB DDR3 and this say all about the power of the phone, till now Samsung galaxy 4 was the most power gadget known but this prototype demonstrates more powerful structure than any other phone present till date. It will have 16MP of camera as a primary camera with HD recording and 2.1 MP of the secondary camera (again 16 MP is really impressive but Megapixels alone do not make a better camera, we will have to wait for the exact specifications of the camera to be unveiled).
Till now the battery of Samsung Galaxy Note 2 was the best with 3100 mAh but now you will have 3300 mAh on Nexus 5 as per this leaked prototype by LG. As far as the storage capacity is concerned then this will come in 3 versions which will be 16GB, 32GB or 64GB and they have not specified about the availability of the external storage slot on the phablet.
Processor: 2.3 GHz Quad Core Qualcomm Snapdragon
RAM: 3 GB DDR3
Display Size: 5.2 inches
Software Version: Android Limepie (Google Usually starts the new version of Android with their phone)
Camera: 16MP with HD recording
Secondary Camera: 2.1 MP VGA
Internal Storage: 16 or 32 or 64 GB
Battery: 3300 mAh.
Conclusion
All the specifications are available in the rumors and we cannot rely on them as in the case of Samsung Galaxy S4 where apart from the looks most of the rumors (of excessive high hardware specifications) were wrong and moreover Nexus 5 is expected to be released by October this year. So, we can expect to something similar by that time. We will keep you updated with any of the news related to Nexus 5 but as far as prices are concerned you cannot expect this one to be cheaper, the reason being the OLED display and the powerful processor backed by massive RAM spec.