So, now when IPL series is about to start for the 6th time in a row, Aircel which have sponsored Chennai Super Kings IPL team (CSK) have decide to launch up a contest for all the users in India. The name of the contest is Aircel All Access.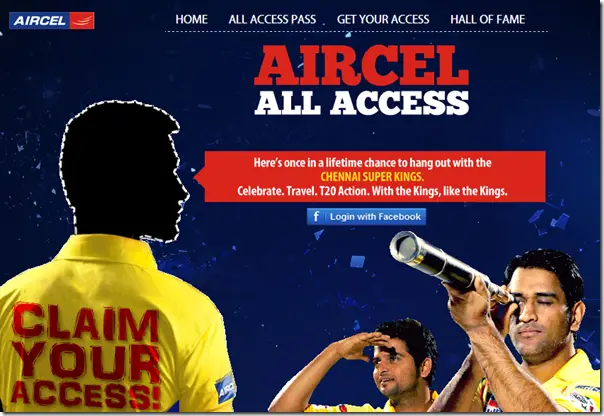 The contest has been launched keeping in mind to find out a blogger who can cover up the events at IPL in the best possible manner and then share it with his/her followers.
For this you will have to login to this website using your Facebook, it will ask certain permissions and then take you to its Facebook applications where you are supposed to choose the title and then write 1000 characters about an image shown on that page. Once you enter the write-up, then you will have to collect the likes for it. Once you submit the write-up you will see your name in the list available on the hall of fame and there you will see the number of likes all the other contenders have.
As mentioned by them, the number of likes and the quality of write-up will help you to clear this first round of contest. The contenders clearing the first round will be sent to Chennai for the second where again these qualities will be testified. Finally the winner will have the grand prize of being the official blogger on this 6th IPL event and he/she will stay with CSK team throughout the 54-days trip with all the expense related to travel and stay being paid by them. He will take part in the pre-match discussions, cover all the matches and then joining the after-match celebrations.
Other contest apart from this are 'Fashion For a Cause' where the garments inspired from the tiger will be showcased and the other contest is the 'Kaun Dega Man Of the Match' in which 3 winners will be selected and they will give the Man of The Match LIVE in front of millions. So, write those 1000 characters and then get the maximum number of like you can.
To Participate
Go to this page to participate in this contest