Lenovo has announced the availability of 18 new all in one windows 8 desktop starting with C240 to A720 increasing in terms of specs and all these models comes with windows 8 64 bit preloaded expect the the c240 model which comes with DOS at Rs. 21,990 INR, The A Series is the premium range in the all in one desktops with touch screen which supports 10 point multi touch the top model is A720 measures around 24 inch monitor which allows you to play some games like Angry Birds, Table Hockey [ a touch screen based game ], this machine has pretty wide viewing angles and it does support multi users and you can use it like a full fledged pc with its high end configuration. A720 has wide adjustable hinge which can make it stand like a table with display horizontal so that you can play games on it which are touch based and you can make max 5 people use this machine with each using two touch points to play a game.  You get 3 years of warranty, core i7 clocked at 2.4 Ghz, 6 Gb of RAM , 1 TB of hard drive, SD card reader, Wireless mouse and keyboard of premium quality and NVIDIA GT 630M graphic card on board and a monitor with 27 inch of 10 point multi touch display. 
The next model is in the B series which has a 3rd generation processor core i5 and also comes with NVidia Graphics card on board, there are two models in this series – Lenovo IdeaCentre B340 and B540 both of these machines has HD widescreen and B540 support 3D as well. You have 7 models in B Series machines which differ from each in other in touch, you have 4 touch sensitive models and 3 non touch supported all in one desktop machines and all machines comes with 3 year warranty, hardware wise you get 6 USB ports, SD card reader, 500Gb of hard disk, Pentium or dual core processor depending on which model you choose and good quality wired mouse and keyboard in the package. You have two color options white and black in the B series and C series both of which comes at same price.
The C Series machines which are C240, C340, C540 are the most affordable all in one desktop machines.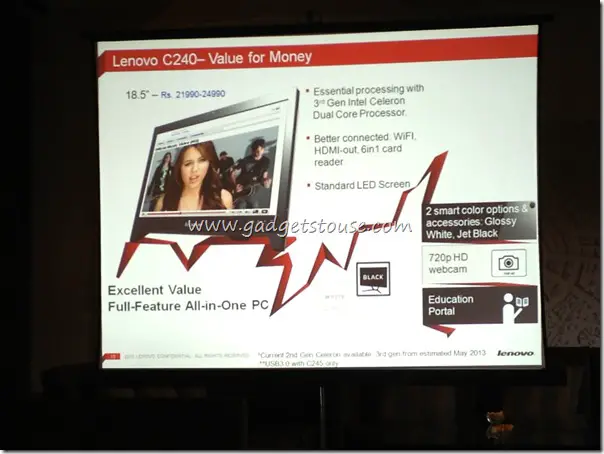 These machines come in 7 different models which differ from each other terms of CPU [ Intel Pentium and Celeron Dual core]  and RAM  [ 2Gb or 4Gb ] and apart from that you get 500 Gb hard disk, 4 or 6 USB 2.0 ports and one model C440 has 1 USB 3.0 port out of all 5 ports, you get Intel internal graphics on the motherboard which is inside the monitor all AIO machines, you have wifi, DVDRW, SD card reader and 18.5 or 20 LED display.
Please Note: Detailed Specs With Pricing Information for All Lenovo AIO Models [ See Screenshot Below ]
If you cant read the full specs in the image above, you can download entire summary of Lenovo AIO with full specs from this page
Lenovo AIO PC's Photo Gallery
Price and Availability
Talking about the price A720 comes at 1,15,990 INR and B340 at 34,990 INR, B540 at 75,990, C240 at 21,990 which is the most affordable in the entire series of all in one desktops offered by Lenovo and C340 at 26,990 and C440 at 43,990.
Update: Hands on Overview Videos Coming Soon… stay tuned and bookmark this page or watch our youtube channel for the same.
Lenovo C240 Hands on Overview
Lenovo C340 Hands on Overview
Lenovo C440 Hands on Overview
Lenovo A720 Hand on Overview