As we reported, Samsung Galaxy Pocket Neo is the new low-end Android phone revealed by Samsung recently. Phone is decent for the users who only want to use it for socializing over their network and do not wish to play heavy games and watch HD videos on it. The size of the screen is pretty small as compared to the other phones which are generally seen with these hardware specs like Huawei Ascend Y300 which has got the screen size of 4.3 inches. Let us take a look at its hardware specification.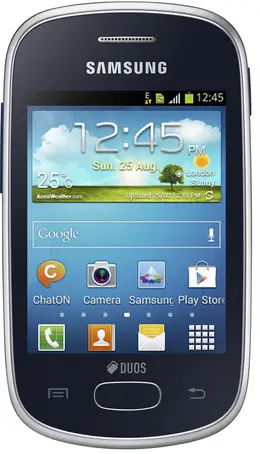 Specifications and Key Features
The screen size of this phone is 3 inches and it has got QVGA display and the exact resolution is not known yet. The phone operates on Android 4.1 jellybeans and no information is available whether you can upgrade it to 4.2 or not, moreover like the Karbonn A3 and A6 you will not get secondary camera for the video recording. But this phone has Intelligent motion UI which is usually available with all the high-end phones by Samsung.
This means that the phone will turn silent when you will flip its display towards to the other side. Internal Memory of this phone is decent which is 4GB and it can be extended up to the traditional mark of 32GB. Well you will see all the usual pre-loaded applications by Google like, Google Maps, Google YouTube, Google Talk and more. Pocket Neo will be a Dual SIM with Always ON feature which means that is you are busy talking to someone on phone through one then the other SIM will not go as unreachable rather the call on other SIM will be diverted to the primary SIM. For a phone with the processor of 850mHz and the screen size of 3 inches, 1200 mAh is not great but decent and the usage of Bluetooth 4.0 adds a start to it which is not available in Huawei Ascend Y300.
Specifications and Features
Processor: 850 MHz Processor
RAM: 512 MB
Display Size: 3 inches
Software Version: Android 4.1 Jellybean
Camera: 2MP
Secondary Camera: Not Available
Internal Storage: 4 GB
External Storage: up to 32 GB
Battery: 1200 mAh
Connectivity: Bluetooth 4.0, 3G, WiFi 802.11 b/g/n, Micro SD slot and 3.5 mm jack for the headsets.
Conclusion
Currently we do not have any idea about its availability in the market and the price margin but it can be a good choice for the users who do not want to try Micromax, Karbonn and others as these are the latest additions by Samsung in low-range Android smartphones.