Nokia 105 is a very small screen phone with the large key embedded on it, as per the looks it clearly seems that this phone was designed for the old Age people and well this phone by Nokia named as Nokia 105 serves the purpose. Nokia 105 is reported to be available this month as the price of 1249 INR, which is really economical for the users who still want to use better brand but do not want to spend much.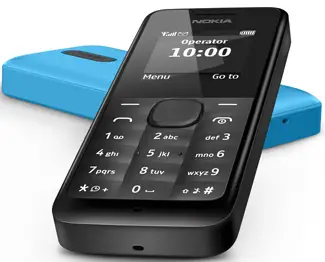 There is another reason to buy this phone and that is the availability of 12.5 hours of Talk-time and 842 hours which Nokia 105 will provide with the battery strength of 800mAh. I know that battery strength does not say much about the reason of such a great back, but the phone is really basic (with no heavy power consuming hardware used on it) and moreover it has a very small screen. Viral Oza, the director marketing of Nokia confirmed this news and he also stated that as of now there is not news on the launch date of Nokia 301 (which was launched at MWC 2013 Barcelona along with Nokia 105).
He also talked about the end of the production of the range of Black and White phones from Nokia. There are loads of people in the rural section of India which have not bought their first phone and so Nokia 105 makes that possible for them to a certain extent. The phone has the screen size of 1.4 inches and the RAM of 384 KB with the storage capacity of 8MB and yes it cannot be extended.
It does not have any camera and it has flash light with FM Radio. So you can see that none of the specs on this phone is talked about can support anything more than calling and texting. The phone is also supposed to be very simple for the use and the large keys will help the old people to be acquainted with it. We will keep you updated with the link from where you can buy this phone, once it gets released in the market.
Nokia 105 Photo Gallery
Nokia 105 Quick Review [Video]