Acer has launched the next version of their 7-inch screen Acer Iconia B1 as Acer Iconia A1-810 and they have made some considerable changes on the new successor. This time Acer Iconia A1-810 has the 7.8 inches screen with a better battery of 3250mAh as compared to the 2700mAh of battery strength which was available in its predecessor. Let us see that in how all parameters this new tablet has been improvised when compared with the previous one.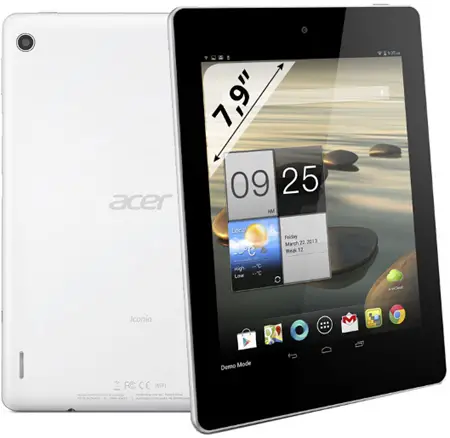 The processor used in both the case is of same manufacturing brand and both of them have been clocked at 1.2 GHz only the model name is different in the new one which is MediaTek MTK8125. Initially in Iconia B1 there was no front camera at all and the primary camera at the back was a VGA camera but this time they improved the camera and finally you will have 5MP camera at the back and a VGA camera in the front (Iconia A1-810).
Iconia B1 came in 2 versions one was of 8GB and the other one was of 16GB wherein both of them could be extended to 32GB with the external storage. This time in Iconia A1-810, they will have only 16GB internal memory model which would be extended up to 32GB with the help of external storage. The battery has been improved as mentioned at the top and this will provide an adequate amount of browsing period for the tablet.
Both of the tablets share same Operating system which is Jellybean and in case of Iconia A1-810 (it will be the latest sub-version of Jellybean i.e. v4.2.0) we are not sure whether it will provide the further upgrades or not. The screen size will be of 7.9 inches and it will little bit better resolution of 768 x 1024 pixels). The tab has good features to compete with iPad Mini as it is expected to be launched at 149 USD. We will keep you updated with the latest info on its launch and exact pricing in India.