Every time when we mentioned about the new phones from Micromax we told you that they are already over-booked with lots of orders when it comes to Micromax Canvas A116 HD and that is the reason to get this load off their shoulder they increased the price to 16k INR approximately. But Zen has entered the competition and they are now releasing a phone with the same attractive specs (infact few of them are even better than Micromax Canvas A116 HD) and that too at much cheaper rates. So let us take on the details about this phone.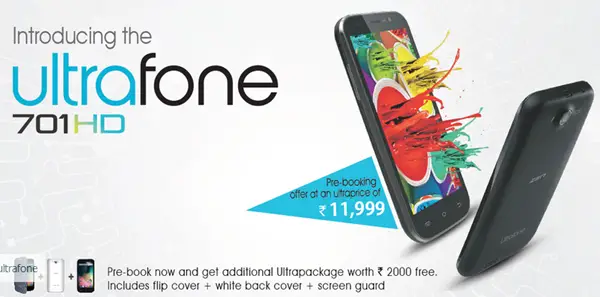 Zen has named this phone as Ultraphone 701 and as of now we do not have all the details about this phone but yes it resembles Micromax Canvas A116 HD and it can be inferred from the available specifications. The screen size will be of 5 inches with the HD display of 720p and the processor will be of quad-core where the cores will be clocked at 1.2 GHz, though exact make of the processor has not been mentioned yet but we expect it to be of Mediatek.
The primary camera is 8 MP (which is also equipped with the feature of 1-click panorama shot) and the secondary camera is of 3.2 MP whereas in case of Micromax Canvas A116 HD it is the same with the primary camera but the secondary camera is 2MP. Zen Ultraphone will operate on Android v4.2 jellybean (something which is also available on Micromax Canvas A116 HD) using 1GB RAM. The phone will be available at 11,999 INR (which is way beyond cheaper than Canvas A116 HD) and we expect it to lower the burdens on the shoulder of Micromax as the phone like Canvas A116 HD had the monopoly in the market.
Snapdeal has already started taking pre-orders for this device and they are offering 1 screen guard, 1 flip-cover and 1 back-panel with the phone for free within the package (all of these are worth 2000 INR) and for pre-ordering the phone you will have to pay only 101 INR right now, rest of the payment will be done when you will buy it online before 30th April. So, form here we can conclude that we will be seeing this phone during the last or the second last week of the month.